Single Slam – Heartbreak and Seance by Cradle of Filth (Cryptorania – The Seductiveness of Decay)
Heartbreak and Séance is the new track from infamous British black metallers, Cradle of Filth. It is the first release from their new album called Cryptorania – The Seductiveness of Decay and was released on the 11th of July, today.
Cryptorania will be released on the 22nd of September this year via Nuclear Blast Records.
Cryptorania will be Cradle's 12th studio album and follows the hugely impressive 2015 release, Hammer of the Witches. Click the link to read our review of that album. Hammer of the Witches was so good it even took the number 1 spot on my Top Ten Albums that year. Cryptorania – The Seductiveness of Decay has a lot to live up to.
Cradle of Filth have been through a lot of line up changes in their years so it is nice to see the line up is the same for the new album, as it was for Hammer of the Witches. They are fronted by Dani Filth, of course, who is also the lead vocalist for Devilment. Martin 'Marthus' Skaroupka is the next longest serving member looking after drums, keys and orchestration. Richard Shaw and Marek Smerda are the guitarists, both joining in 2014 and Daniel Firth is on the bass, having joined in 2012. Finally we have Lindsay Schoolcraft who is on keyboards and additional vocals as of 2013.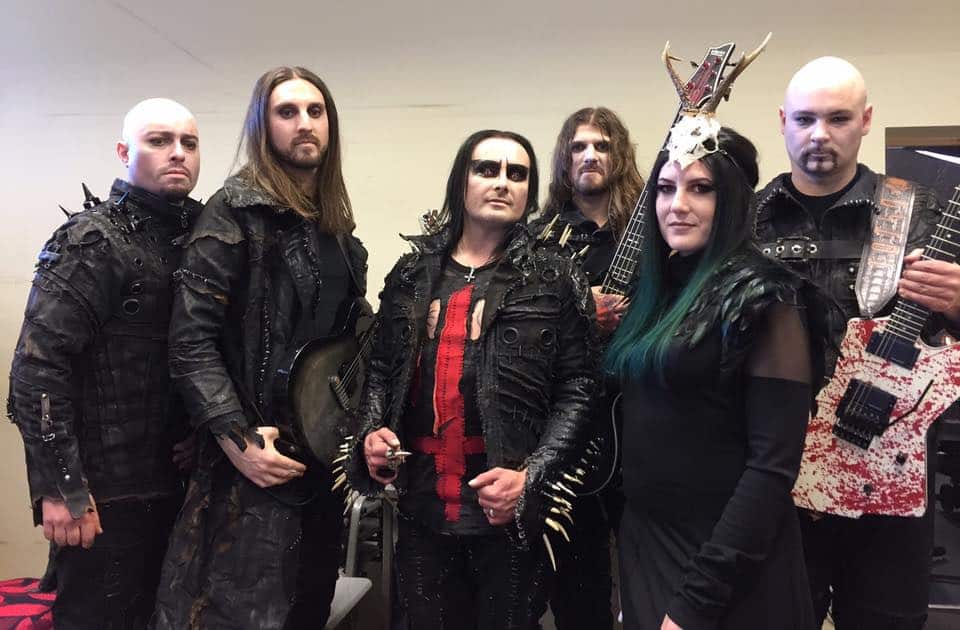 Heartbreak and Séance is 6 minutes and 24 seconds long and is a continuation of form. If you liked Hammer of the Witches, you are going to love this. If you didn't, well you probably won't be a fan of this either. Luckily for me, I did.
Heartbreak and Séance starts with a big sounding guitar line and is quickly joined by a rhythmic drum beat. The drums build in pace and, with a familiar long shriek, Dani signals incoming hellfire. Heartbreak and Séance explodes into life with thunderous drumming and a fast but sombre riff before a higher pitched guitar line comes in. Dani's trademark vocals come in, viciously spitting out lyrics over a dark riff. It is a fast and heavy start to the track.
We move into a chorus which starts with slower vocals but builds in pace and intensity with the addition of quick dual guitars before moving into an orchestral section. Background chants add more darkness and the feel of an actual séance. They sound great when Dani comes in with them and one of his deeper voices. Musically we enter a phase of some pretty ferocious black metal with intense drumming and riffing. A slower, rhythmic section with booming drums and paced vocals sounds fantastic over the high tone of the lead guitars.
There is a great little solo over crashing drums that ends with a squeal that leads into an orchestral choir over a really chugging riff. I really like the choir like sections mixed with Dani and the intense drum rhythm. They sound huge. A scream from Dani leads into a big dual guitar melody over blistering drums as the song reaches it's climax.
So, Cradle are back and back with a bang. Heartbreak and Séance sounds like a direct continuation of their sound from Hammer of the Witches which I am delighted by. Having two guitarists, Richard Shaw and Marek Smerda, in the band is working wonders for their sound. The drumming is intense and the bass is holding everything together perfectly. The orchestral sections brought from the keys adds intensity and Dani's vocals are as strong as ever.
They are band on form and enjoying themselves and Heartbreak and Séance is a great example of modern Cradle taking the best of their past and mixing it with modern production and sound. It is a fast and devilishly heavy song, the perfect way to introduce the new album and I cannot wait to hear more.
Check out Heartbreak and Séance, along with the brand new video, for yourself here. You can preorder the new album now, from here. You can also preorder it from the links below. Check out Cradle on Facebook, Twitter and Instagram for more information on them and their music.
[amazon_link asins='B073SSQXXD,B073SSFL4N,B00WMKK8KS,B000FGGEQ8,B0002UY4VO,B01G6YNUEQ' template='UseThisOne' store='g0e5b-21′ marketplace='UK' link_id='2adc469e-662d-11e7-8ff8-19b834ae49af']
Heartbreak and Seance by Cradle of Filth (Cryptorania - The Seductiveness of Decay)
The Final Score -

9/10