Single Slam – By Darkness Drawn by Nightrage (Wolf to Man)
Nightrage return with a brand new song called By Darkness Drawn. Coming from their new album, Wolf to Man, due out in 2019, By Darkness Drawn is a shining example of melodic death metal done right.
Wolf to Man is due out on the 29th of March via Despotz Records and is one I am really excited for. I am a big fan of these guys, falling in love with their 2011 release Insidious before heading back into their back catalogue. A catalogue that is littered with gems like Wearing a Martyr's Crown and Sweet Vengeance to name a couple. The albums that came after Insidious are just as good. The Puritan is a vicious jaunt into the extreme side of melodeath. The Venomous keeps the heaviness but drags in tons more melody and is one of my favourite albums of that year, 2017.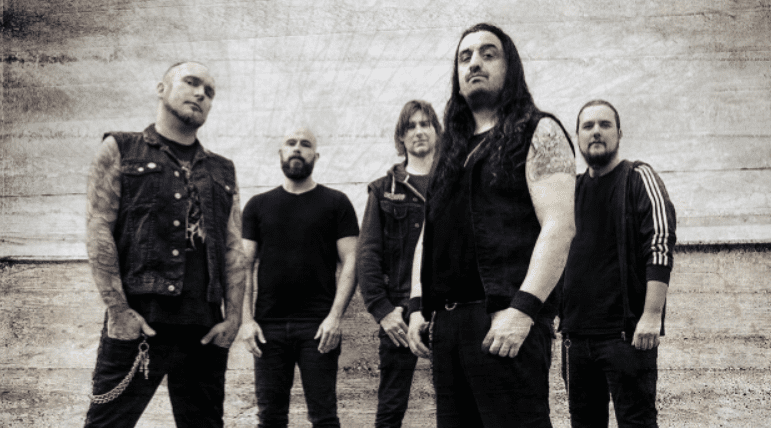 Nightrage are a bit of a fluid entity, struggling to pin down a complete line up but centred around the one ever present and insanely talented guitarist, Marios Iliopoulos. You can read our chat with Marios here. Around him there has been a revolving door of previous members, guests and session musicians. There are over 2o listed to date with some big names involved in the forging of this band like At The Gates Tomas Lindberg, Gus G and even ex Cradle of Filth's Nicholas Barker. Most of the change came in earlier years and they have been more settled recently though 2018 does bring a couple more changes.
Alongside Marios, on bass now is Fransisco Escalona and on drums from this year is Dino George Stamoglou. With a few more years under their belts, on vocals it's Ronnie Nyman and on guitars it's Magnus Söderman.
By Darkness Drawn is just under 3 and a half minutes long and is a brilliant song. It starts off with big sounding melodic guitars mixed in with crashing drums. This fades out to leave a muted riff and intermittent drum crash before everything kicks back in with style. Insane drum flurries, a banging riff and a thick bass line form the backing for Nyman to spit fire and venom with his rasping vocals. The verses are fast and in your face, soon making way for a more melodic chorus.
The second set of verse/chorus sees the chorus lead directly into a fantastic solo which moves through multiple exciting phases. The end of the solo brings us back into the catchy chorus through to the end.
By Darkness Drawn is a really solid slab of metal. It is jam packed full of aggression and fire, hooking you in from the intro and refusing to let go of your attention through to the end. Nyman's vocals seem to grow in range and power on each album and the drums here, in particular, sound amazing.  It is a typical Nightrage song. I guess you could say that makes it predictable but who cares if typical Nightrage is this good.
By Darkness Drawn summarises Nightrage for me. It is a single song that really explains exactly what they are about. Kind of like their musical CV. Forceful thrashing verses, catchy melodic choruses, big solos and tons of energy. Not a bad CV really.
By Darkness Drawn is out now on all the normal streaming platforms. You can also listen to it here, on YouTube. You can preorder Wolf to Man now at Despotz Records. Find out more about Nightrage at their Bandcamp page, their website, on Facebook, Twitter and Instagram.
By Darkness Drawn by Nightrage (Wolf to Man)
The Final Score -

10/10