Single Slam – Arcana Imperii by Ihsahn (Àmr)
Living legend Ihsahn, the founding frontman of black metal overlords Emperor, is releasing his new solo album. That album is called Àmr and it will drop on the 4th of May via Candlelight/Spinefarm. In anticipation of the new album, a first single has also been released called Arcana Imperii.
There must be some sort of dark awakening happening on May the 4th, aside from the Star Wars referenced date (May the 4th be with you). This week we have had a new Ihsahn single and a new Dimmu Borgir single called Interdimensional Summit and both are planning to release their new albums on the 4th of May. There is a date to look forward to.
Ihsahn (real name Vegard Sverre Tveitan) is a genius and a legend in the eyes of many, including us at GBHBL. A multi instrumentalist, vocalist and composer, Ihsahn has shaped large chunks of the black metal scene we enjoy today. From composing tracks like Snofall on Trivium's Silence in the Snow album to adding guest vocals to Devin Townsend's Deconstruction, Ihsahn has also spread his influence away from just black metal. With 4 studio albums under Emperor as well as 3 live albums, 4 EPs and a handful of splits and demos and now his 7th solo album also about to drop in Àmr, Ihsahn keeps himself busy and keeps inspiring.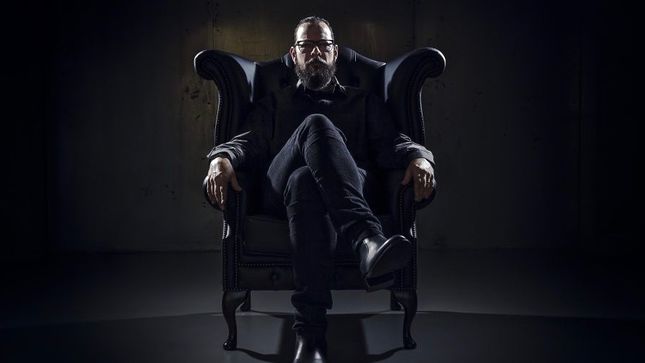 Joining Ihsahn on Àmr is long serving drummer Tobias Ørnes Andersen. There is also a guest solo on Arcana Imperii from Opeth's Fredrik Akesson.
For anyone living under a rock, we should point out that Ihsahn's solo work is not really Emperor like in many ways. If you come into these songs and albums expecting to hear "I am the Black Wizards", you will undoubtedly be disappointed. Ihsahn makes heavy music but as he points out, his own personal influences often lead him down a different trail.
"Every album I intend to make the darkest album ever. I never set out to make anything more melodic or accessible. However, growing up on 80s metal, plus having a rather wide range of musical influences, I often end up with quite contrasting elements. This is my seventh solo album, so in the end it really comes down to methods and perspectives that keep me exited and fired up about what I'm working on. If I'm not excited about it, I can't expect anybody else to be!"
Arcana Imperii is a just under 5 minute track that showcases the eclectic but seamless nature of his solo work. Mixing effortlessly between  extreme metal, analogue synth, orchestral backing and melodic choruses. Yep, there is often a lot going on but it really does blend well. Arcana Imperii forms a dark and sombre atmosphere while it plays. The vocals are strong, moving from shrieks and growls in the verses to clean singing with growled backing in the vey catchy chorus.
The drums throughout are fantastic, moving through pounding groove and blasting beats and the synth/orchestral sounding bridges between vicious verse and catchy chorus work well too. Add in the two solos. One is slower and more melodic with a beautiful ringing tone whereas the second one is a blazing and blistering affair. It comes after a slow down to crashing cymbals, a ticking riff before a shout from Ihsahn introduces Fredrick Akesson's effort. Arcana Imperii ends similarly to how it starts with a quick trip back to the extreme side of black metal with ferocious riffing, unearthly vocals and blazing drums through to the end.
Arcana Imperii is a really good song. It has a fascinating structure and haunting atmosphere. It seamlessly blends many of Ihsahn's influences from art rock to extreme metal and everything in-between. I really enjoyed this track and can't wait to hear the rest of the new album. Arcana Imperii is sonically and structurally intriguing, much like the main man himself. I imagine the new album will be just as enthralling.
Check out the new track for yourself here. You can grab a preorder of the new album from this link. You can also grab it, and more from Ihsahn, at the Amazon links below. Find out more about Ihsahn on Facebook, Instagram and Twitter by following the links.
[amazon_link asins='B079VFRLYG,B01BN23UJ6,B079ZT1TT4,B007RC52UM,B00EQK5PAA,B075GG2MMM,B075GF8PKB,B00127R7JM' template='UseThisOne' store='g0e5b-21′ marketplace='UK' link_id='5bf8e620-1af8-11e8-84b8-117450e92630′]