News: Bowling for Soup – Double Header
The world of Bowling For Soup is a tremendously busy and exciting place to be right now. Texas's favourite pop punk export have lots of news to share with their legions of UK fans, kicking off with a huge festival announcement!
Sixteen years after their last appearance in 2003, Bowling For Soup are returning to Reading and Leeds Festivals in 2019! BFS will appear at Reading on the Friday and Leeds on the Sunday, where the main stage headliners for the day will be The 1975! Here's Jaret Reddick's thoughts on returning to Reading and Leeds for the first time in so long:
"Back to where it all began for us in the U.K. I'll never forget driving up to that festival and wondering "how the heck I ended up in this place." The tent was packed. People recognized us watching Slipknot and Blink 182…it was the beginning of an amazing relationship with the U.K. and here we are again. Reading and Leeds!!! I can't tell you how excited we are to be back! I promise we will make it a weekend not to forget!"
Other headliners for the weekend include Foo Fighters and the co-headlining combination of Post Malone and Twenty One Pilots, with Bowling For Soup being one of almost two dozen acts announced. Please see the poster below for more details.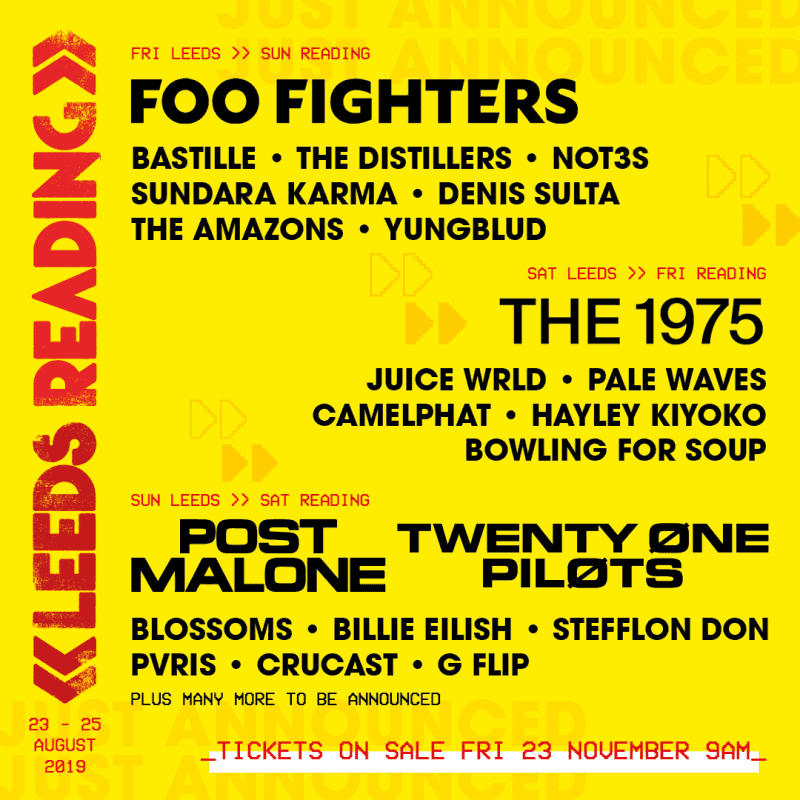 Tickets for Reading and Leeds 2019 will be on sale this Friday, 23rd of November at 9am. Tickets for Reading can be purchased here, and tickets for Leeds can be acquired here.
Normally, an announcement like a band playing Reading and Leeds would be huge news on it's own, but there's far more from Bowling For Soup today.
February 17th 2018 – the biggest night in Bowling For Soup's almost twenty five years together as a band. That evening, the band played to four and a half thousand people at London's Brixton Academy on the closing night of their most successful UK tour in their history – The Get Happy Tour 2018.
Several months later, Bowling For Soup are delighted to confirm that the Brixton show was captured in all it's hilarious and entertaining glory and will be released as a brand new live DVD and CD – Older, Fatter, Still The Greatest Ever – Live At Brixton. Older, Fatter, Still The Greatest Ever will be released on the 7th of December 2018 and will be available in a number of formats. To pre-order Older, Fatter, Still The Greatest Ever, please click here!
The Get Happy Tour 2018 saw Bowling For Soup play their iconic album Drunk Enough To Dance in full, with a selection of the band's other biggest hits like High School Never Ends, 1985 and Today Is Gonna Be A Great Day (Phineas and Ferb). The non Drunk Enough To Dance songs were mixed in throughout the set to keep the fans guessing at what surprises may come next – something which worked to great effect throughout the tour – and every twist and turn was captured at the Brixton Academy show for Bowling For Soup fans all around the world to enjoy.
Older, Fatter, Still The Greatest – Live At Brixton Tracklisting:
1. Here Comes Bowling For Soup (Intro)
2. I Don't Wanna Rock
3. Emily
4. Girl All The Bad Guys Want
5. On And On (About You)
6. Surf Colorado
7. Almost
8. Life After Lisa
9. Where To Begin
10. The Last Rock Show
11. Punk Rock 101
12. Self-Centered
13. The Hard Way
14. The Bitch Song
15. Out The Window
16. Cold Shower Tuesdays
17. Today Is Gonna Be A Great Day (Theme Song To Phineas and Ferb)
18. Running From Your Dad
19. High School Never Ends
20. Scaring Myself
21. Greatest Day
22. Ohio (Come Back To Texas)
23. Star Song
24. 1985
If all of that wasn't enough, Bowling For Soup will return to their home-away-from-home in the UK in just a few days time for their first ever run of UK shows in the holiday season – The Almost Christmas Tour! For the tour, "BFS" will team up with "their little brothers" in pop punk, Patent Pending, fulfilling years of requests for the two bands to tour the UK together again after two previous treks together in the early part of this decade. They'll also be joined by one of America's hottest young talents, Power pop Texan trio Not Ur Girlfrenz, who have just released their debut EP New Kids In America and are reaching new fans everyday.
The Almost Christmas Tour will play eight shows across England and Scotland, hitting some locations the band hasn't played for many years (or in the case or one or two places, for the first time ever)!
Bowling For Soup's Almost Christmas UK Tour with Patent Pending and Not Ur Girlfrenz plays the following locations and venues:
Monday 26th November – Preston – Guild Hall
Tuesday 27th November – Edinburgh – Usher Hall
Wednesday 28th November – Bristol – O2 Academy
Thursday 29th November – Reading – The Hexagon
Friday 30th November – Southampton – O2 Guildhall
Saturday 1st December – Bexhill On Sea – De La Warr Pavillion
Sunday 2nd December – Leicester – O2 Academy
Monday 3rd December – Leeds – O2 Academy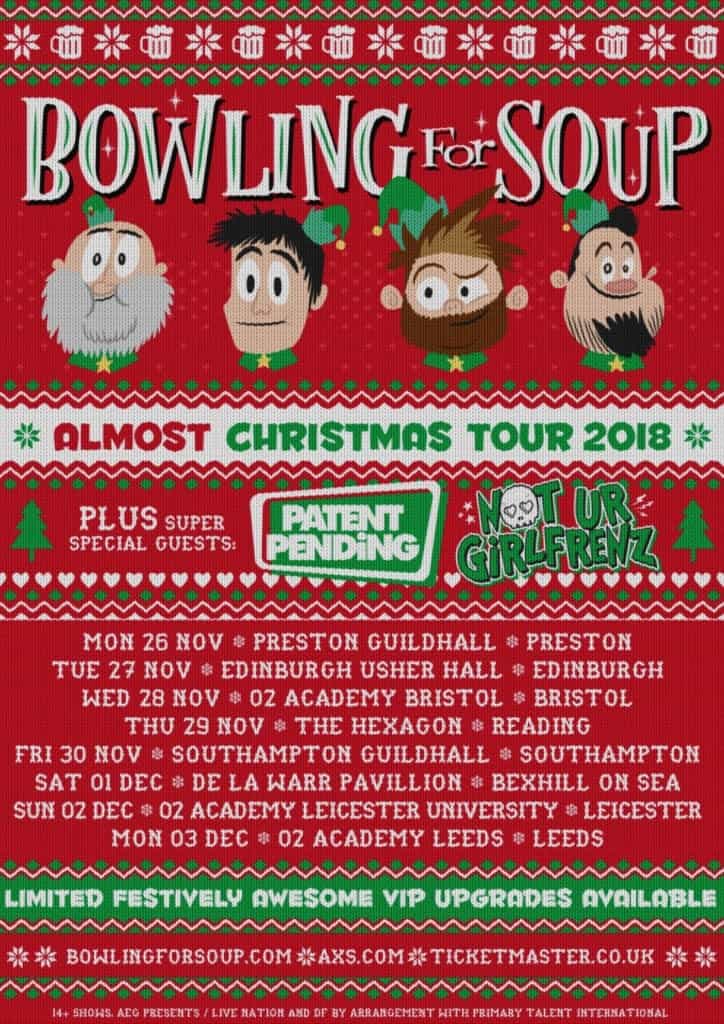 Remaining tickets for the Almost Christmas tour are available now and selling quickly. Please check their website for full details.