Horror Movie Review: The Omen (1976)
"When the Jews return to Zion and a comet rips the sky and the Holy Roman Empire rises, then you and I must die. From the eternal sea he rises, creating armies on either shore, turning man against his brother 'til man exists no more."
The Omen is just one year away from its 40th anniversary but that doesn't change the fact that it's still widely considered to be one of the best films of the 1970s as well as one of the best horror movies ever made. That's quite a statement to make, let's have a look at The Omen and see how well it holds up…
June 6th 1976, 6:00AM. American diplomat Robert Thorn's (Gregory Peck) wife Katherine (Lee Remick) gives birth to a boy, who he is told dies moments after being born. A priest named Father Spiletto then offers him the choice to adopt a baby boy just born at the same time who has no parents. Thorn is reluctant to do so but knowing his wife will be devastated by the news of the death of her child he agrees to the adoption. They name the child Damien (Harvey Spencer Stephens).

Soon after, Robert is appointed U.S. Ambassador to Great Britain so he, Catherine and Damian move to England to begin their new lives together. Everything seems to be going fine, that is until the day of Damian's 5th birthday party.
Out of absolutely nowhere, the family's nanny hangs herself in front of everyone from the top of the house, sending her body crashing through an upstairs window. I found this to be a very effective scene; it comes out of nowhere and completely shifts the atmosphere of the scene from happy to downright eerie.
Just before the nanny jumped, she proclaimed "It's all for you Damian". In the background, a news photographer named Keith Jennings (David Warner) is present taking pictures.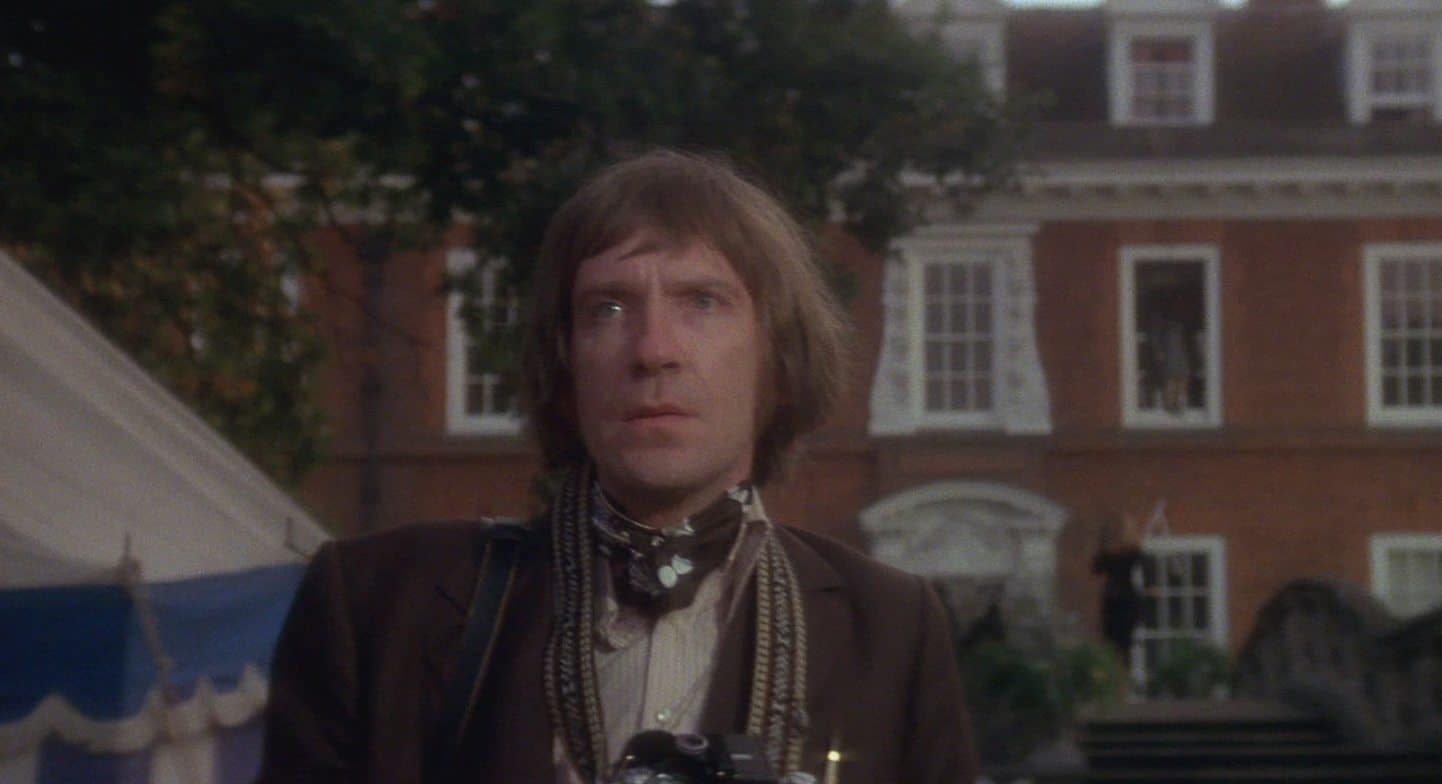 A few days later, a new nanny, named Mrs Baylock (Billie Whitelaw) is sent to replace the old one but it is clear that she is not as she seems. When the Thorns question her unexpected arrival, she claims "the agency" sent her after reading about the death in the newspapers.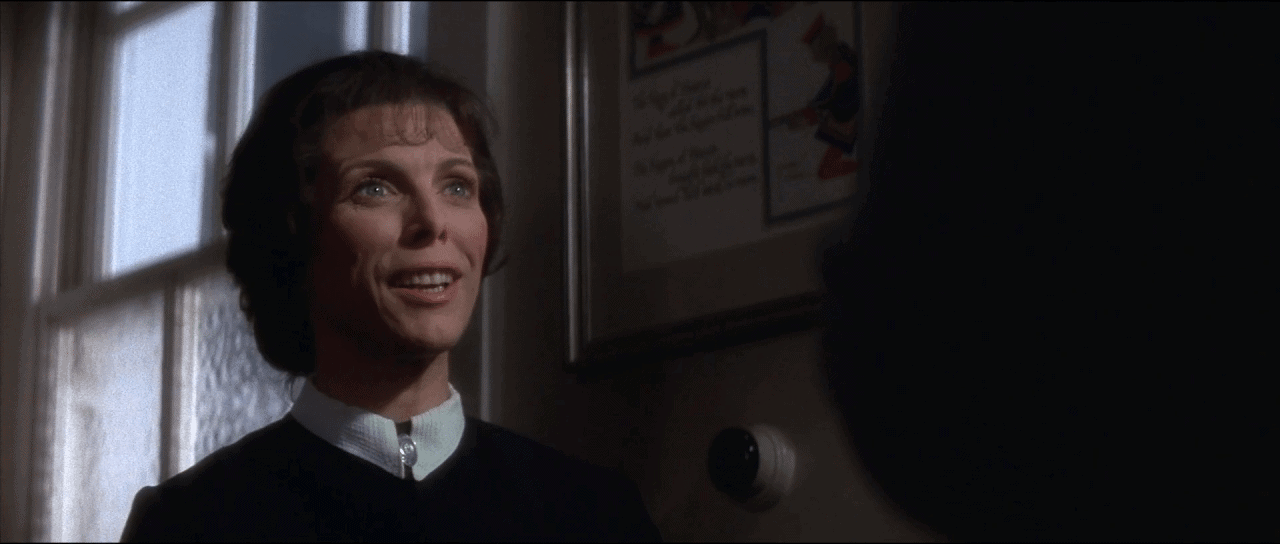 The Thorns travel to the church one Sunday and Damien becomes more fearful as their car approaches the church. He has a violent reaction in which he injures his mother trying to get away. The car pulls away hurriedly and while the Thorns discuss Damien's reaction and whether he should be examined by a doctor, they realize he has never been sick a day in his life.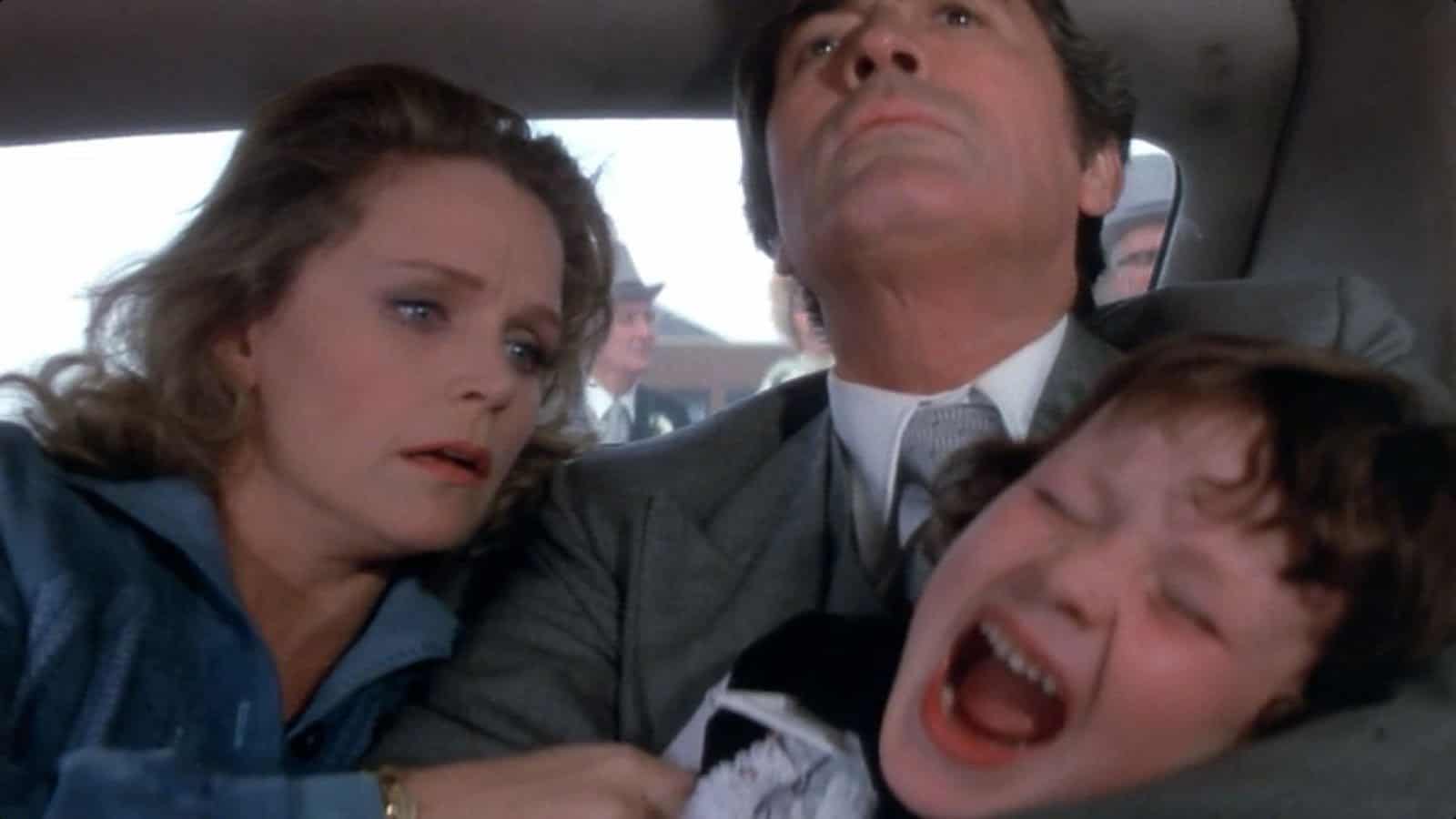 Father Brennan (Patrick Troughton), a Catholic priest, tries repeatedly to warn the Ambassador about Damien's mysterious origins. The priest hints that Damien may not be human. Thorn is irritated by the man and rebuffs his persistent intrusions. Finally convincing Thorn to meet him, the priest tells Robert that Katherine is pregnant, and that Damien will prevent her from having the child. Afterward, Brennan is impaled by a lightning rod thrown from the roof of his church during a sudden storm.
Upon returning home, Katherine tells Robert that she is pregnant. Robert is surprised but delighted, but Katherine wants an abortion. Katherine claims that she feels overwhelmed and threatened by Damien.
Learning of Father Brennan's death, photographer Keith Jennings begins investigating Damien. He notices shadows in photographs of the nanny and of Father Brennan that seem to predict their bizarre deaths. Photos of Keith also show these shadows. Keith shows Robert the photos and tells him he also believes that Damien is a threat and that he wants to help Robert.
The next scene shows Kathy Thorn with Damien, traveling through a safari park, and various animals react with fear or anger towards Damien. It climaxes in a harrowing scene where a group of baboons attack the car that Kathy is driving forcing her to speed away.
Speeding through the mansion on his tricycle, Damian purposely knocks Katherine over an upstairs railing to the floor below. Robert receives a phone call from a hospital, and rushes to Katherine's side but unfortunately she has miscarried.
Keith and Robert travel to Rome to investigate Damien's birth. A fire has destroyed the hospital records and the maternity and nursery wards; most of the staff on duty died in the fire. Robert and Keith trace Father Spiletto to a monastery, where he is recovering from his injuries but is not expected to survive. Spiletto writes the name of an ancient cemetery where Damien's biological mother is buried. Robert and Keith find a jackal's skeleton in the grave and a child's skeleton with a shattered skull: Damien's unnatural "mother" and the remains of the Thorns' own child, murdered at birth so that Damien could take his place.
Jennings reiterates Father Brennan's belief that Damien is the Antichrist, whose coming is being supported by a conspiracy of Satanists.
Robert calls his wife who is in hospital and tells her to come to Italy. However, she is thrown out of the hospital window by Mrs Baylock. Back at the hotel, Thorn receives a phone call and finds out his wife has apparently jumped to her death from her hospital room. In his grief, he tells Jennings that he wants to go to Megiddo and that he wants Damien to die.
Robert and Keith travel to Israel to find a man named Bugenhagen, an archaeologist and expert on the Antichrist. Bugenhagen explains to Robert that Damien will possess a birthmark in the shape of three sixes if he is the Antichrist. Robert learns that the only way to kill the Antichrist is with seven mystical daggers. Appalled by the idea of murdering a child, Robert discards the daggers. When Keith tries to retrieve the daggers, he is decapitated by a sheet of window glass sliding off a truck.
Now that, was awesome.
Robert is the last man standing; it's up to him to put a stop to the son of the devil before it's too late, watch The Omen (1976) to find out if he can or will the prophecy of the antichrist be fulfilled…
So that's The Omen and in my opinion it holds up really damn well! The film succeeds on many different levels but the first thing that I have to praise is the acting, particularly that of Gregory Peck. Peck is utterly convincing as the Ambassador who doesn't want to believe the shocking facts staring him in the face, you get a real sense of the anguish he is going through. Lee Remick is strong as Damien's worried mother and Billie Whitelaw is very chilling as the mysterious governess.
I thought Patrick Troughton (Father Brennan) was a little over the top but apparently his character was meant to be off his face on morphine so I guess that makes sense, I couldn't help but find his death scene amusing though.
I've always been a firm believer that for a horror movie to be "creepy" it has to create tension and build an atmosphere, The Omen does this exceptionally well with help from an amazingly eerie soundtrack.
Although there are a number of inventive death scenes, Jennings being my personal favorite, The Omen doesn't depend on gore or sex to get its point across. It's held up by it's characters, story, excellent cinematography and bone-chilling musical score.
It is a little slow at times and because of it's age, the sound quality isn't perfect sadly. I didn't find the movie to be particularly scary and this is probably due to the subject matter being so watered down in recent years; devil movies have been done to death. Obviously when you're watching a film on this particular subject you have to accept a lot of what is being said for what it is because there isn't always the best explanation.
Regardless of any of that, I had never seen The Omen before and I was pleasantly surprised at how much I enjoyed it. I adore horror movies that effectively create eerie atmospheres and The Omen was doing so nearly 40 years ago and to great effect. It holds up remarkably well and is deserving of it's status as a horror classic.
The Omen
The Final Score -

8.5/10
Comments Rating
( reviews)