Horror Movie Review: Puppet Master: Axis Rising (2012)
The tenth entry in the Puppet Master franchise & the second in the 'new' trilogy continues directly after the events of Axis of Evil.
Ozu, the Japanese Geisha from Axis of Evil having escaped with Tunneler (and apparently Leech Woman & Jester but that seems to be glossed over here) is accosted by more Nazi's in a dark alley. Led by the Nazi general Moebuis, one of the best bad guys of the series so far, they have been hunting her since the events of the last movie. She offers them Tunneler for her freedom but is killed anyway while Blade watches from the shadows.
Meanwhile Danny & his girlfriend (Beth) are recovering at his house. Danny apologies to the surviving puppets about the loss of Ninja before Blade arrives & tells them about Tunneler & the Nazis. It's a well done scene as Blade effectively has to play charades with Danny & Beth but does it admirably. Although it's hard not to be distracted by the difference in looks both actors have to the two that played the roles in Axis of Evil.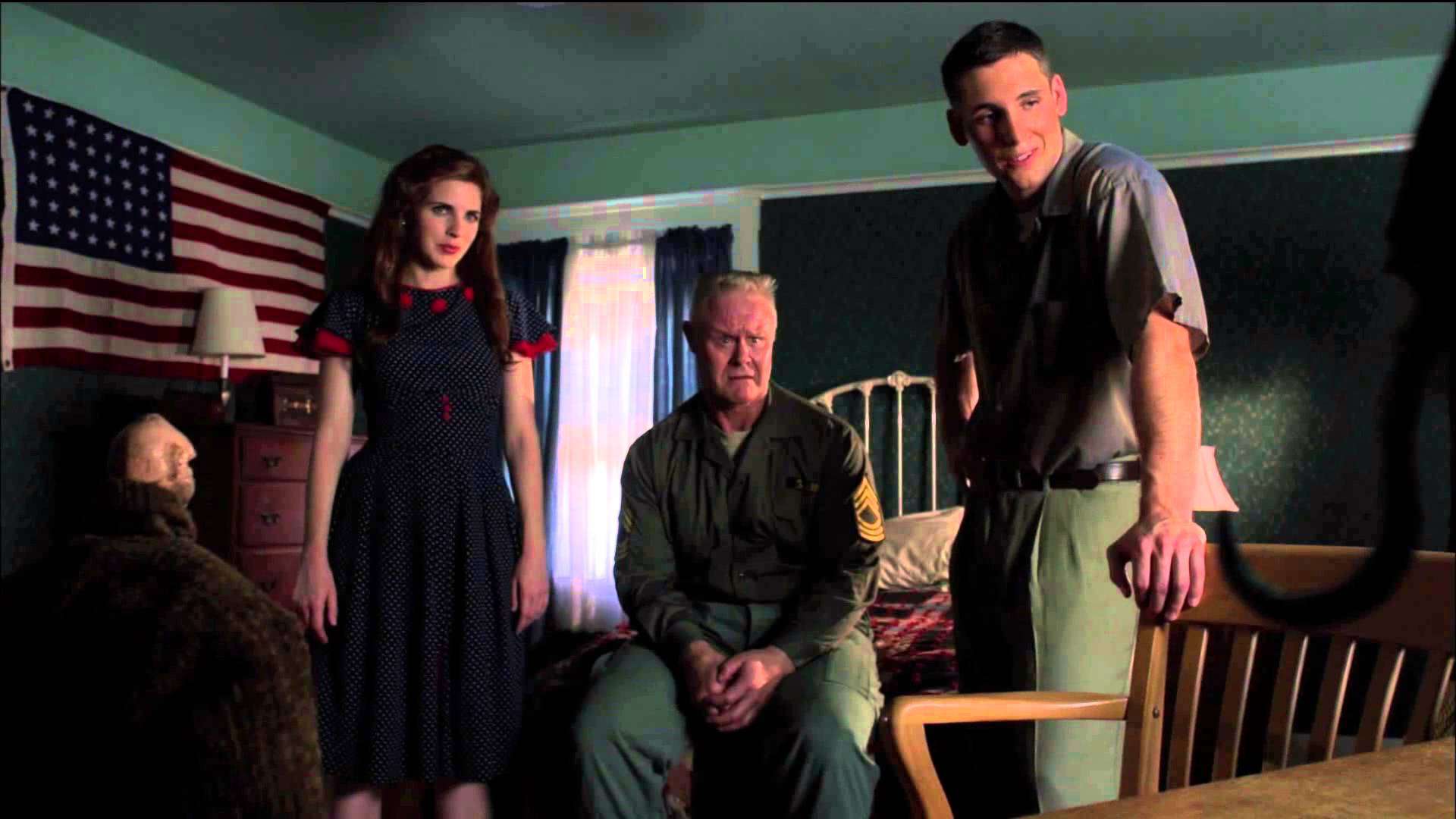 Anyway, Danny & Beth are kidnapped by American soldiers & hauled in front of a Major who ends up commending them for their actions in the last film. I can't help but think they probably didn't need to be attacked & dragged to the military base for that.
A high ranking General is coming to town & will present Danny with a medal, who is still obsessing over going to fight in the war. Sergeant Stone, a gruff long-serving soldier is ordered to protect the duo, something he doesn't really want to do.
Meanwhile in another secret location within the town Moebius is forcing a German doctor to develop a machine that can reanimate the dead. Obsessed with the occult he is convinced he can create an army of walking dead under his control & will stop at nothing to get what he wants.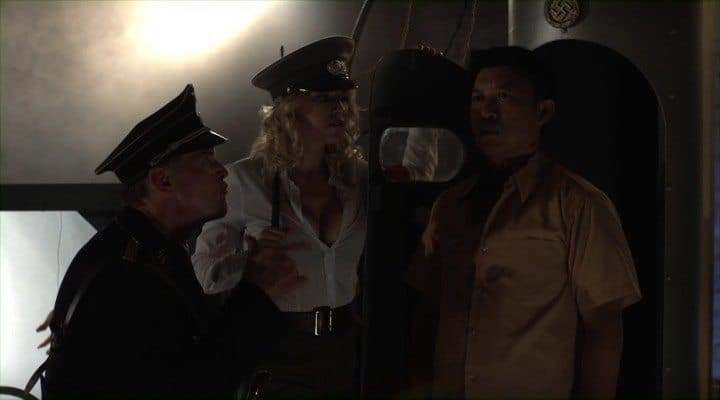 The doctor, fearing for his life while also trying his hardest to not ogle Uschi, a soldier with extremely seductive behaviour & terrible choice in outfits, discovers Toulon's secret inside Tunneler & sets about creating his own puppets to assassinate the visiting general. It's up to the puppets, Danny & Beth to once again stop the Nazi's plans.
Story-wise Axis Rising is a much more coherent & enjoyable tale compared to the previous movie. The Nazi obsession with the occult is used to great effect here & Moebuis is a convincing character even if his angry reaction to just about everything becomes tiresome by the end.
In fact almost everyone excels in their roles with comic relief coming from Sergeant Stone, a crusty old solider with a heart of gold. I really warmed to him as a character.
The let-down comes from the female Nazi, Uschi who can't hold a German accent for longer than a few seconds. It's awful & not helped that her entire role is to be sexy & seductive with a top that has a few too many buttons undone. Her seduction of the elderly Doctor is an uncomfortable watch as it just seems forced.
Even when her soul is later transferred into a new puppet (Bombshell) her plastic boobs drop down to reveal guns. Hilarious…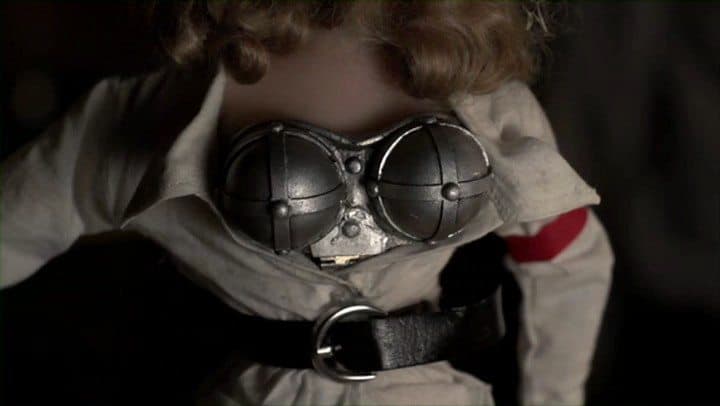 She isn't the only new puppet unveiled here though. Alongside Bombshell we get Blitzkrieg, a tank-like puppet. Weremacht, a werewolf puppet & Kamikaze, *sigh* a Japanese suicide bomber with far too many racist undertones for my liking.
Like the previous movie I can accept that this is set during the era of World War 2 & derogatory remakes regarding Germans & Japanese are inevitable (although there is an argument for toning down the amount) but a Japanese puppet with all the visual characteristics that a horrible stereotype suggest they do? It's not funny or clever.
Thankfully he blows himself up at the end so we won't see him in the next movie.
Axis Rising ups the puppets screen time & we get a lot more action involving them especially when it comes to facing off against the Nazi puppets. By this stage in the series it's hard not to care for Blade & company, they have been good guys longer than they were bad guys.
The ending though…there is no good reason for Danny & Beth to let the doctor go. He might have been under the boot of Moebuis but he still created the Nazi puppets & took the serum from Tunneler, something we see in the final scene setting up the final movie in this Axis trilogy (Axis Termination – due in 2016 at some point).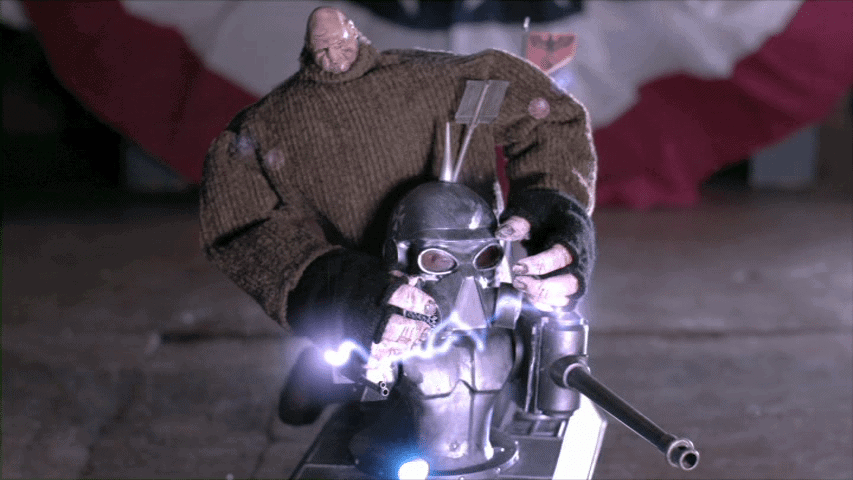 A vast improvement!
Puppet Master: Axis Rising
The Final Score -

7/10
Comments Rating
( reviews)