Horror Movie Review: A Nightmare On Elm Street – Remake (2010)
A Nightmare on Elm Street 2010 is not the worst remake/re-imagining that you'll ever see (what praise!) but it will leave you frustrated by its laziness & the lack of anything fresh being brought to the series.
Before I talk about the plot (as if you don't already know what it is about) I have to mention the casting of Freddy Krueger who is played by Jackie Earl Hayley. I like this man as an actor but he does little for me here. A lot has been made of his small stature & it does diminish the threat of the Freddy character. His mannerisms are fine & his voice carries just enough darkness in it but he just isn't convincing as the ultimate evil.
Maybe you feel differently but to me & many others, Robert Englund is Freddy Krueger & nothing is ever going to change that.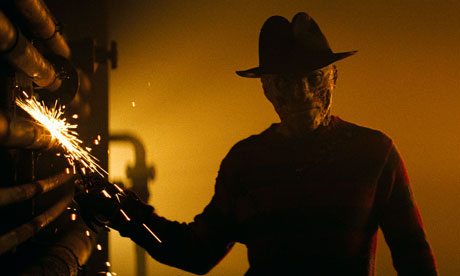 So the movie opens at a diner where Dean is waiting for his girlfriend, Kris. He falls asleep & meets Freddy who kills him although to Kris & the waitress, Nancy it looks like Dean cuts his own throat. It's a decent opening that looks good & sets up the story nicely except for one thing…Freddy's make-up. I hate it so much…it is supposed to mirror a real burn victim with CGI for the up close bits. It looks fake & I don't understand why in a movie so fantastical the creators were worried about the real effects of a burn victim & going with that look.
Also CGI? Really?
At Dean's funeral Kris sees a photo of herself as kid with Dean but doesn't remember knowing him that young. A horrible jump scare later & Kris is now being stalked by Freddy in her dreams. Nancy is a side-story at this stage & character development is non-existent. It's right in with little to know about the long-term relationships of the characters.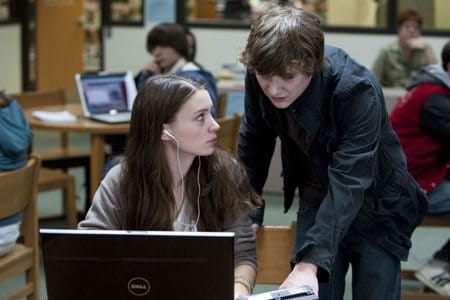 Kris discovers a box in her attic of stuff form her childhood including a dress that has claw marks similar to the kind Freddy uses. Not only does it insult the intelligence of the viewer (why would her mother have kept that!?) but it leads to yet another poor jump scare. Get used to this…
So Kris dies in a homage to Tina's death (but lacking the same kind of impact) from the original & her fella Jesse (who was there when she died) runs to Nancy's covered in blood. He tells her what happened & Nancy reveals she has also been dreaming of Freddy. Jesse is arrested shortly afterwards & killed in prison by Freddy.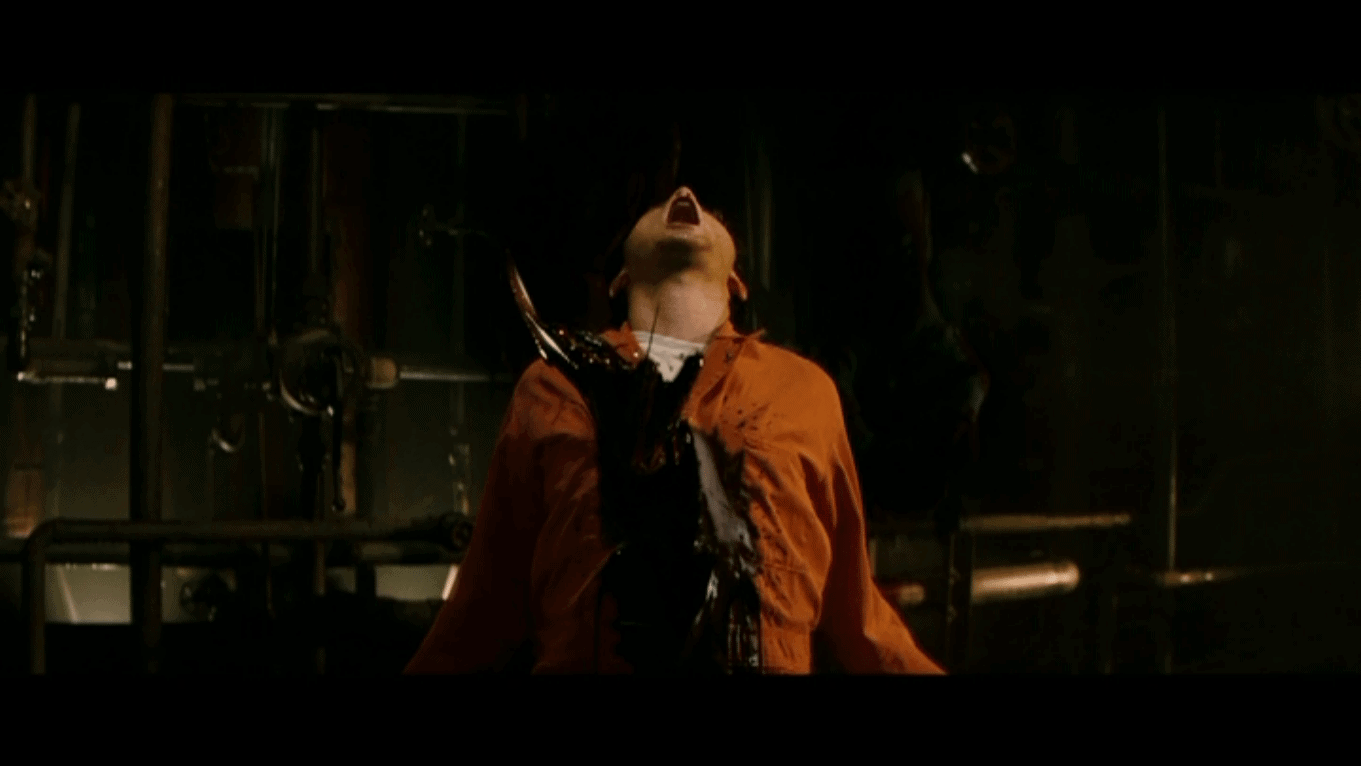 Nancy now takes centre stage but is a poor lead that makes it difficult to get behind & support. Alongside her admirer, Quentin they discover that Freddy Krueger was a caretaker at their pre-school & he was accused of being a pedophile after Nancy told her parents. With little proof beyond a child's word the parents hunted him down & murdered him with firebombs.
All of this is shown in a dream-sequence of Quentin (who fell asleep while swimming if you can believe that). The why & how of this dream are irrelevant as it is a plot-forwarding device.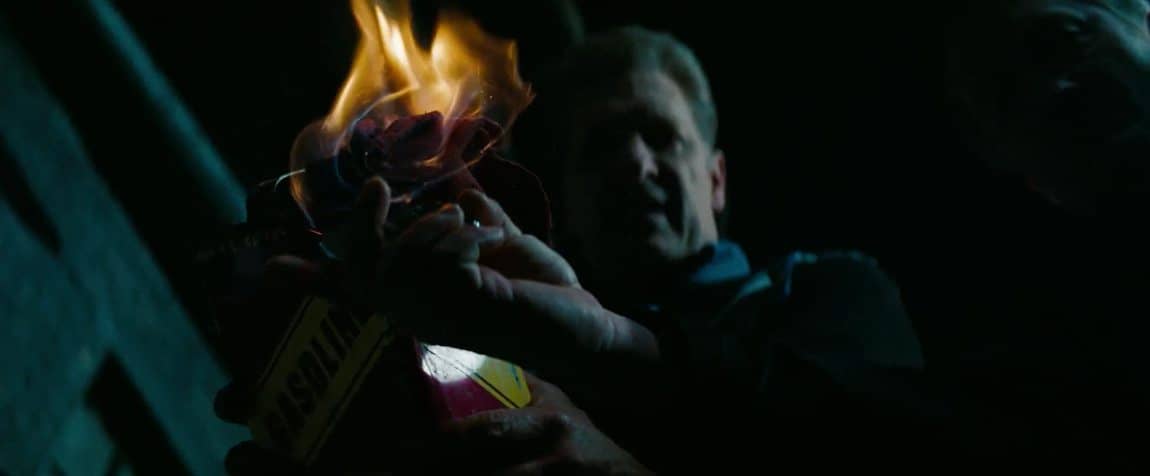 This convinces Nancy & Quentin that Freddy is getting revenge for his wrongful murder. It seems as though the parents found no proof & couldn't find his 'secret cave' as described by child Nancy.
A little later in the film the duo will find his cave with little effort proving that Freddy was a pedophile anyway so all of this interaction is pointless.
The latter half of the movie sees Nancy & Quentin trying to stay awake but suffering from micro-naps that allows them to fall asleep at time for a few seconds without even realising it thus allowing the lines of dream world & reality to blur or as it so obviously is…to allow Freddy to appear whenever he basically wants too.
I hated this development as it was incredibly lazy with Freddy just popping up at every available moment to drop another rubbish jump scare. By the end of the film I was sick to death of these kind of scares but just to spite me the film ends on one final jump scare that had me shaking my head in disappointment.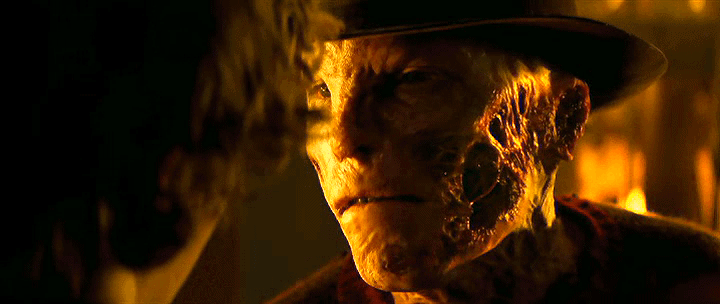 There is so much to dislike in this poorly done remake that the good is badly overshadowed. It has to be noted that there are many excellently done visual effects such as the classroom scene.
Sadly far too many rehash the more memorable scenes from the original but using CGI. For example in the original Freddy appears to move in the wall above Nancy's bed while she sleeps & it looks amazing…here it is CGI & looks awful.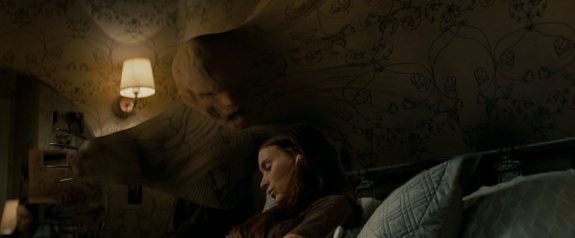 A darker, more evil Freddy was welcome but he still spouts one-liners albeit with a more black comedy feel. He just doesn't impress…like the film overall.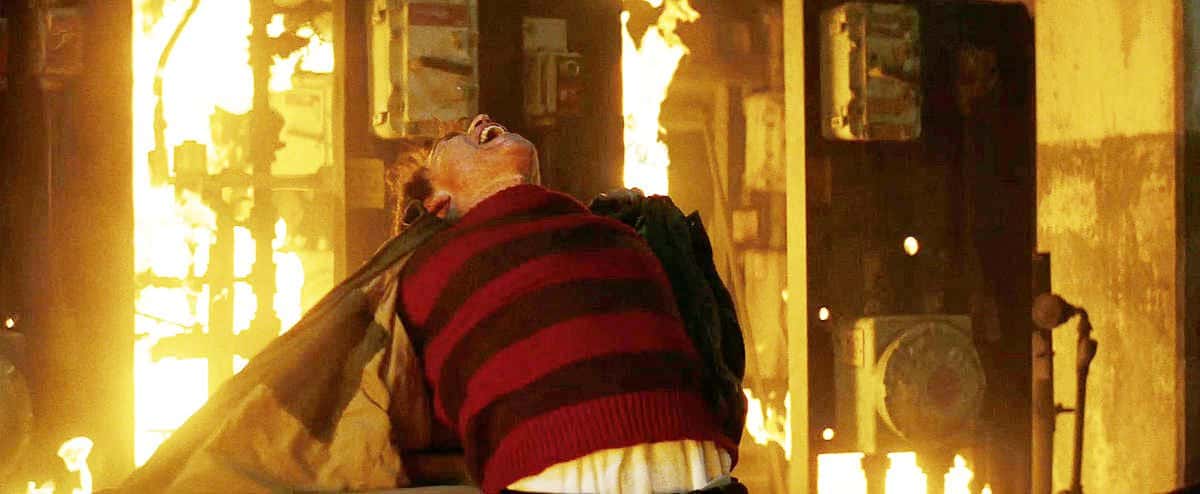 A disappointing remake & one that really doesn't surprise. Whatever it manages to get right it is over-shadowed by just how much it gets wrong. Freddy & Nancy are the most disappointing thing though & it is a struggle to see how the franchise can continue after this (it's been 5 years already).
A Nightmare On Elm Street - Remake
The Final Score -

5/10
Comments Rating
( reviews)