Live Review: Devin Townsend at the Royal Albert Hall, London (16/04/2022)
It is a warm, sunny Saturday in London and the Devin Townsend show has rolled into town ready to spark a fire in all of us at the iconic, Royal Albert Hall in London.
Nursing a little bit of a hangover, and fatigue, from an amazing Friday night in London watching the mesmerising Ward XVI, the prospect of heading back to London during a period of transport disruption and tube closures isn't very appealing. Still if, there is one thing certain to motivate and drive on those weary legs it's a Devin Townsend show. April has felt a bit special for live music for me. After so long without much ion the way of regular gig opportunities, I am off to my 3rd show this month. Ward XVI being one, now Devin and prior to that, the all powerful Dark Tranquillity. Tonight is extra special though, in that that I am bringing my 10 year old daughter, a huge Devin Townsend fan, along to her first ever show and I am hyped.
Have you ever brought your child to a show? I am sure plenty of you have. Being my first time, I am a little on edge at first. It's going to be a late finish. How will she cope with support acts she doesn't know? Will she get bored in the songs she doesn't recognise? How many beers should I drink? Big questions indeed. It certainly adds a level of wariness to the event as I hope and pray Devin delivers, the metal fans are respectful and the venue is better than just a historical monument.
We head up early, wanting to be nice and settled in our balcony seats/box and other than having to walk the circumference of the Royal Albert Hall to get to our door, having come from the opposite main access point, we are inside quick. Security check my daughter's bag briefly. That must have been funny for them. Rare to have to search a bag and find a phone, a Rubik's Cube and a few stuffed teddy key chains I suspect. This is clearly the first time I have been to this venue so everything was as new to me as it was to my daughter. We walked in and came instantly to a bar and snack stop.
I grabbed a beer and a bottle of coke for the little one and joined the queue before being rushed by a security guard who yelled demanding how I had managed to get a bottle of coke in. I had to calm him down and explain I had just taken it from the fridge and was now queuing to pay for it. He grunted and left. What a dick. Little venue oddities continued like they removed the lids from all bottles of coke. I couldn't figure that one out. Was it so we wouldn't throw them? Surely the bottle itself is more of a threat. Aside from those little moments, we were quickly upstairs, greeted by an usher who led us to out seats.
A final gripe with the seats, when you purchase tickets for a box, you click 3 x dots next to each other. When you get there, it is 2 seats, then a walkway, then another seat. A small thing perhaps but with my wife and daughter on 1 side, I now find myself  slightly separated, sitting with a stranger. Not cool. Seats wise, I got what I wanted though. The view was awesome, the seats were okay with limited leg space with friendly staff walking around and bars in every direction. Plush toilets, soft and historical surroundings. It all felt a little surreal.
As the crowd slowly swelled, Vola took to the stage. I don't know a lot about Vola. I certainly know a lot more now and thought they were excellent. Musically very in line with Devin Townsend having a progressive and eclectic style. They were popular and had plenty of fans in the venue as they spared through a mixture of songs from gentle ballads to sample heavy rhythmic monsters to skull crushing riffs. The drummer was absolutely phenomenal to watch and hear. He played like he was a dancer, watching him drum with full body movements as he hit complicated patterns before turning rapidly to an effect machine and live playing the samples. Wow.
A gorgeous acoustic song called Enter really dripped with emotion before heavier hitters like These Black Claws and Stray the Skies rammed home how heavy and intriguing they could be. A band I plan to learn much, much more about.
So it was time, all hyped up and with a madly excited child in tow, we waited for Devin Townsend to take the stage. One thing I did note at this point was how sparse the stage was. I guess the expectation was that if Devin was playing the Royal Albert Hall, we were going to get a massive show. As the gig continued, it became apparent that was not going to be the case. This was a pretty stripped back affair, the reasons for which Devin comically explained with one word. Diesel! I also had a little worry at this point as Devin himself had stated these were going to be the two completely unique set lists of our favourites, his favourites and rarities. The worry was that half or all of his big hitters would be left out and maybe played tomorrow, on his second night here.
Thankfully, I didn't need to worry. It seems the second night got the less common tracks and we, thankfully for my daughter, got exactly what we would have hoped for. He is greeted with a huge roar of appreciation as he burst into Devin Townsend Project's Failure before, in just the second song of the night, we get Kingdom. Early, I thought – maybe this will be an odd set but the hits just rolled. Hyperdrive, Life and Strapping Young Lad's Aftermath came in quick succession before a rousing rendition of Deadhead received a massive sing along. The crowd were into it, a swelled pit moving and every balcony full of cheers, applause and moving heads.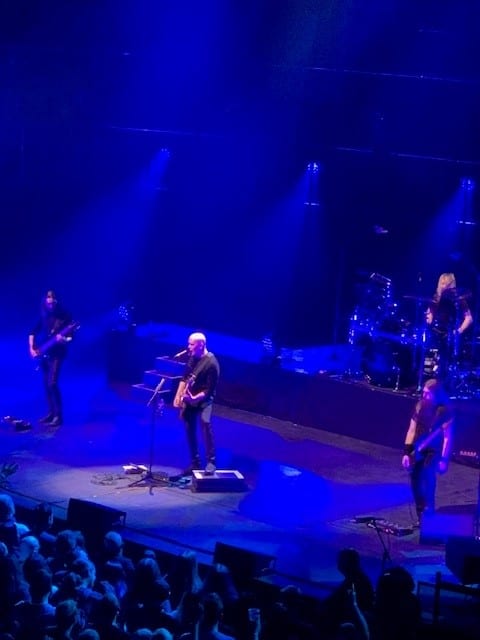 Between most songs, Devin Townsend regales us with quirky and comical repartee, sometimes in the most confusing streams of chatter where he seems to talk himself into circles. He is having a blast and addresses the fact that he feels silly thinking he could wow us with wit instead of inflated ball bags to bounce around. But hey, diesel! On with the show and a hilarious acoustic rendition of Ih-Ah! gets another huge sing along before I was insanely shocked and delighted to hear him play my kid's favourite song, Why? from the excellent Empath album. It just felt right. So many smiles, joked and Devin is clearly having just as much fun as the crowd are.
The hits continue to drop with March of the Poozers, followed by Epicloud's More! before the ending of the main portion of the set closed with a mosh pit inciting rendition of another Strapping Young Lad song, and probably their most revered, Love! Another big comical speech about pretending there wasn't going to be an encore led into possibly the funniest part of the night. As the band remerged to a deafening cheer, technical issues befell them leaving Devin with no choice but to try to talk to us, to keep us entertained, while the issue with lights was repaired. Thus started 5 minutes of utter madness, not totally different to a short Devin Townsend stand up act. The man is eccentric, at best, a little mad perhaps.
In one way, sadly, the technical difficulties did get fixed but to my delight, that meant we got into the beauty of Spirits will Collide. A lovely song, another huge sing along and my daughters beaming smile made this extra special. Time for some energy to close out the show though as Vampira was then followed by a final Strapping Young Lad song in Detox. I did wonder briefly what on earth tomorrow night were going to get if they were truly unique sets. That wonder didn't last long though as we picked ourselves up and started to exit the building to the outro sounds of the Macarena.
We made our way out into the still warm air of night time, full of joy and feeling emotional and warm inside as well as outside. We chatted eagerly about the experience, something Devin Townsend can deliver like no other. Inside we felt lifted. Positive and charged heading home appreciative of what we had just witnessed. Make no mistake about it, Devin Townsend is a genius and an artist. A supremely talented musician, a poet and a wordsmith and this show will live long in the memory.
Even if I now have to worry about my daughter's next gig. She sat in a box, with snacks in the Royal Albert Hall with a perfect view watching Devin Townsend. I need to break it to her that this is not how most normal gigs go. That can wait, for now. Instead we just look back and feel grateful for being a part of it.
Devin Townsend at the Royal Albert Hall, London (16/04/2022)
Vola -

8/10

Devin Townsend -

9/10