Live Review: Dark Tranquillity/Ensiferum with Nailed To Obscurity and Brunhilde at Heaven, London (05/04/2022)
Swedish melodeath pioneers, Dark Tranquillity arrive in London with Finnish folk masters, Ensiferum alongside them and with a wonderful support line of Nailed to Obscurity and Brunhilde.
London is the first UK date and just the 4th show of a mammoth tour that will see the bands play across nearly the whole of Europe all the way through until the end of May. It's a stacked line up with immense quality across all 4 bands but, for me, Dark Tranquillity are the ticket seller. I know of Brunhilde and really want to know more and am a big fan of Nailed to Obscurity's oppressive heaviness and Ensiferum's power and energy too, of course but I have never actually seen Dark Tranquillity live.
They are a band I have always liked but that grew to love off the back of the amazing, Atoma. That was the album that made me really need to see them live. Something I should have done a couple of times by now if it wasn't for the world interrupting Covid.
Like for so many others, that really impacted on the live shows I attended. It still does, with gig cancellations becoming as common as announcements these days. So, to be here, ready to watch, listen and absorb live metal from bands of this size and quality, it's special and more than a little emotional.
Heaven is a new venue for me. An iconic London nightclub under the arches of Charing Cross, I am not sure what to expect but previous experience tells me that night clubs don't always make the best venues. You descend stairs into darkness, a basement or cavern where I can only assume the recent hike in energy prices accounts for the near total darkness. It has atmosphere though, with thick stone arches and darkness adding a touch of "metal". Acoustically, the venue is awesome. Through every band, the sound is phenomenal and the cavernous echo from the buildings design just makes every note reverb off of the stone walls straight back on to you.
The stage is high, with band members feet roughly at a tall persons head height which made viewing easy enough. Another positive, or negative depending on how you feel about it is the lack of phone signal. Literally nothing, due to being underground so no need or ability for Facebook scrolling. Negatives are plentiful as well though. The beer selection is shit. Seriously, modernise. There are so many great breweries in and around London, I am so sick of venues charging big bucks for shit beer.
There are 4 bars, though only three open which is great and means next to no queues but all bars sold the same crap. Cans of Red Stripe, bottles of Peroni and Corona. I finally found some taps and they were shit too unless you only want to drink Magners or Becks. Out of the corner of my eye I spy 4 odd looking taps and rejoice, could this be a pint of pale ale, or lager or anything decent? No – it's cocktails on tap. Espresso Martini and the like out of a tap. That's gross. What I would do, and pay, for a decent beer at a gig.
As for pricing, it is inconsistent but pretty typical London prices. Inconsistent because I bought 2 bottles of Peroni at different times. One cost me £4.50 and the other £4.95. I also bought 2 Vodka Red Bulls with one costing £6.50 and one costing £6.35. Money I don't mind spending if the selection is decent but begrudge spending on a Becks or Peroni. I also chuckled at the Lost and Found which has a sign on saying they will charge you £1.50 to give you your lost item back. That takes the piss. Surely they can't refuse to give you your own property back – that is theft?
Nuanced and irritations but for the most part, it's big, it's roomy with loads of room for merch and movement and awesome sound.
And that is what I am really here for. Live music.
Train times and leaving work meant I only just made it for the last 15 minutes of Brunhilde. Hard rocking music with catchy vocals and powerful riffs, they were good fun and had a good turnout. When the riffs dropped, it crossed heavily into metal with the whole room shaking from the impact of the drums. The song, Hell or High Water, was especially enjoyable and infectious. They warmed up the crowd perfectly and are definitely a band that could go on to huge things with a lot of cross over appeal in different genres.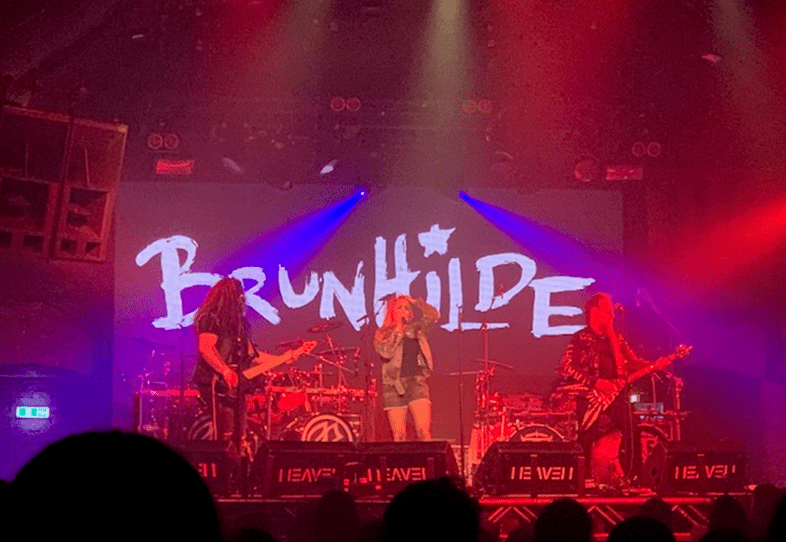 A very quick changeover (10 minutes) and an introductory atmospheric backing track brings out Nailed to Obscurity. You get the feeling something awesome is going to happen as the crowd swells. Nailed to Obscurity start with a bang with the excellent Black Frost. Starting with a drum solo, the drums shake the floor as the sounds of oppression fill the cavern. Raw and visceral vocals attack your ears. The crowd is really turning up for the early bands though so far, mostly watchers and a few heads moving. Every passing minutes sees more and more join in as the band capture their attention and bring them on the journey. It's brilliant and sounds immense.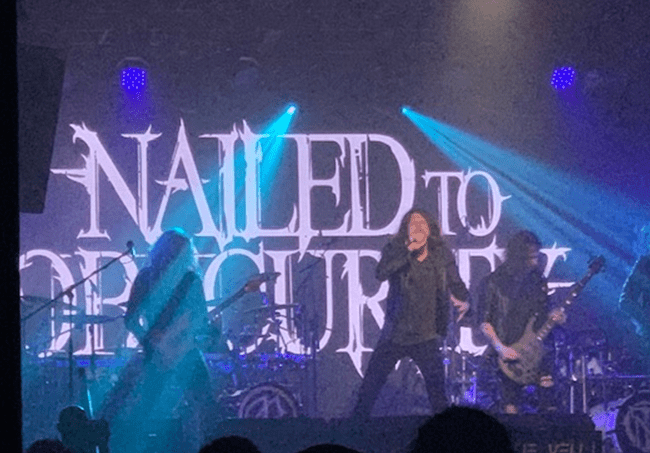 The German band look and sound like the real deal with their blend of melody and heaviness just working perfectly as they threaten to steal the show from the headliners. The guitars and the duel harmonies/solos are special, rebounding off every brick, you feel like their musical depth is piercing your very  being and you are becoming one with the notes. Their latest single, Liquid Mourning gets a huge roar of approval and I am left genuinely wondering how anyone, even Dark Tranquillity or Ensiferum, will top this. I could honestly have listened to these guys play for the next two hours and left more than satisfied. Amazing.
Ensiferum come out next and it is very clear early on that they have a lot of fans in the room.  An emphatic orchestral backing track plays out and the now hyped and packed crowd are reaching fever pitch. They get underway with Rum, Women, Victory and the huge riffs and folk melody combines to create a catchy an exciting sound that again fills the room and sounds amazing. The crowd are moving now, energised and ready for battle. Andromeda goes down a treat and has many singing along, fists raised high and a bit of a pit going now too.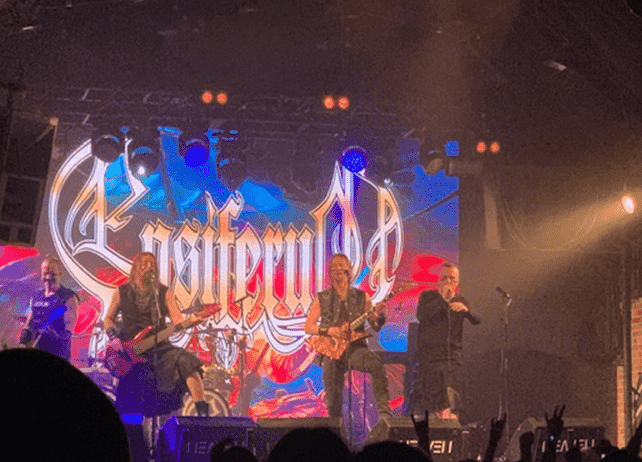 It's heavy on the folk, but the growled vocals and powerful riffs put them firmly on the heavier side of this genre. The band look happy, well all except for lead vocalist Petri Lindroos, who looks happy but calm and rarely smiles throughout. The rest though are messing around, switching positions and having a blast. Something that passes on to the crowd and just gets them even more fired up. One More Magic Potion, Into Battle and For Sirens keeps the gig ticking along.
I am enjoying it immensely but, after 5 or 6 tracks, the same heavy riffing and folk cross can start bringing a bit of a feeling if repetition even if Into Battle in particular has one of the catchiest choruses ever and sees the whole crowd joining in. Run From the Crushing Tide is on the heavier side, so much so that they keyboard player is surplus to requirement so comes forward with a mic and takes over clean vocals. It's a small thing but watching the band moving around, all having fun, is nice.
The energy stays up through a popular oldie, Treacherous Gods and then into In My Sword I Trust before the heavy folk based Lai Lai Hei gets the crowd interaction with the Ensiferum encouraging sing backs. They close out to absolutely rapturous applause and cheers with From Afar leaving a sweaty and grateful mass of bodies rushing for drinks and phone signal, well and truly fired up for Dark Tranquillity's turn.
The 15 minutes or less changeovers are done with as Dark Tranquillity essentially have the whole stage disassembled and then reassembled entirely. I am pleased to see that the heavy Ensiferum following haven't left and the crowd is even more packed and hyped for the Swedes to arrive. What can I say about these absolute legends of melodeath. They are, unsurprisingly, absolutely brilliant. They have switched on a huge backing screen that runs through different videos and shots for every song, they sound note for note perfect and, in a way, set the benchmark for how to operate on stage even for the other excellent bands playing with them tonight.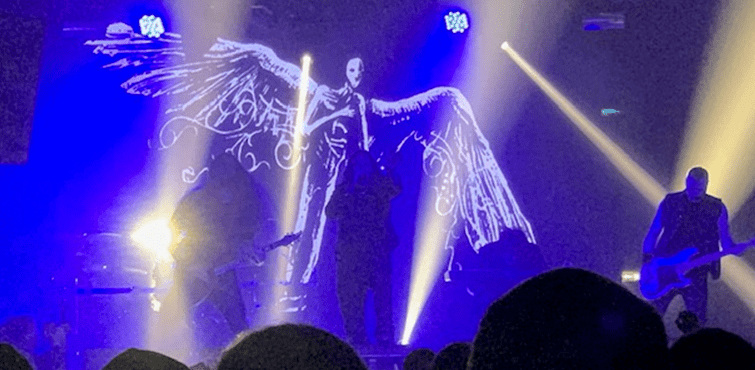 Starting with Phantom Days, the band are clearly enjoying being back out on the road and the crowd are loving it. The lead guitar is so clean and powerful and the keys soak into you. It is smooth, effortless and absorbing but oh man do they pack a punch sounding way heavier than on record. Mikael Stanne puts on a showcase of how to be a front man. Aside from his immaculate singing and impressive growls, he stalks the stage, never standing still, getting down by the crowd on both sides. Always smiling, great crowd interaction and appearing both grateful and humbled. He is awesome. I may be in love.
The excellent music continues with Transient and then Focus Shift. The backdrop is hypnotic, ever changing and timed spotlights are as much part of the show as the music creating an all encompassing experience. The crowd are raucous now, the pit is moving, horns are in the air. It's good to be back. Monochromatic Stains hits hard and rumbles the ground before the more chilled but still impactful Forward Momentum gets a huge sing along going.
Those who know the band will have noticed they are a man short, explained by Mikael due to Christopher Amott needing to be present for the birth of his first child. He gets a big cheer from the crowd as the band make a joke about their replacement being stuck at immigration. Handled professionally and with good humour which meant the fact that rhythm guitar was on a backing track – well, no one cared.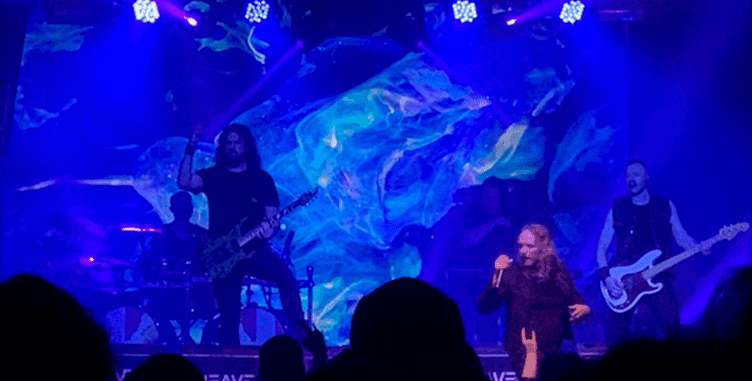 Terminus (Where Death is Most Alive) gets the heads moving again before The Dark Unbroken and Final Resistance gets every head banging along ferociously. The biggest sing along of their set comes with their popular track, Atoma. It's clearly a well loved song and also sees the most amount of cameras whipped out for a recording session. It sounds so much heavier live and just completely fills the room.
The New Build looks to snap everyone out of their emotional chilled zone with a pretty brutal track, seeming more so after the lush sounds of Atoma. As Mikael talks to the crowd, you can clearly hear a collective requesting/demanding old tracks and I love how the band handled it. Mikael smiles at the crowd, commends them on their good choices but explains they will play one from Moment instead. His way of handling the crowd means that everyone hangs off of his every word and so Identical To None gets aired to rapturous applause. This is the Moment European tour after all.
Encircled and then a viciously heavy rendition of The Treason Wall see the band say thank you and leave the stage. What is this, I thought? Are they going to go old school and do a proper encore? As fellow revellers looked around wondering if it was truly over, a growing chant of one more song starts to rise until everyone has joined in. Then, and only then, the band returned. Mikael looks at the crowd with a smile. "One More Song?" he says questioningly. "This is London, you guys get more than one". Imagine the cheer then as they burst into Therein before perhaps the most popular song of the night comes in Lost to Apathy.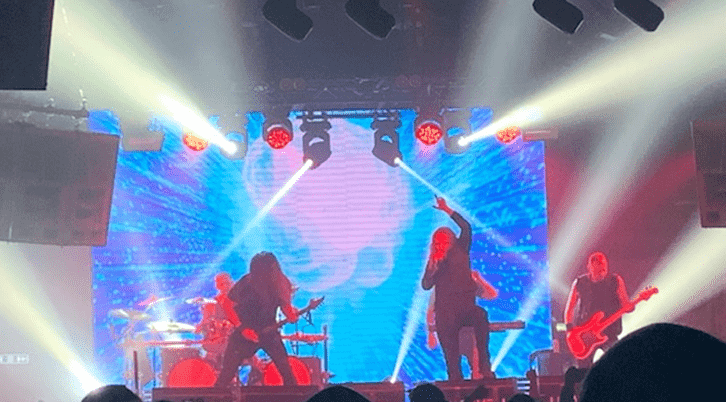 As if Dark Tranquillity hadn't already cemented themselves as one of the most engrossing live bands out there, a heartfelt speech from Mikael is delivered. He talks about missing touring, declares his love for us, his band and music and clearly looks like he is choking up as the crowd take over and roar approval. It is a beautiful moment in a beautiful night, closed out with the final track of this amazing tour, the excellent Misery's Crown.
4 amazing bands, one amazing night of metal and a tour that is sure to wow every audience in every city and country they visit. It felt special, like a reopening. With so many bands nervous of touring, so many cancellations. Just like Dark Tranquillity led the way with melodic death metal all those years ago, they are leading the way again here showing other bands of similar sizes that the days of lengthy tours and multiple country stops is not over. The fans are hungry, you just need to come and we will be there.
For Brunhilde, Nailed to Obscurity, Ensiferum and Dark Tranquillity, thank you. All four bands, differing in style but coming together to perform remarkably and with unity breathing life and belief into metal fans everywhere.
Dark Tranquillity/Ensiferum with Nailed To Obscurity and Brunhilde at Heaven, London (05/04/2022)
Dark Tranquillity -

9/10

Ensiferum -

8/10

Nailed to Obscurity -

9/10

Brunhilde -

7/10