Live Review – CKY at O2 Academy Brixton (28/04/2018)
American rockers, CKY, have been out on tour around the UK as main support to reggae metal giants, Skindred as part of the Start The Machine tour. With 9 dates across the length of the country, GBHBL caught up with them on the second last show at the iconic Brixton Academy ( O2 Academy Brixton for the newbies).
CKY have been about for such a long time, it is quite unbelievable really. They formed way back in 1998 but have only had a handful of full length album releases in that time. Their discography is bumped up by a load of single releases and EPs. There are a couple compilation albums and even a live album but just the 5 studio albums. The latest of these was 2017's release, The Phoenix, which was release 9 years after their previous, Carver City.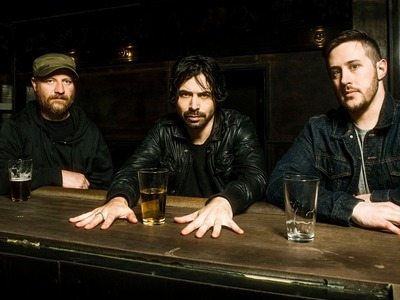 Perhaps unfairly famous initially for being the band connected to Jackass' Bam Margera, they have gone on to carve themselves a big following of fans and their popularity is evident here tonight at Brixton Academy. Almost every person we see has a CKY shirt on which is amazing considering this is Skindred's show.  Fronted by vocalist and guitarist Chad I Ginsburg, with bassist Matt Deis and with Jess Margera on drums, CKY have their hands full tonight with an expectant crowd.
It is a Saturday night, Brixton is bustling and ready to party and the deafening chants of "CKY" show that the Philadelphian trio are not just a band to pass the time whilst waiting for the headliner. CKY take to the stage to rapturous applause. They sound really strong with the vocals and guitars ringing clearly and drums shaking the floor almost as much as the frenzied crowd in the pit. The venue has done a great job with the sound, as it usually does.
CKY whip through a varied set brimming with energy that perfectly fits the mood inside the venue. Newer tracks from their most recent release, The Phoenix, get an airing and go down well with a crowd that seem to know the songs well enough to sing the vocals back at the band. Tracks like Replaceable and Heading for a Breakdown go down a storm and are really infectious songs to listen to even for anyone who isn't familiar with them.
Despite the time gap between albums, the newer material slots in nicely with older fan favourites like Flesh Into Gear. Throughout the set CKY bounce around. They have loads of energy and enthusiasm and look like they are having a great time. Something which naturally elevates a crowd. Ginsburg also interacts well with the crowd. He cracks jokes regularly and gets a few laughs in return. The crowd definitely appreciate the funny introduction to 96 Quite Bitter Beings as Ginsburg jokes about the Margera connection and why they might be famous.
A good set, a fun band and pretty much the perfect warm up to the band due on next, Skindred. CKY not only hold their own, they leave a large Brixton crowd smiling and sweaty as they head off to the bar talking about "how awesome that was". Fair play.
You can grab a copy of The Phoenix at the usual streaming services like Apple Music and Spotify. You can also grab that, and more from the band at the Amazon links below. Check out CKY on Instagram, Twitter and Facebook for more info on them and their music. Be sure to give them a like and follow while you are there.
[amazon_link asins='B0725PC2QZ,B071KZ798Y,B072C5KFJH,B0000E3HKL,B01E02NCDK' template='UseThisOne' store='g0e5b-21′ marketplace='UK' link_id='63278524-4c57-11e8-8230-8bfbcc1dba8d']
CKY at O2 Academy Brixton (28/04/2018)
The Final Score -

8.5/10