Live Music Review: Evil Scarecrow at the Garage, London (13/11/21)
Have you missed live music? Evil Scarecrow certainly have, you sure can tell.
Reaching the last date of this tour, it was London's turn to shake off the dust and get their robot, crab-based, space-walking and karate kicking shoes back on. This is Evil Scarecrow and silly, fun, heavy metal music is what they do.
The stage is made up to reflect their brand new single 'Master of the Dojo' which does get an airing tonight. Alongside a suitably silly inflatable and some hefty crowd interaction. No surprise there, after all, what is an Evil Scarecrow gig without crowd interaction? It also really helps that the busy, but not packed Garage, is well and truly up for it.
A lot of people needed this. Winter is creeping in; the days are shorter and we're still not out of the woods when it comes to the global pandemic. We need reasons to smile, laugh and cheer and Evil Scarecrow know how to deliver those.
Whether it be through the medium of their music; tracks like Last Battle of the Unicorn, Robototron, Polterghost, Space Dementia, Hurricanado, The Ballad of Brother Pain and Crabulon sound immense. Or through their on-stage antics and banter, Evil Scarecrow brought reasons to smile, laugh and cheer.
The thing is, what makes this band so special is that behind all the silly and fun antics is a bunch of talented musicians.
Musicians who have written a ton of great heavy metal head-bangers and are more than capable of delivering a riotous live show. This was one of those shows. Let's be honest… have you ever seen a bad Evil Scarecrow show?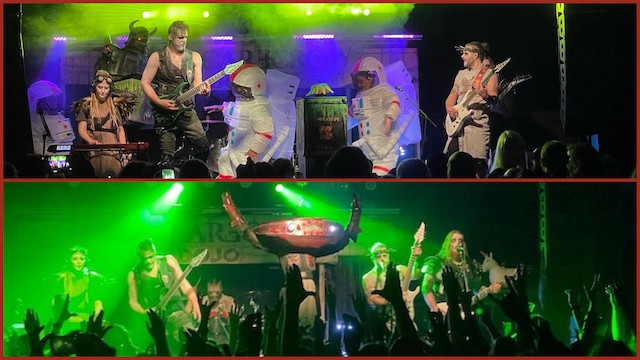 They're getting better and better at this though. Even the stage show doesn't seem as… cheap. The song choices tonight, while featuring a ton of their major hits, also draws from a wide variety of their releases.
So, they have the songs, they have the talent, they have the show and they have the perfect balance of comedy and metal music. Long may the dominance of Evil Scarecrow continue. We need them as they much as they need us.
Evil Scarecrow at the Garage, London (13/11/21)
The Final Score -

9/10