How To Improve Your Drumming Skills
As a drummer, you have one of the most important jobs in a band. The drummer is responsible for holding the band together and drive it forward. Not to mention, you also have to keep time in your head while listening at the same time. 
In short, you must be a multi-tasker if you want to be a good drummer. The demand for good drummers nowadays is increasing, so it's important to practice consistently and work hard on improving your craft. 
With that said here are some tips on how to improve your skills as a drummer and take it to the next level. 
Master The Fundamentals
To become a very good drummer, you must master the fundamentals first and develop your own style. If we're talking about the fundamentals of being a drummer it includes: 
Learning how to read a drum sheet

Mastering the essential drum rudiments

Practicing to a metronome
Mastering the fundamentals also allows you to develop muscle memory and prevents you from overthinking every time you beat the drums. This will then give you more stamina to keep up with your band, especially if a particular song is long or fast-paced. Learning the fundamentals is your first step towards knowing how to improve your skills as a drummer. 
Get Yourself A Good Drum Kit
The drum kit is one of the most important pieces of equipment that you'll need when you're going to start playing drums. However, many people don't realize the importance of getting a good drum set before they begin. Having a good set to start with will help you learn how to properly play and have a good time while you are learning. 
When looking for a drum kit, you may also want to get yourself some drum pads for practice. Drum pads are important because they allow drummers to practice in silence. After all, you can't just bang those drums in the dead of the night without disturbing anyone. With the kit and pads, you can arm yourself with the necessary information to play a particular pattern or beat through practice anytime.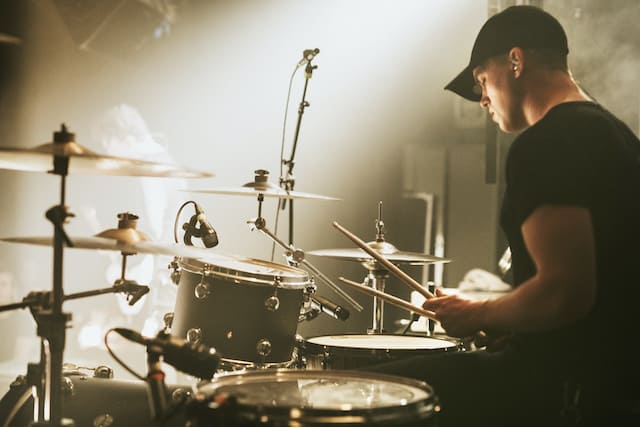 Be Consistent With Your Practices
If you think that simply watching all the drumming tutorials on video hosting sites is enough to help you become a good drummer, you should rethink. 
Even with all the observing and watching you've done on how to become a good drummer, chances are, they aren't enough. You always find your hands tapping around. It's your body telling you that you need to practice what you've learned.
 Watching numerous video tutorials and memorizing every beat you see from a famous drummer won't make you a good drummer overnight. It doesn't matter how many hours or days you've spent watching video tutorials if you don't throw in some practice on your own. 
Also, when you're practicing, it's important to be consistent with how you do things. You must execute techniques properly and avoid making errors when it comes to synchronizing beats. If you want to improve your drumming skills, you have to understand that the amount of time you put into practicing must be equivalent to the quality of practice you're doing.
Being inconsistent with your practices will cause you to falter with your basics. Remember, muscle memory is important for a drummer. Making your body memorize wrong movements can impact your skill.
Study Different Genres
As a drummer, you're always going to need new and interesting styles to perform, so you educate yourself about the different music genres: rock, pop, hip hop, jazz, and etcetera. This way you will become more versatile. 
If you only have an interest in playing one type of music, you're going to miss out a lot. If you receive formal training and learn various styles of music, you'll understand. Learning to play different songs in different genres can broaden your knowledge. You'll also have a better understanding of what kinds of music you should be focusing on as you develop. 
A good way of going about this is to pick famous drummers from a particular genre and try to emulate them. Once you master the songs by those drummers, you can try to incorporate your style into them. When you reach that point, prepare yourself for a fun and exciting learning experience. 
Final Thoughts
These tips for becoming a good drummer should be used by budding musicians who want to pursue their dreams. Use them as a guide. If you keep doing what you've been doing and stick with your training, you'll reach the level you want to get to. Just remember to always have fun when playing. And most importantly, practice what you learn.