Horror Short Review: The Nail That Sticks Out (2018)
Directed by Jordan Dean with a story written by Rebekah Whelan, The Nail That Sticks Out is brooding horror short staring Natsumi Kuroda, Laura Peterson and Hugo Nicolau.
The Nail That Sticks Out is a very artistic horror short and that's not just because of its characters and story. Rather, the visual style has all the make-up of something akin to a dream. It doesn't necessarily make sense, but how often are dreams coherent?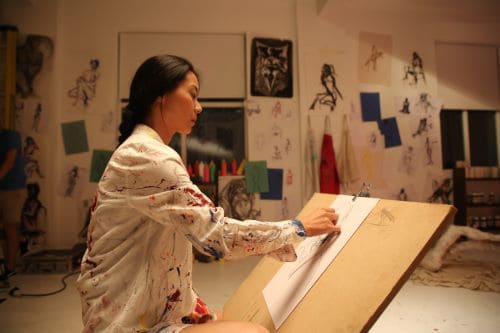 Aiko (Natsumi Kuroda) is a Japanese artist living in the UK with her girlfriend and muse, Elizabeth (Laura Peterson). Having caught the eye of the art world previously, Aiko is struggling to follow-up her success and her frustrations are bubbling over. This of course, has an effect on her relationship with Elizabeth, who is also struggling in her acting career. Finding herself embarrassed by a snobby critic (Hugo Nicolau) at a gallery and looked over for parts.
Both women struggle to support the other, clearly not having much understanding about each other's hopes and dreams. Inevitably this will come to a head, that's expected, but what isn't is the shocking and violent way in which it does.
The Nail That Sticks Out stays with you afterwards. Part of that comes from the dream-like visuals that blend with real-life issues. This is a lovely looking short. Another part is how cold and dark the finale is, the final image on screen being both delightful and horrifying. Around those, we have strong performances from the two leads who manage to create a convincing relationship in a short amount of time. It makes their fates all the more chilling.
Check it out below and don't forget to subscribe to the Dark Matters YouTube channel to get your regular horror short fix.
The Nail That Sticks Out (2018)
The Final Score -

8.5/10