Horror Movie Review: Tales From The Lodge (2019)
The setup for Tales from the Lodge is hardly one to get excited about. A group of friends spend a weekend at an isolated house in the woods only to have to defend themselves against a maniac. However, thanks to a tongue in cheek approach, some solid acting and winks to the likes of Tales from the Crypt, it's quite an enjoyable British horror.
Written and directed by Abigail Blackmore, five old university chums getting on in their years have reunited to spread their other friend's ashes. The group is made up two married couples: Joe (Mackenzie Crook) and Martha (Laura Fraser), and Russell (Johnny Vegas) and Emma (Sophie Thompson). Then we have Paul (Dustin Demri-Burns) who surprises the group by bringing along is new girlfriend Miki (Kelly Wenham).
A decision that rubs Martha up the wrong way, unable to keep her catty remarks to herself. Mind you, you can't blame her seeing as they are all there to spread the ashes of their friend, Jonesy (Adam Straughan).
The early portion of the movie is paced well and mildly amusing as the characters talk, snipe and poke fun at each other. They're a believable bunch, convincing as a group of friends staring middle age in the face.
Where the movie really starts to get good though is when the characters decide to tell scary stories to pass the time. Often funny, always dark and acted out by some the characters telling them (also directed by each individual actor too). There's an array of clever stuff here such as Vegas' Russell telling a zombie apocalypse tale with a twisted finale. Or the psychedelic story that Crook's Joe shares with the group. Imaginative stuff and made all the better by narration that is constantly interrupted by other characters. Resulting in the events on screen stalling, skipping or getting confused just like a story being told to friends would do.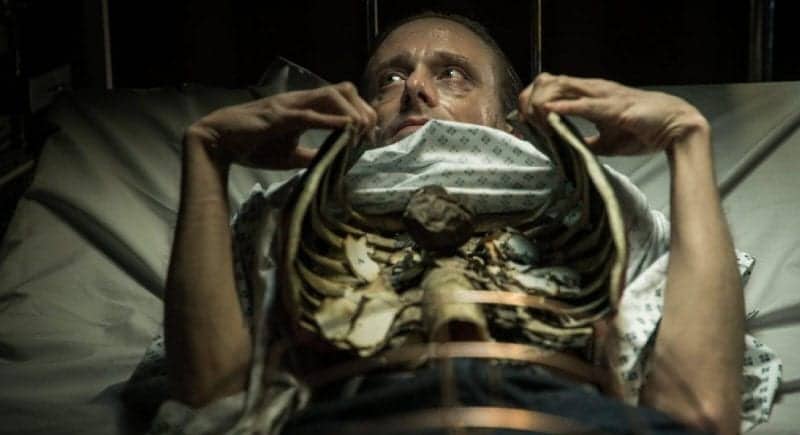 It's all fun and games though until Martha and Miki have one clash too many and Paul fails to stand up for his girlfriend. Miki leaves only to return later panicked and claiming to have been attacked by a maniac in the woods.
The night is about to get a whole lot wilder with many a twist and turn along the way to ensure friendships will never be the same again.
A very strong cast of British funny people makes Tales from the Lodge a memorable watch. It is a horror comedy that actually is funny. Not always but it has far more jokes that hit than miss. Great chemistry between the cast makes it all the more believable and while no-one has to work too hard, they certainly don't slouch.
If this review was based on the horror aspects of the story overall, it probably wouldn't be more than just an average watch. Its eventual descent in violence and torture all par for the course. Nothing particularly interesting aside from some twists that lose their lustre as the movie hurtles towards its finale.
Combined though, it's good fun all round and worth watching for the individual stories alone.
Tales From The Lodge
The Final Score -

6.5/10