Horror Movie Review: So Cold The River (2022)
Style over substance, So Cold the River is a promising horror/thriller that gets well and truly bogged down by its eccentric and muddled story, unlikable characters, and flat finale. The early refreshing taste that it offers quickly becomes flavourless and trite.
Written and directed by Paul Shoulberg and based on the novel of the same title by Michael Koryta. So Cold the River begins as an unknown woman gets distracted while driving and crashes. It's a bad wreck and all her belongings (the car was full) are strewn across the road. However, strangely, a glass bottle of water with an unusual brand seems undamaged.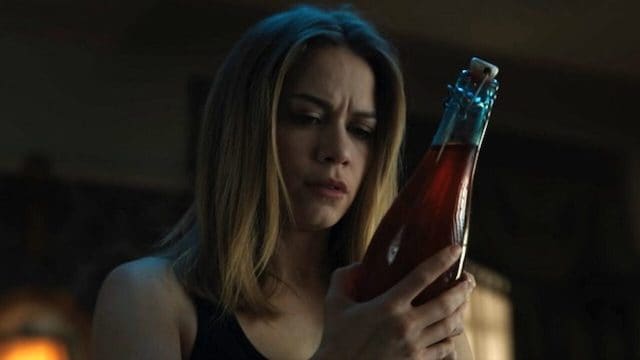 Sometime after, we're introduced to Erica Shaw (Bethany Joy Lenz). Once a big deal in the documentary world, she has resorted to making slideshows for funerals and the occasional wedding. Later in the film, it is revealed that one of her biggest documentaries revolved around a convicted killer and her work led to his conviction being overturned. Unfortunately, he promptly slaughtered his entire family upon release. Hence why she is struggling for work now.
Erica also has slight psychic senses and this led her to add some shots that she couldn't have possibly have understood into the funeral's slideshow. Something that gets the attention of the dead woman's sister who hires her to do a biography of her father, Campbell Bradford (David Myers Gregory). He is close to death and she wants to know more about his and the family's past.
Initially bullish about the idea, Erica agrees when she sees how much she will be paid. So, heads off to the town of West Braden, Indiana, where Campbell's history is embedded. Along with the bottle of water that survived the crash.
Once there, Erica holds up in the striking West Braden Hotel and that is where the majority of the film stays. No bad thing though as the hotel (a real place) is one of the most impressive things about the movie and it sure gives off some 'Shining' vibes.
As Erica begins to dig, she realises that people don't want to talk about Campbell Bradford. His memory hangs over the town like a malevolent force. Then she starts to experience nightmares and hallucinations. West Braden and the hotel in particular have a very dark past. Just how far will Erica go to get what she needs?
Having never read the book, there's no comparisons to make regarding authenticity to the original story. Instead, it was viewed with no prior detail aside from the knowledge that it was adapted. Hopefully the book is a bit more frightening and lot more interesting than the film is.
Its problems are many and a lot of the good is weighed down by the bad. It's a movie that chooses atmosphere and suspense over outright scares, which is effective at first. The mystery and sense of unknown is built up well. However, what it amounts to is intrinsically boring. The movie, obsessed with style, loses all substance. Yes, it's shot wonderfully but that's not enough to hold the attention.
Around the time that things should be coming clearer, story-wise, the movie instead doubles down on being mysterious and starts to lose its way. It becomes painfully obvious that the movie isn't going to satisfy the craving for an exciting and coherent finale. Yes, things ramp up, but even that comes out of nowhere making it feel disconnected to the rest of the movie. You'll get answers, you just might not like them.
So Cold The River (2022)
The Final Score -

5/10