Horror Movie Review: Saw: The Final Chapter (2010)
Saw: The Final Chapter or Saw 3D or Saw VII 3D was, for a while, the final entry in the long-running and exhausted Saw franchise. To say the series had nothing new to offer was an understatement and now, with this entry it attempted to join in on the fad that was 3D.
It's been a long and bumpy road for the Saw movies. One that has had so many ups and downs, it's often easy to just dismiss the series outright. However, there are good movies in the franchise but this is not one of them.
If you want to know what some of those good movies are, you can check out all our reviews of the series to date below.
2004 – Saw
2005 – Saw II
2006 – Saw III
2007 – Saw IV
2008 – Saw V
2009 – Saw VI
As per usual, Saw: The Final Chapter opens with a bunch of unknowns in a trap. However, unlike previous entries this one involves people that will have no bearing on the rest of the movie. Not only that but it is an excessive Jigsaw message that proves the series is just trying to shock now.
It's uninspired and pointless. Just a chance for a bit of 3D and to tick the box that says 'opening trap'.
Once that rubbish is out of the way, it's back to the overarching Saw story, you know, the thing that brings the likes of us back.
Having survived the trap laid for him by Jill Tuck (Betsy Russell), Hoffman (Costas Mandylor) has nothing but revenge on his mind. His face mutilated, Jill manages to escape and goes to Detective Matt Gibson (Chad Donella). She reveals everything about Hoffman in return for protection and immunity from prosecution. Gibson is all too eager to agree having suspected Hoffman's involvement for some time.
Hoffman has disappeared though and the games are continuing but first we need to meet Bobby Dagen (Sean Patrick Flanery).
Bobby is a Jigsaw survivor, one who has achieved fame and become a self-help guru. Along with books and TV spots, he runs meetings for other Jigsaw survivors. A place for them to share their stories and how they are coping. It's at one of these that a returning character is brought forth. One that genuinely brings a smile to the face. Who is it? Only Dr Lawrence Gordon (Cary Elwes) who we see survived his leg amputation in the first film by cauterising it on steam pipe.
…but wait? Wasn't he crawling out and didn't Jigsaw follow him out moments later? How did he escape his clutches? Questions that will be answered later in the film.
Before that though, Hoffman continues his attempts to get to Jill by drawing the police out with victims he puts in traps. Look out for the late Chester Bennington of Linkin Park fame as racist gang member here.
With so much going on, it's amazing that he has time to kidnap Bobby and put him in his own game. Why is Bobby being tested again? Well, it turns out he was never in a Jigsaw game having lied about his experience. Now, he along with all those involved with his deceit, will have to pay the price.
Will Bobby be able to actually survive his game? Will Hoffman get his revenge on Jill? Will Saw: The Final Chapter finally wrap the series up in a satisfying way?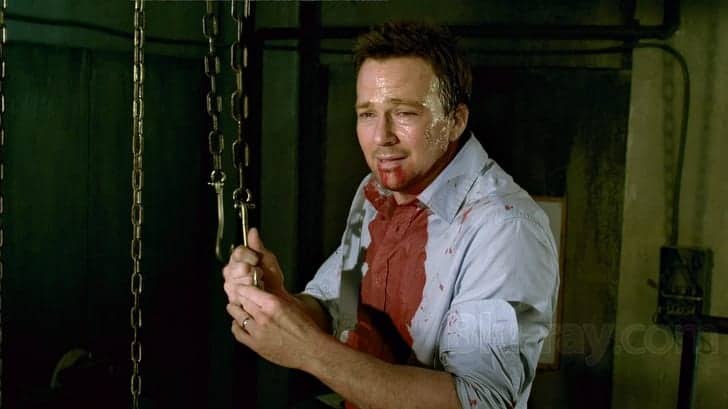 You'll have to watch it yourself to get the answers to those first two questions but the answer to the third is simply, no. No, Saw: The Final Chapter does not wrap up in a satisfying way at all. Instead, throwing in another twist with a bare-bones explanation and leaving yet more questions unanswered.
What it does wrap up though is the Hoffman/Jill Tuck side of things and that is good. By the end almost everyone involved from the start will have their story end. It's just a shame it's done in the laziest and most uninspired way possible.
Unlike the previous 3 films, Hoffman takes a backseat role here and while it is satisfying to see the net finally closing around him, it all feels a bit muted. The characters have nowhere else to go and with that, the actors little more to do. To say this is the most muted the returning cast has been so far is an understatement.
The entire movie seems to drag its feet, everyone seems to just want it to be over and even the thing that gets a causal audience excited, the traps, lacks most of the oomph found elsewhere. Although, gore-hounds will certainly find plenty to enjoy.
The positives in Saw: The Final Chapter come from two things. The first being the idea of a person faking a Jigsaw trap. The character of Bobby is something we've not seen before and you can tell, he feels guilty about it. So much so that when he ends up in his game, he actually tries to save everyone involved. He's likable, not overly but more then many of the lead characters in these films.
The second is the returning Cary Elwes as Lawrence Gordon, a loose end no-one thought would be tied up. He's not in it much but his appearance brings a sense of excitement to Saw that isn't felt anywhere else. It's just a shame the film's lack of subtly undoes what should be a shocking final reveal.
A haphazardly told story, one that doesn't gel together. A re-thread of tired tropes and a cast that seem ready to collect their pay-checks makes this the worst film in the franchise. A real shame it didn't end on a high.
Saw: The Final Chapter
The Final Score -

3/10