Horror Movie Review: Parts Unknown (2018)
"All beauty must die"
Written, produced, and directed by Boston Film Family CEO Richard Chandler, Parts Unknown is the story about how the infamous Von Strasser family (of professional wrestling fame) seek to violently reclaim their notorious status through supernatural means despite being blackballed by forces within the industry. The movie stars retired pro-wrestler/actor William DeCoff, pro-wrestling manager/actress Lizzie Havoc, and Boston Film Family alumni Alexandra Cipolla, Alexander Hauck, and Sarah Michelle.
In addition to that roll-call, legendary independent movie actress Melantha Blackthorne, who had a leading role in Chandler's feature film 'Gilgamesh' (2014), returns in a smaller role while former pro-wrestler Jake "The Snake" Roberts lends his vocal talents to the movie. Cameos are also provided by the indie tag team The Devil's Doormen as well as YouTube and podcast personality Brian Zane (of "Wrestling with Wregret" fame).
This is not the first wrestling/horror combination that we've had the pleasure of reviewing as 2013's Pro Wrestlers vs Zombies gave us Roddy Pipper, Hacksaw Jim Duggan, Matt Hardy, Shane Douglas and more fighting off the undead. While that had plenty of wrestling pedigree it lacked a hell of a lot elsewhere (read our review here). Parts Unknown is a different breed, dealing with grittier side of the graps and delivering some eye-watering violent moments.
So, the films focus is the Von Strasser family and what they will do to make sure they go down in history. Herman (William Decoff) makes a deal with an evil entity called The Holiness to satisfy its need for blood. He teams up with Lacey (Lizzie Havoc), a young wrestler has just about given up on life. Her problems are many, none more so then Kitty (Sarah Michelle), the younger sister of Herman who harbours a serious grudge against her.
"She's hardcore"
It comes to a head in a 'deathmatch' of sorts that sees Lacey lose a nipple and Kitty lose a hand after it is blown off with a shotgun. These indie wrestlers are taking it way too far and the griminess of it all makes it feel so grindhouse like.
To go with that feel, Parts Unknown doesn't cheap out on the gore or violence. As well as the above deathmatch, blood spurts out in copious amounts. One character ends up in a wood chipper and in a scene that is down-right uncomfortable, a character is 'fucked' to death with a dildo covered in razor blades. It's pretty horrible.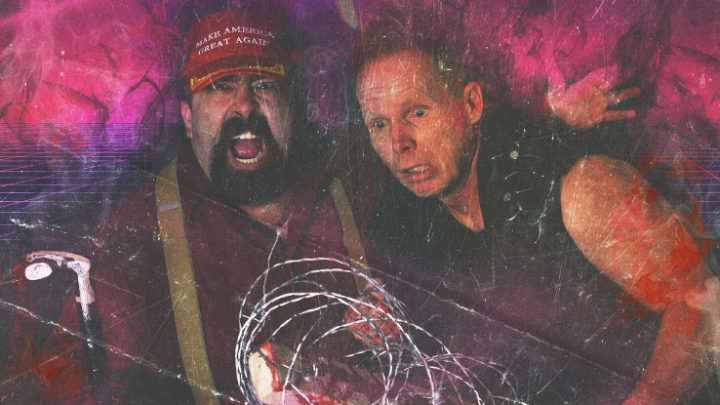 It would probably be too much if Parts Unknown was trying to be anything but a uber-violent, twisted wrestling horror mashup. With that in mind, you have to be prepared for what it brings including some dodgy acting.
A mix of just bad acting and over-the top campiness. At times, it's cringe-worthy and at others it's hilariously entertaining. As a wrestling fan, Sarah Michelle's cartoonish villainy is incredibly entertaining but William Decoff's Hermann's angry psycho is fairly pedestrian. The standout performance comes from Lizzy Havoc who brings a little bit of sanity to the film and her tortured soul character makes you kind of root for her.
As entertaining as Parts Unknown is, it does run out of steam as the occult side of things take over from the wrestling side of things. The plot begins to drift away it starts to resemble something more like a comic book then a grindhouse exploitation flick.
It's pretty unique though and there is plenty of fun to be had if you can stomach the hefty dose of gore. Check out the trailer below.
Parts Unknown
The Final Score -

6/10