Horror Movie Review: Nope (2022)
Nope is a science fiction horror film that was written, directed and produced by Jordan Peele, releasing in 2022. The film stars Daniel Kaluuya and Keke Palmer as horse-wrangling siblings attempting to capture evidence of an unidentified flying object.
In 1998, in front of a large studio audience for the sitcom Gordy's Home, the titular chimpanzee animal actor attacks several of its human co-stars after being startled by the pop of a balloon. Child actor Ricky "Jupe" Park hides under a table and is unharmed, though traumatized by the experience. The chimp finds Jupe and extends his hand for a fist bump, before being shot dead by authorities.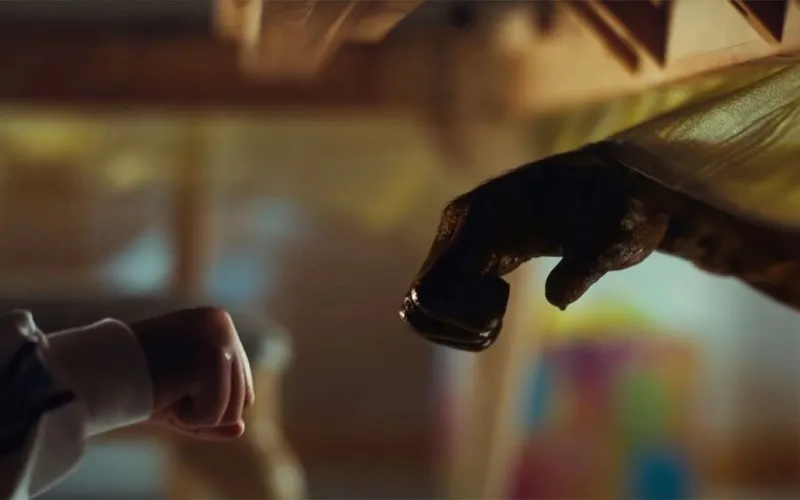 In present-day, ranch owner Otis Haywood Sr. trains and handles horses for film and television productions. When he is killed by a nickel through the eye that falls from the sky, his children, Otis "OJ" Haywood Jr. and Emerald "Em" Haywood inherit the ranch. OJ tries to keep the business afloat and maintain his father's legacy, while Em seeks fame and fortune in Hollywood.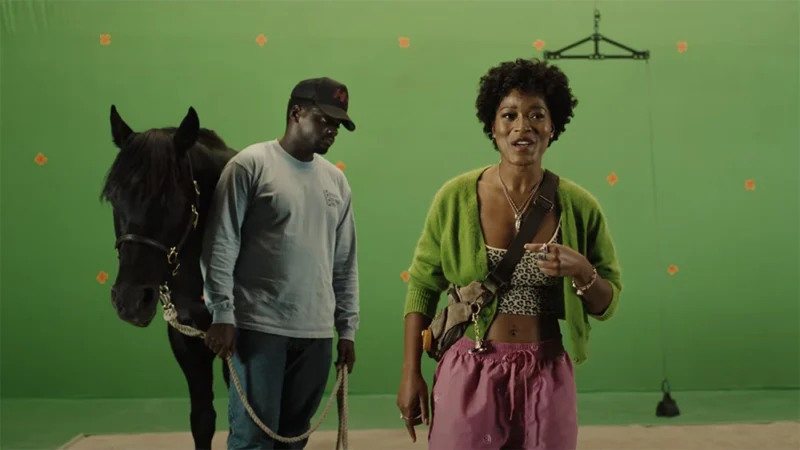 The ranch's financial woes have forced OJ to sell horses to Jupe, who operates the nearby Jupiter's Claim, a small Western theme park where he exploits his story of the Gordy's Home massacre for profit. Jupe offers to buy the ranch from the Haywoods, an offer which Em encourages OJ to accept.
That night, the Haywood's notice their electricity fluctuating and their horses vanishing and violently reacting to an unknown presence. They discover an unidentified flying object (UFO) shaped like a flying saucer that has been devouring their horses. Motivated by a desire for wealth and fame, the siblings decide to document evidence of the UFO's existence.
Let's be honest, any modern horror film that has Jordan Peele attached automatically comes with a certain level of expectation. After delivering two quality films with Get Out and the more divisive Us, he's earned it to a degree. However, it seemed to me that the hype surrounding Nope was through the roof. I do my best to not let other people's reactions influence me but it's getting harder with his movies. When I'm seeing articles describing Peele as a "master of horror" and other such over the top claims, it has clearly gone too far. Not that this is Peele's fault of course but some people need to calm the hell down.
I'm mentioning the hype because I'm of the mind that this did some damage to people's perception of Nope. There are those that literally dissected trailers frame by frame until further trailers were basically forced to give away any mystery that remained. Anyway, on to my thoughts about the movie.
I thought the first half of Nope was great. There are some highly effective scenes involving the UFO in which you only get really subtle glimpses of it. Watching it menacingly glide between the clouds delivers an impeccably ominous visual. Seeing it suction up people and then hearing them scream in agony in the distance is horrifying. We even get a terrifying visual of what they are experiencing, seemingly being digested by the inner workings of this creature, it's good stuff. I really enjoyed the cinematography during these tension filled scenes. A lot of effort is put into ensuring the mystery stays well and truly alive.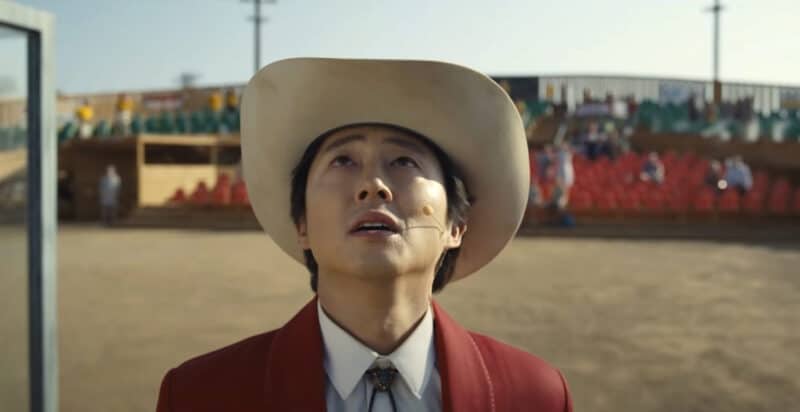 Accompanying all of this is a story about a brother and sister who may have been raised in the same place but couldn't be more different. OJ worked closely with his father and learned all there is about rearing horses, in them he finds a kindred spirit. Emerald is more of a free spirit who has her whole life away from the ranch. Unfortunately, I found the characters in Nope to be one of its weakest aspects. They're not particularly complex but you learn very little about them. I never felt overly invested in OJ and Emerald's bond or cared much if they survived. There's a story there with their father but you only get brief scenes that don't add up to much.
Gordy's story is another interesting aspect that I initially enjoyed but it again ends up feel ultimately pointless as it doesn't really lead too much. Yes, it explains how the UFO was discovered but it's a pretty long winded way to get there. Additionally, there's a lot of interpretation and discussion to be had about the clear commentary and metaphorical meanings on display. From erasure in Hollywood to the toxic nature of seeking a spectacle, it's fun to pick apart but not as deep as some will make it out to be.
The second half is where Nope falls apart. You're given too many direct looks at the UFO. Sadly, subtlety goes flying out the window and right up into the clouds. Eventually, there are some grand visuals of what the UFO actually looks like and I would have rather not seen it at all. The pacing increases rapidly and it all turns into something more like an action film rather than horror. The ending is the cherry on the disappointing cake.
I've read that most people didn't enjoy the slower beginnings of Nope but my opinion is the complete opposite. This is worth a watch but nothing particularly ground-breaking or anything.
Nope
The Final Score -

5/10