Horror Movie Review: Gestapo's Last Orgy (1977)
Gestapo's Last Orgy (Italian: 'L'ultima orgia del III Reich, lit. 'Last Orgy of the Third Reich') is an Italian Nazi exploitation film directed and co-written by Cesare Canevari and starring Daniela Poggi.
One of the most infamous video nasties, if there was ever a movie designed to offend with a title alone, it's Gestapo's Last Orgy. That's just a name though, right? Is the movie really as offensive as it is made out to be?
Well… yes and no. Yes, it has some downright disgraceful sections that don't make sense now, let alone back in 1977. However, those moments are just a small part of a movie that actually has quite a captivating story. So much so, that right off the bat, it's a recommended watch. You might be surprised by how much you like it. Although if you're in the UK, it's still banned as it was refused a UK DVD certificate by the BBFC in January 2021.
The war is over and prominent Nazis are now standing trail for war crimes. Conrad von Starke (Adriano Micantoni) arrives at the ruins of a death camp and meets a young woman named Lise Cohen (Daniela Poggi) there.
It turns out that Lise was a former prisoner at the camp and Conrad was the former Commandant in charge. It seems as though Lise testified during Conrad's trial and helped him avoid death/prison. The man has since begun a new life in West Germany and years afterwards, the pair have agreed to meet.
He is madly in love with her but she is cold towards him. As she walks around the ruins and he follows like a puppy dog, she begins to have flashbacks of her time there. These are the events we now see, with occasional flashes back to Lise and Conrad.
Lise and a group of women were taken to the camp, where immediately the film takes a very dark turn. Some are sent to the gas chamber and killed (which we see). Others are burned alive (which we see) and others are raped, tortured and sodomized by infantry men (which we see). Men who were forced to watch films featuring extreme sexual content. Not limited to but including mother/daughter incest, coprophagia and urination. We, the viewer, also get to see this.
If you find yourself switching it off now, you couldn't be blamed. The exploitation nature of what occurs at the start is pushing it and there's no doubt it will seriously offend. However, crazily… there's argument to be made that the worst is yet to come.
A woman is fed to hungry dogs because she is on her period, there's lots and lots of sex and then we reach the dinner table scene. The film's most infamous scene, not just because of the content but because of how long it goes on for. In a nutshell, Conrad and members of the SS staff discuss Nazi ideology and the possibility of Jews being used as a food source. Seriously, this isn't a throwaway remark. This is discussed in detail with ideas about farms and more. It is insane.
Hold on though, it's about to go off the deep end.
Everyone at the table gets turned on and when presented with a stew made of unborn Jewish children, devour it with glee. One of the prisoners serving the table passes out so they strip her naked, pour brandy over her, set her on fire then start eating her too.
If you made it this far… congratulations. You've seen the worst this film has to offer. Regardless of if this offends you or not, most will at least be able to recognise just how offensive this is. No wonder this film remains banned in many places.
With all the shocks out of the way (there are a few more but nothing on that level) the story properly begins to pick up steam. Conrad becomes obsessed with breaking Lise's spirit as nothing he does works. She is stony-faced and stoic in the face of horror. Even when he lowers her head into a box filled with rats (clearly gerbils), and has her raped, she does not cry out.
She is hurt though so sent to the camp hospital where she reveals to the doctor (Fulvio Ricciardi) that she refuses to give Conrad what she wants because he enjoys it. If she cries out, he will continue but if she refuses, he will get mad and kill her. She wants to die because she believes she betrayed her family to the Nazis years earlier. The guilt is eating her up but the doctor looks into her story and discovers she wasn't to blame at all.
This now gives Lise a reason to live so she sleeps with the doctor (who knows why) then gets into a relationship with Conrad. Who, impressed by her resolve, has now fallen in love with her. Being with him is her best chance to live but she will have to betray her own morals.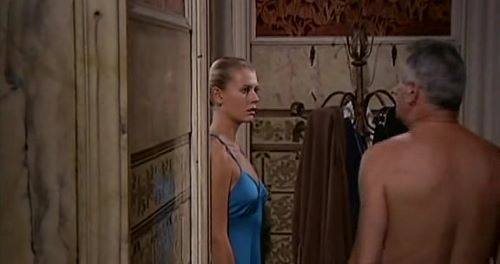 There's more nasty to come, that's for sure and eventually Lise's grand plan for Conrad will be revealed.
A nasty in every way, there's no getting around just how messed up Gestapo's Last Orgy is at times. Which is such a shame as the story and how it's told is actually quite strong. It has a beginning, middle and end, with mostly everything making sense. It is a very satisfying watch with a main cast that play their roles really well too. If this was just a dramatic story about how one woman survived her time in a Nazi death camp, it would have gotten attention but potentially for better reasons.
Unfortunately, amongst the drama are lengthy scenes of extreme horror that pushes the limits of acceptability. You can not talk about this movie without referencing those parts and there are so many for such an extended time, it's not possible to just ignore.
It's not the only nasty to combine sexual brutality and torture with Nazis but to throw in so much anti-Semitism seems downright excessive. Did this film really need to have a scene involving Nazi's eating stewed Jewish babies?
The nastiest of the nasties. As far as story goes, it's absorbing and one of the best Nazisploitation films out there. That's strong praise for such an infamous horror movie.
Gestapo's Last Orgy
The Final Score -

5/10