Horror Movie Review: Dashcam (2021)
After striking gold with 2020's Host, a horror set in the COVID-19 pandemic period and utilising the video-chat service Zoom, director/writer Rob Savage is back alongside writers Gemma Hurley and Jed Shepherd. This time with a Blumhouse deal and a car dashboard camera.
Yes, similar to Host, Dashcam takes a mundane piece of technology and utilises it tell a familiar horror story. People couldn't get enough of Host (although we weren't so kind) and chances are, Dashcam will follow a similar path.
Annie Hardy plays Annie, one of the most obnoxious leads seen in a horror movie for some time. Seriously, she is incredibly detestable and unbelievably annoying. Part of that comes from her online show, Band Car. Something she describes as:
The internet's number one live improvised music show broadcast from a moving vehicle.
What does she do? She raps to a beat based on words suggested in the comment section of her live stream. All while driving around. Sounds safe, right? Well, at least the roads are a lot emptier as Dashcam takes place slap bang in the middle of the pandemic.
If you're already thinking that she sounds pretty unwatchable the movie goes even harder on this point by making her both a COVID denier, anti-vax, anti-mask and hat wearing MAGA supporter. One who has no problem screaming her viewpoints at others and insulting them along the way. Be it a complete stranger in a coffee shop or her old friend's partner.
She is so unlikable which makes it impossible to root for her even if Annie Hardy plays the character with a delightful amount of glee. Hate the character but don't hate the portrayal.
So Annie, sick of the restrictions in place and with little going on, heads off to the UK to meet up with the aforementioned friend, Stretch (Amer Chadha-Patel). Annie is less than impressed by him 'growing up' and that his partner,Gemma (Jemma Moore) is very COVID-conscious. Leading to a massive argument between the pair and Annie being kicked out of the house.
Angry and feeling betrayed by her friend, Annie does the reasonable thing of stealing the couple's car and carrying on with her show. Bored and looking for something to do, she decides to mess around with Stretch's food delivery job and goes to collect an order. It's there she is given an opportunity to earn a wad of cash in an envelope. All she has to do is drive a sick and mute elderly woman to a specific address.
Sounds simple enough, right? Annie is about to have a really rough night.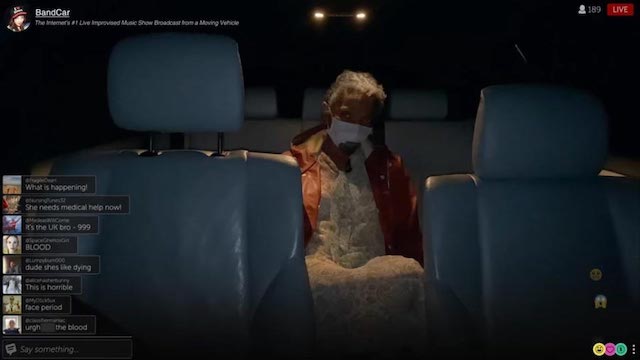 If there's one thing about Dashcam that most will remember, it's how frenetic it is. Once it gets going, and it doesn't take too long, it rarely gives you a chance to breathe. It's one hell of a thrill ride, where the quiet moments are used to build scares. Some of which are very effective, provided you can actually see them.
Yes, unfortunately, Dashcam follows the tried and tested tropes of every single 'found-footage' style horror before. At times, it's nearly unwatchable, such is the lack of visibility. If that wasn't bad enough, the movie also takes some massive liberties with the dashboard camera angle. Large swathes of this movie take place outside of a car and ruins immersion by asking you to ignore why anyone sensible or sane person would continue to film in many of the circumstances.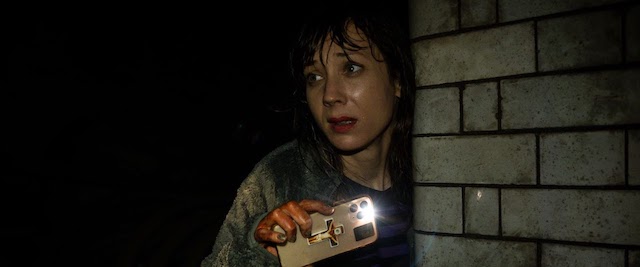 It's nonsense that is hard to ignore, especially when you take into account that the story is questionable and thin. This is likely why the movie goes at top speed for most of its runtime. Hoping to distract you with a ton of energy to make the experience more palatable.
It might sound like Dashcam is a hateable movie but that's not quite the case. It's a lesson in frustration and it boggles the mind that the lead is so vile but there are things that the movie does well. One being its multitude of scares, some of which are really effective.
Another being the 'livestream' aspect that has comments after comments coming in throughout the events of the movie. It almost makes you want to watch it where the only thing you're paying attention to is the comment section.
Do the positives outweigh the negatives? Not quite unfortunately as Dashcam's issues are so prevalent, they're hard to look past.
Dashcam (2021)
The Final Score -

5/10