Horror Movie Review: Bay Coven (1987)
Like all good 80's horror movies, Bay Coven opens with a scene that makes no sense. We see an elderly man going into a church for confession. While inside, a lightening bolt strikes the church and blows up the confessional booth that man is in.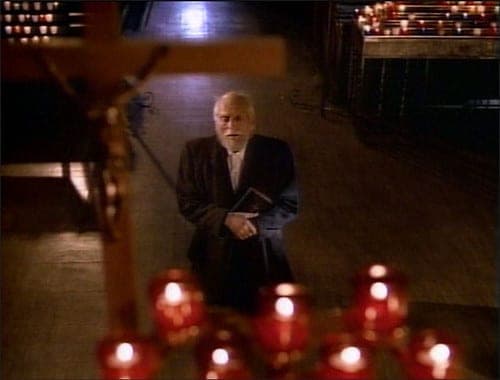 Forget all that nonsense for now, it's time to meet Linda (Pamela Sue Martin), a successful woman who has just been made junior partner at her law firm. Later that night she goes out with her husband, Jerry (Tim Matheson) and their friends. This includes Slater (Woody Harrelson) and the married couple, Josh (Jeff Conaway) and Debbi (Susan Ruttan). Those two reveal to Linda and Jerry that they've just moved to the peaceful township of Devlin Island and try to encourage the pair to join them.
Linda isn't interested but Jerry wants to check the island out so she agrees to go look at a house there.
They find a beautiful, peaceful and idyllic place and although Linda has her reservations, especially after meeting some of the locals, the pair buy the a house on the island.
At first everything seems great but then a series of unfortunate events occur. The couples dog is killed, Slater dies in a unintentionally hilarious accident and Linda begins to suspect that the neighbours are involved some high.
It's hardly spoilers to reveal that she is right, after all the movie is called Bay Coven. Witchcraft is afoot!
Neither a good nor bad movie, Bay Coven misses the mark where it matters. Namely tension, scares and a good payoff. However, good acting in some of the more minor roles and a certain amount of accidental comedy makes this a little bit charming.
Although for some reason, the movie tries to play its cards close to its chest even though it is really obvious what is going on once the couple arrive on the island. It just doesn't live up to the promise set up at the start.
It's a shame Bay Coven didn't go for a more silly and over the top kind of story, instead it tries to take itself far too seriously. This is embodied by lead actress, Pamela Sue Martin. She's not bad but can't really carry the weight of the film on her shoulders. A lot of screen time is devoted to her but her character is far too annoying to really be likeable.
You'll find entertainment in this movie but only in short bursts.
Bay Coven
The Final Score -

5.5/10