Horror Book Review: I Never Eat… Cheesesteak (Paul Lubaczewski)
I don't know much about Philadelphia. Not much at all but if someone was to ask me to name some things I do know, one thing I'm likely to mention is that a popular choice of food there is the Philly Cheesesteak.
That's about the extent of my knowledge so going into Paul Lubaczewski's I Never Eat… Cheesesteak at most I could guess is that it was Philadelphia based or related. What I did not expect was a thrilling yarn about vampires mixed with some dark comedy. Based in Philly… of course, although there is a lack of cheesesteaks throughout.
Al is a young man coasting through life. No real direction and no real plans, except for finding the money to record a demo for his band. He might not have much of a future but his past is eventful. Him having originally been on the path to entering the clergy as a man of God. The lure of a life in sin ensured that never came to pass but it's attention grabbing. Not just for us as the reader but for a Peter Cushing fan club who contacts him with an offer of a job.
While the idea of book-keeping in a dusty office for a decaying fan-club for a dead actor really doesn't appeal, Al needs money. Once there, he makes the incredible discovery that the fan club is just a front…an amusingly titled one…and what they actually do is hunt and destroy vampires.
While initially shocked and frightened, Al takes to vampire hunting like a vampire takes to blood sucking. It's a job and the money is good, forget recording just a demo, they could get a whole album out of this!
Of course we are talking about vampires here and that brings with it an obvious danger. One that is heightened when the vampires begin to strike back.
Offering anything new to the tired vampire genre isn't really possible and I Never Eat… Cheesesteak sticks solidly to the formula. While also borrowing from a number of different sources. If this was a serious vampire horror book, it really wouldn't be as much fun to read as it is.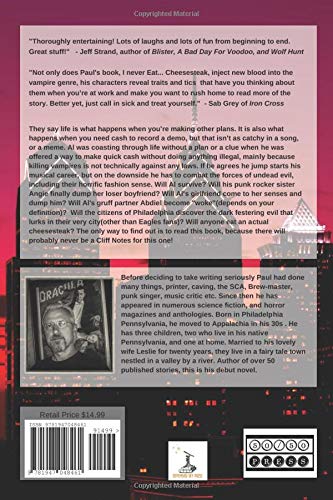 Thankfully, Paul Lubaczewski has a firm grasp on how to integrate black comedy into his horror story. It's not the kind of comedy that makes you laugh out loud but rather leaves you with a constant wry simple on your face. I imagine natives of Philadelphia will probably get even more enjoyment of it as it is entrenched in the city.
All of this is aided by a cast of characters that are believable, interesting and likeable. It's not all about Al either as we get a great set of secondary characters that help make the story tick along nicely. Vampire hunting is just part of the tale but relationship problems, family issues and the struggle to make it in the musical world add meat to the bones.
Of course, these parts might not matter as much if the over-arching story didn't culminate in exciting fashion but it does. Oh, it really does.
I Never Eat… Cheesesteak is an excellent read and Paul Lubaczewski is a super talented writer able to grab and hold the attention throughout his entire story. One of the few times a story ends and I just want to read a follow-up immediately.
I Never Eat... Cheesesteak (Paul Lubaczewski)
The Final Score -

9/10