Horror Book Review: Eye of the Brave – Rift Cycle Book 3 (Halo Scot)
From writer Halo Scot, the Rift Cycle continues with Book 3 – Eye of the Brave. A series focused on a dark future for humanity, where the war between gods and realms has been waging for far too long. A series that introduced us to two characters with powers based upon the season they were born in. Kyder and Rune, opposites but the same in so many ways. Two sides of a coin, light and dark but inexplicably connected.
Throughout book 1 – Edge of the Breach and book 2 – Echoes of Blood, we followed along with these characters. Watching them grow, one into a ruthless and savage boss of a gang and the other, into a caring but hardened warrior. The only thing keeping either grounded is the other.
I'm not going to recap the entire events of those earlier stories. You can read our review of Edge of the Breach here and read our review of Echoes of Blood here. Better yet, go read the books themselves. You won't regret it.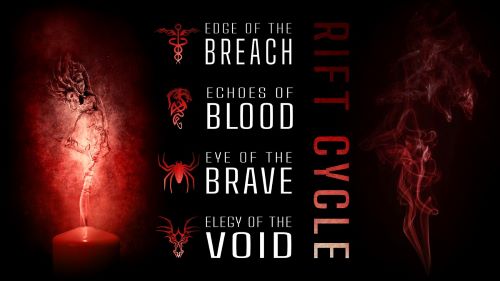 Be warned now, what is about to follow has massive spoilers for some of the events that took place in those earlier books.
So, where did we leave off at the end of Echoes of Blood? We begin seven years later with Kyder now a hostage to his father, the god Ra. Yes, Kyder is the son of Ra. The bastard son of a god making him half-god. As if this man needed any more reason to tip over the edge.
Ra tortures Kyder in an attempt to find out why he is broken. The god is convinced his son is the key to ending the war but seemingly can't find the answer. Whatever progress Kyder had made over the years is inexplicably set back by the cruelty of Ra. A character that you'll instantly hate even if it's hard to erases many of Kyder's own crimes. It's ok though, he doesn't want you too.
Halo Scot's way of writing, the characters sometimes directly acknowledging the reader, always reminds you that neither Kyder or Rune care what you think.
Meanwhile, Rune alongside her trusted friends and confidants has been ruling the city of Zawad. A daily battle against the attacks from the gods, the constant grind of being Queen to a dying city and a desperation to find the missing Kyder. Even though it has been seven years, Rune will never give up.
Not unlike Kyder, who being who he is, begins to scheme and plot his escape from his godly father. He must get back to Rune, not just for his own sake but hers as well.
Phew, that's as brief a recap as you're going to get. This is a book with more twists and turns then experienced so far. One that sets things back for our characters but also pushes the main story arc on in an epic and final confrontational way. The end of the Rift Cycle is in sight (there is one more book after this) and the story is properly ramping up now.
It is strange to have Rune and Kyder take somewhat of a backseat this time round, even if it is focused on them and them alone. What that means, is we get more overall story development then we've had so far. The Rift Cycle is going somewhere and this is the book that really highlights that.
Elsewhere, what we've enjoyed in the other books is present in both heart-warming and horrifying glory. As violent and visceral as always, as heart-breaking and warming as expected, and as shocking and painful as only Halo Scot can do. Just when you think you've read enough, that surely these characters can't go through anymore, more is done.
I love Halo Scot for that but it's hard not to curse out loud at some of the events that occur here… again. This shows just how invested in these characters, the story and horrible events, I am. That's thanks to a writer who is near untouchable now when it comes to graphic sci-fi horror tales.
Links
Website | Amazon | Instagram | Twitter
Eye of the Brave – Rift Cycle Book 3 (Halo Scot)
The Final Score -

9/10