Horror Book Review: All Roads End Here (David Moody)
David Moody is a British born author who rose to prominence with his Autumn zombie apocalypse series. A great story teller with a descriptive style that focused on the rotting of the dead & the problems that came with that. The Autumn series is a fantastic set of stories & you can read reviews for them all here.
Alongside the Autumn series, Moody started a series in 2006 called Hater. Similar in tone to Autumn in that it focused on an event that effectively brought about the end of the world. This time it wasn't zombies though. Instead a huge number of the population just changed in an instant. Overcome with a desire and need to kill others, those who were Unchanged. There was no rhyme or reason, people simply changed in Haters and killed anyone who wasn't…even loved ones. Not because they were evil or soulless but because they had too. That statement is very important to understand just why the trilogy was so gripping.
It focused on one character, Danny McCoyne who became a Hater. We followed his exceptional journey across three books. We saw the hate and what it did to the world. Hater, Dog Blood and Them or Us are must reads.
You can read our reviews of the trilogy below.
Also while you're at it, clicking links and so on, you can read an interview we did with the author here!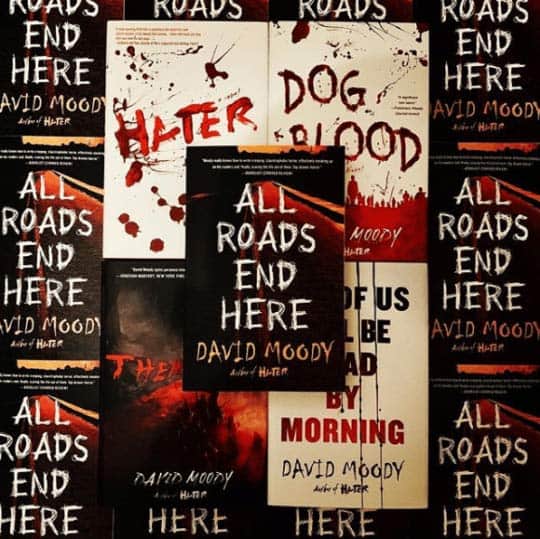 When word came my way that David Moody was looking to go back to the hate, I didn't initially think it was a good idea. Silly really, as I consider him one of the finest authors of the modern era. I just worried that the trilogy had said enough and that anything else might detract from that experience.
I was wrong and I'm very glad I was. The first in the new trilogy, One of Us Will  Be Dead By Morning was an incredible return and you can read our review here.
As One of Us Will Be Dead Before Morning ended, anticipation was very high for the next book in the new series, All Roads End Here. Does David Moody continue his hot streak?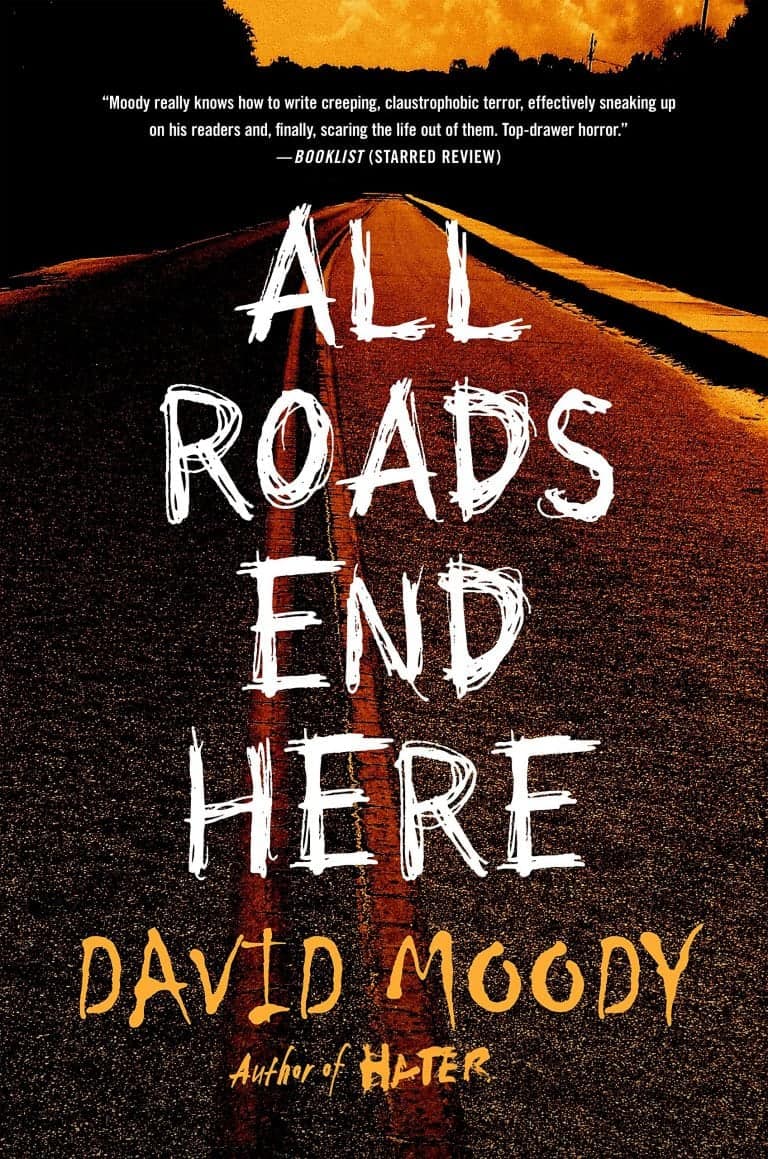 Yes. Yes, he bloody does. All Roads End Here is a phenomenal read, one of the most tense stories he may have ever written. It's horrifying, claustrophobic and filled with terror.
Now it's important to note that this book, unlike the last is way more connected to the original trilogy then One of Us Will Be Dead By Morning. In fact, timeline wise it plays out at pretty much the same time as Dog's Blood.
All Roads End Here stars Matt, now the lone survivor of the island group from One of Us Will Be Dead By Morning. He's a survivor making his way slowly back to where his girlfriend was. As the whole country is falling apart, he has managed to survive by watching, planning and avoiding not just the hate but the unchanged. He's a damaged man though having seen horrors that would destroy lesser people.
Matt makes his way home which just so happens to now be part of a massive refugee camp. Closed in and protected by the military, the sprawling city is a war-zone. It's safe for now but as more people continue to flood in, food and water supplies run low and the Haters adapt, it's clear it won't be for much longer.
Matt sees this but has no choice but to try and assimilate into the city as his entire reason for living is there, his girlfriend. Regardless of the apparent safety of the walls, Matt is always on edge and prepared for anything. It's this that gets him noticed by military factions each with their own agenda. Does he work with the group who want to take people underground and wait out the war? Or does he help the group trying to turn Haters away from their destructive ways?
Those who've read Dog's Blood will find a lot of this familiar. At first it's like an itch at the back of the throat. The city and the surroundings seem to be places we've been before and when the idea of Haters holding the hate comes up the itch gets maddening. Then in a wonderful revelation it all falls into place and everything becomes clear.
It's an incredible moment with a brief cameo by a very important character. As the realisation hits of just what is going to happen, the tension is ramped up even more. It's impossible to put down. A simply thrilling read and as it reaches its climax, it just leaves you even more desperate to see how it all ends with the final book.
David Moody isn't just one of the best authors in the UK. He is one of the best authors in the world. The man's ability to draw you in and keep you hooked page by page is undeniably impressive. The original Hater trilogy was something special and this new trilogy is only going to cement the series as a must read.
Embrace the hate.
All Roads End Here (David Moody)
The Final Score -

9/10