GBHBL's Top 10 Live Shows of 2019!
It has been a fantastic year for live music in the UK once again even with the threat of Brexit hanging over everyone's heads. That being said, we really didn't get out and about as much as we would have liked. We saw plenty of bands but feel like we should have seen more. That is something to correct in 2020.
All that being said, we did see enough to be able to put together a top 10 shows of the year and still get annoyed because we had to leave certain shows off. As is the norm, this list will have both Carl and Brendan's choices.
Brendan – 10. Kamikaze Test Pilots (8th of July at 229, The Venue, London)
I could easily have chosen Deity's Muse here. They were amazing but it is the exceptional Kamikaze Test Pilots that pop back into my head when I think back on this gig. Worthy of a much bigger crowd than they got, they still smashed it. They are genuinely different. Truly unique and their songs are insanely catchy. I really hope they get the growth and support they deserve. Brilliant.
Carl – 10. Aonia at Aonia Fest III (5th of October at The Corporation, Sheffield)
There are few reasons for us to travel from London to Sheffield but Aonia Fest is one of them. Hosted and headlined by the symphonic metallers, the seven-headed beast played their debut album 'the Seven' in full and even threw in a cover of Ghost's Square Hammer. It was every bit as epic as it sounds.
Brendan – 9. Septic Flesh (Saturday 11th of May The Electric Ballroom, London – Incineration Fest)
A real surprise highlight for me. I went to see Septic Flesh having presumed them to be a straight up, relentless and possibly boring grind or death band and left absolutely stunned by their quality. Their unique sound really was a surprise and it made for one of the best sets at Incineration Fest.
Carl – 9. Elusion at Aonia Fest III (5th of October at The Corporation, Sheffield)
Another entry from Aonia Fest, Elusion gets the nod by surprising me. I didn't know them but by the end, I wasn't going to forget them. A stonking performance that was the epitome of a band grabbing their opportunity with both hands.
Brendan – 8. Alien Weaponry (16th of June at The Underworld, London)
Seeing these guys own it in a packed The Underworld was a real pleasing moment. It is so much smaller than the last time we saw them own the Sophie Stage at Bloodstock and the more intimate feel adds so much to the show. They regular tell us how much it means to them to play the legendary venue and hammer us with raging, angry songs that invigorate a swirling and relentless pit. The hype is real, these guys are brilliant.
Carl – 8. Avatar (20th of January at the O2 Shepherd's Bush Empire, London)
My first time seeing Avatar as the headliner didn't disappoint as the melodic metallers delivered a memorable experience. One filled with glorious sights, intense sounds and plenty of wackiness too. Avatar are not what you expect when you see them live and this was an unforgettable experience.
Brendan – 7. Powerwolf (9th of August at Bloodstock Festival)
Well I didn't expect that. Not massive on these guys on record but what an amazing live show they put on. I genuinely couldn't take my eyes of them and spent a long time informing everyone afterwards that they were a must see. They looked so happy on the stage too and that is really infectious. Another memorable showing.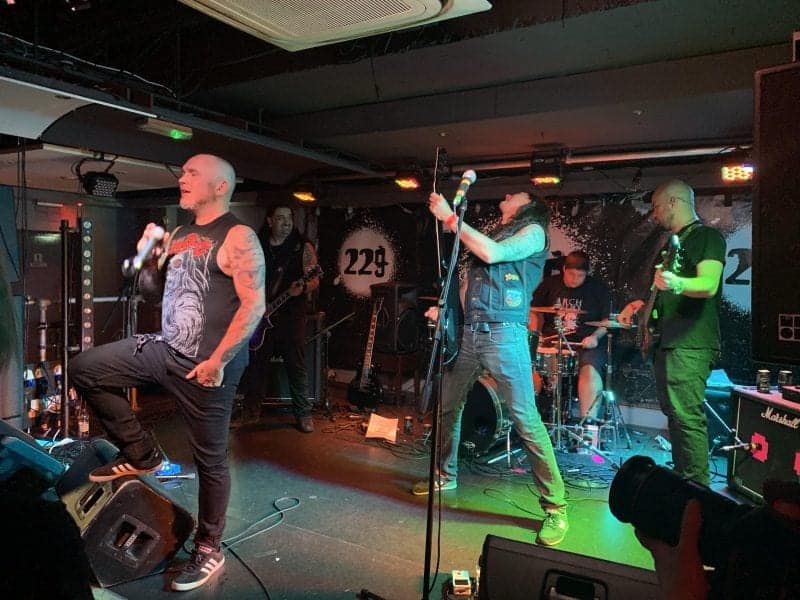 Carl – 7. Nightrage/Demonic Resurrection (29th August at 229, The Venue, London)
Cheating a bit here, however Demonic Resurrection were the support band and on any other night, they would have been band of the night. However, Nightrage (a rare commodity on our shores) were just that level above. Both bands delivering smashing, energetic and fun sets of intense metal. This show is a sore spot though as bands of this quality should have an audience bigger then 30-odd people.
Brendan – 6. Nightrage (29th August at 229, The Venue, London)
I have waited so long to see these guys. I wondered if I would ever get the chance. Then they announced and I spent the next few weeks worried that they might not be as good live. I was wrong, they were brilliant. Musically intense, wicked solos and punishing riffs all mixed in with lashings of energy. I can't wait for them to come back.
Carl – 6. Rotting Christ (8th of August at Bloodstock Festival)
I remember when Rotting Christ were announced as headliners for the Sophie stage on Thursday night. We were so pleased as it promised to be an incredible start to an incredible weekend and it lived up to it. Rotting Christ were on such form and the tent was the perfect place for their brand of blackened death to just soar.
Brendan – 5. Morass of Molasses (16th of November at Leo's Red Lion, Gravesend – Beastfest 2)
These guys are so damn good. It was a proper, no frills, in your face metal but with their unique little quirks. They really are a talented band and had the small but eager crowd eating out of the palm of their hands.
Carl – 5. Parkway Drive (2nd of February at Alexandra Palace, London)
I ummed and ahhed over which Parkway Drive performance I put in. This? Or their Bloodstock 2019 headlining performance? Both were excellent and offered different experiences but I settled on this because it was my first time seeing the band properly (3 songs at an award show doesn't count).
What an immense show it is too. From the walking through the crowd with flaming torches, to the spectacle of the pyro on stage to the stripped back melodic moments, Parkway absolutely brought it and proved they were ready to headline festivals.
Brendan – 4. Parkway Drive (10th of August at Bloodstock Festival)
They were amazing. A heavy, aural and visual spectacle. So many doubters were converted on that night and it made me feel immensely proud. There were some extreme nerves in the build-up, what with strong winds potentially affecting their insane pyro show but they handled it all brilliantly as even the gods calmed the winds a little for their 90 minutes. I remember well the jaws dropping as the flames burst from the roof of the main stage, lighting up the whole of Bloodstock.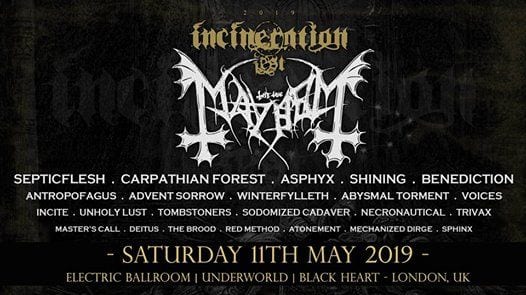 Carl – 4. Septic Flesh (Saturday 11th of May The Electric Ballroom, London – Incineration Fest)
I think what makes this so special is that I really didn't expect much. I like Septic Flesh but they're not a band I really thought would amaze me live. How wrong was I? Turning me from a disinterested viewer into a rabid head-banger, Septic Flesh absolutely killed it.
Brendan – 3. Incite (Saturday 11th of May The Underworld, London – Incineration Fest)
What a surprise this show was – I was almost dragged in to see a band I had no interest in whatsoever and came out in love with them. Their energy, their enthusiasm and their music made for the most memorable set at Incineration Fest. A show we spoke about for months and months afterwards.
Carl – 3. Master's Call (10th of August at Bloodstock Festival)
I 'pitted' once at Bloodstock. Just once. Who too? Master's Call. I feel as though that should tell you everything you need to know about this incredible band and their incredible set.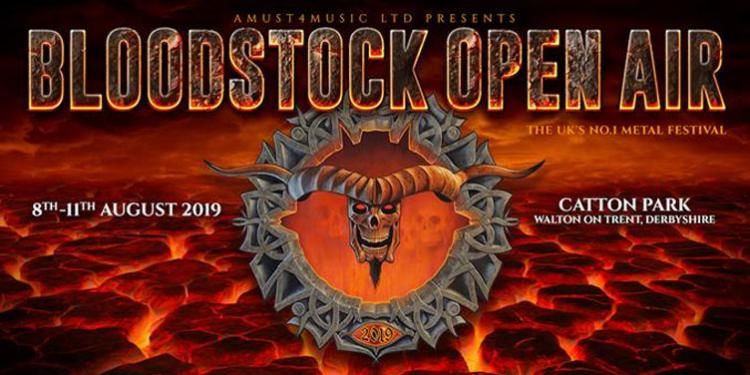 Brendan – 2. Rotting Christ (8th of August at Bloodstock Festival)
I was so excited in the build up to this. I haven't felt like that in a long time. I was so intrigued as to how their layered and intelligent sound would translate to the live arena. Especially in regards to their vocals and it was perfect. I found myself subconsciously dragged into the pit at a show that will live long in the memory.
Carl – 2. Incite (Saturday 11th of May The Underworld, London – Incineration Fest)
Just like Septic Flesh, I didn't expect much from Incite. I like them on record but they weren't a band that really excites me. Then I took the chance on them at Incineration Fest and had my mind completely changed. Playing to next to nobody in the Underworld but acting as though they're were playing to 10,000 people in a stadium, Incite are phenomenal. Curiosity turned to amazement as I found myself in the pit and happy to be head-bang myself into oblivion.
Brendan – 1. Gojira (30th of June at the O2 Academy, Brixton)
Mind blowing show – cemented them as one of, if not the, best current live band there it is. I remember how packed and sweaty it was and the show was faultless, even if the band thought they had less of a light show than they wished. It went pretty much unnoticed as Gojira owned every second of their show.
Carl – 1. Gojira (30th of June at the O2 Academy, Brixton)
Where you there? The moment Gojira proved that they were worthy of being spoken in the same breath as the metal greats of old? The moment they proved they were arguably the best live band on the planet right now? Where you there?
I was and months later, when I think back to it, I still get chills. Gojira have always been great live but this, this was something else and will be spoken about for years to come.