Game Review: Rat on a Scooter XL (Mobile)
Rat on a Scooter XL is as silly as it sounds.
Coming from Donut Games, this was originally just an extra mode in their previous game, Rat on the Run. You might already be thinking…why in the hell has an extra mode been turned into its own game with its own up-front price!?
Well, fear not. Rat on a Scooter XL has been expanded and fleshed out.
You control a cartoon rat who rides a scooter, unsurprisingly and there are three modes you can play. The first is called Super Cheese XL and sees you motoring along platforms, jumping gaps, performing tricks and collecting bits of cheese to get a high score.
The second is an endurance mode called Fuel Depot. Following the same formula as Super Cheese XL, instead of cheese though you'll be picking up fuel cans to keep your scooter moving along. Once you run out of fuel, it is game over.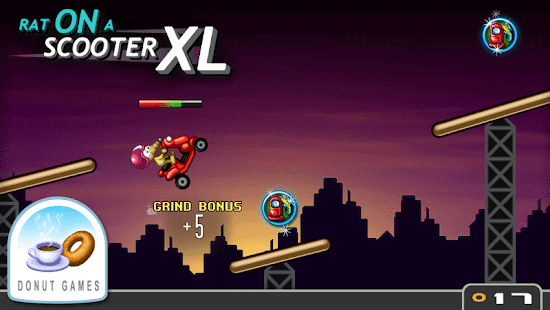 Finally, there is the Skill Course. This time there are loads of traffic cones strewn about the track and hitting them loses you points.
There isn't anything more to Rat on a Scooter except to set a high score. This might make you think it has very limited replay value but it has an addictive charm. The rat is really simple to control. His scooter moves automatically and taping the screen makes him jump. Tap and hold for longer to make him jump even higher or tap directly after the first for a double jump.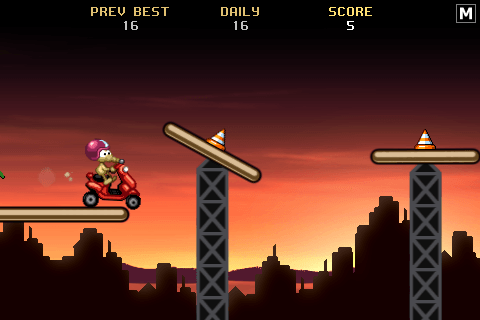 The further you make it along the course, the faster the scooter goes. What begun as straight-forward and simple starts to become really complex especially if you want to throw in some tricks too.
These are very limited though, mainly revolving around grinding on an individual tyre.
The fun in Rat on a Scooter XL comes from the increased speed. You have to start making quick responses to get the best score. Do you go for that risky bit of cheese or do you focus on a grind? Do you risk not getting that fuel can and go for the safer option even though your gauge is dropping quickly?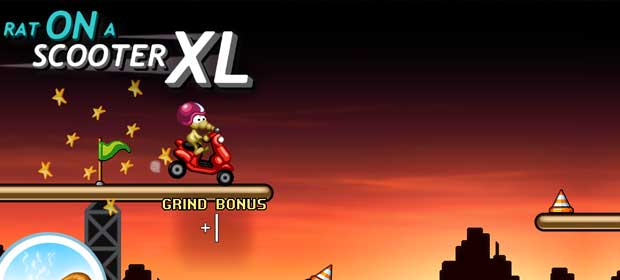 Risk versus reward and addictive.
That being said, it is a pretty limited game though. Not enough variety in tricks and the modes are all pretty similar. Although the low price point makes this less of a problem.
Rat on a Scooter XL
The Final Score -

6.5/10