Game Review: Mr Bean – Risky Ropes (Mobile – Free to Play)
Silly old Mr Bean has climbed too high in search of rare bird feathers and forgotten that what goes up….must come down! Play as Mr Bean in this action packed endless jumper game. This is Mr Bean – Risky Ropes.
This review relates to Version 1.0
Mr. Bean Risky Ropes is the newest addition to a collection of Mr Bean based games brought to us by Good Catch. We have had Mr Bean's Sandwich Stack and Mr Bean – Around the World so far. Good Catch are also the brains behind games like Pointless Quiz and Black and White Bushido. Mr Bean, the games, are obviously based on the much loved British character, Mr Bean played by the comedy genius, Rowan Atkinson and I imagine that is part of the appeal of the games. The comedy series, Mr Bean, that depicts the misguided adventures and situations the dim-witted Mr Bean gets himself into is hugely popular internationally. Having a few games with his name in it can't be bad for business.
On to Risky Ropes though and as explained, it is an Endless runner style of game. Instead of running though you abseil. You are on a cliff face and have to make your way down it. You do this by pressing the screen which causes Mr Bean to jump. The longer you press the button the further Bean will jump. A short repeated press will see him gently bounce his way down the screen where he will run into obstacles sticking out from the edge of the screen. Obstacles, like the whole game, are cartoony and silly.
We are talking rocks, weeds, goats, bees, lamas, pick axes, penguins – you name it, it is probably here. Make your way down the screen, avoid the obstacles and rack up a high score. You do need to be quick though. Once you start, the screen starts descending and if it catches up with you, you fail. The score builds based on distance but also on the length of your jump so a long press will net you more points than a short one but comes with the risk of hitting an obstacle that hasn't yet appeared on screen. It is actually quite tough to really rack up a good score.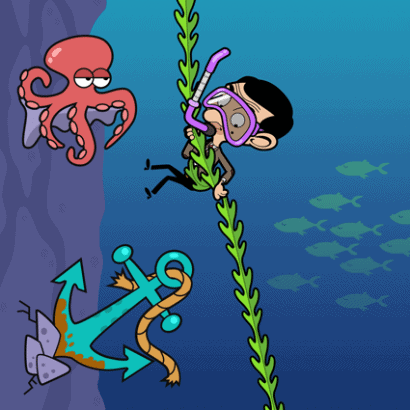 Outside of standard gameplay, Risky Ropes longevity comes in a few different ways. There are 4 different levels to try. Cliff, Ocean, Moon and Arctic. Each one adds new challenges and obstacles to try and pass. You unlock levels with coins which are quite hard to come by actually. You gain coins within the levels by jumping in to the occasionally passing "teddy" that floats by you. Unfortunately you only get one coin for this though and won't come across him a lot. You also gain coins by completing a mission. You get one mission at a time which will set you a target to try and achieve. Missions like "Beat Your High Score on Cliff" or "Jump 50 Times in Ocean". Complete the live mission and get a little coin boost.
You can also double your coin boost from completing a mission by watching an ad or triple it by paying real money (£1.99) though this does also triple every coin you receive from then on. You can also choose to watch an ad for a 20 coin boost at any time. With levels costing from 500 coins up to 2000 coins, that is a lot of ads. Finally, there is a daily prize of a handful of coins you get when you start up each day.  As well as that you also randomly unlock some items to change your appearance. There aren't many and they are purely visual. Things like wearing a bucket on your head and other silly things like that.
The music is fine, a little cartoony ditty and graphically the game is clean and crisp to look at with bright and bold colours and thick clean lines. It runs smooth with little to no lag and feels like a well made game. There are ads though not overly intrusive. There is a small footer ad during gameplay but it doesn't get in the way. Also, there are occasional pop up ads that you have to watch running from 15 to 30 seconds in length. These are annoying and seem to have no real logic to their timings. I could play for 30 minutes without a single ad and then get three in the next 5 minutes. You can pay £1.99 to remove these completely.
Mr Bean's Risky Ropes is a fun little game to pick up and play. On the face of it there is a lot of longevity to be had out of it but the amount of coins needed to purchase another level are a little too high unless you pay real money. You will probably get bored replaying the first level long before you have enough coins to unlock the second. That is the true negative of this otherwise enjoyable game.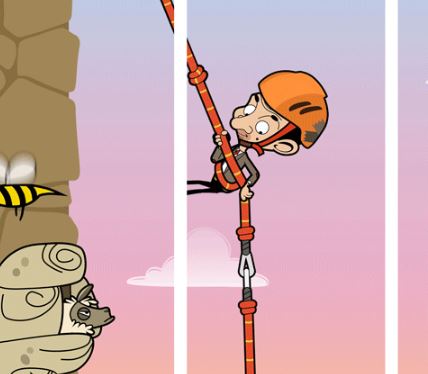 The amount of coins needed to unlock levels are just a little too high. That makes it feel like the developers are trying to force you to spend that £1.99 to triple the coins. It isn't a lot of money, to be fair. If you enjoy, the game, I would recommend spending it. If you aren't that bothered, you are more likely to delete the game after realising you need 1000 coins to unlock level 3, currently have 5 and are gaining around 10 to 20 a day.
Mr Bean Risky Ropes is available now on both Android and Apple devices.
[amazon_link asins='B005T3BDAE,B00H377NOY,B00M6WN5FC,B00F5UC6AC,B004124A4K,B003ZSHLO2,B001F1ZKHQ,B005EWJA64,B00KE2BWWO' template='UseThisOne' store='g0e5b-21′ marketplace='UK' link_id='03b773b1-59bf-11e8-b143-c382c78e5e31′]
Mr Bean - Risky Ropes (Mobile - Free to Play)
The Final Score -

6/10