Game Review: Forza Horizon 4 (Xbox One)
Turn 10 Studios have made so many Forza games that you have to wonder if they have much in the way of imagination anymore. How do you continue to make the Horizon series feel fresh, interesting and exciting on its fourth go-around?
Head over to the UK for a drive around the country lanes, small towns and rolling hills of Scotland, that's how!
Forza Horizon 4 knows you want to get into the driving as soon as possible but it also wants to show off what it can do. The opening showcase drops you right into the action, flying through all four seasons in a variety of high-speed cars. It's delightfully fun and an early taste of just what the open-world playground has to offer. Choose a character (unfortunately quite limited), dress them up and get out there!
There is such a wealth of content in Horizon 4 that you can spend hours just driving around discovering roads, beauty spots, hidden barns with special cars and much, much more. All of this while the weather changes, the season drift by and life goes on in the rural country. It's gorgeous and such fun but let's be honest, you're not playing Forza Horizon 4 for the views. No, it's all about the cars.
There are so many cars to collect and earning them is very easy. They are earned in a number of ways. As a reward for levelling up, via loot-box style 'wheelspins' and 'super wheelspins' and bought in the in-game shop or auction house.
Whatever car you can think of, chances are it's in Forza Horizon 4. Each is beautifully modelled and you can tinker with them, upgrading, tuning and tweaking to your heart's desire. It's easy to get one, perfect it and then ignore many others that end up in your garage but try out as many as you can. Each handle differently and with the changing weather, you can experience the playground in different ways.
Of course, it's not just about driving round the serene location. Horizon 4's map is absolutely littered with events for you to take part in spread across the four seasons. Road-racing, cross-country drives, dirt racing, street races, drag races…there are plenty for you to take part in. You're not forced to do any of these and you can approach them at your own leisure.
As well as all of them, if you fancy a different kind of challenge there are a number of showcase events that you can take part in. These can see you facing off against a jet, a hovercraft, a team of motorcycles or even a train! Frantic and fun, these races are Forza Horizon 4 at its most thrilling.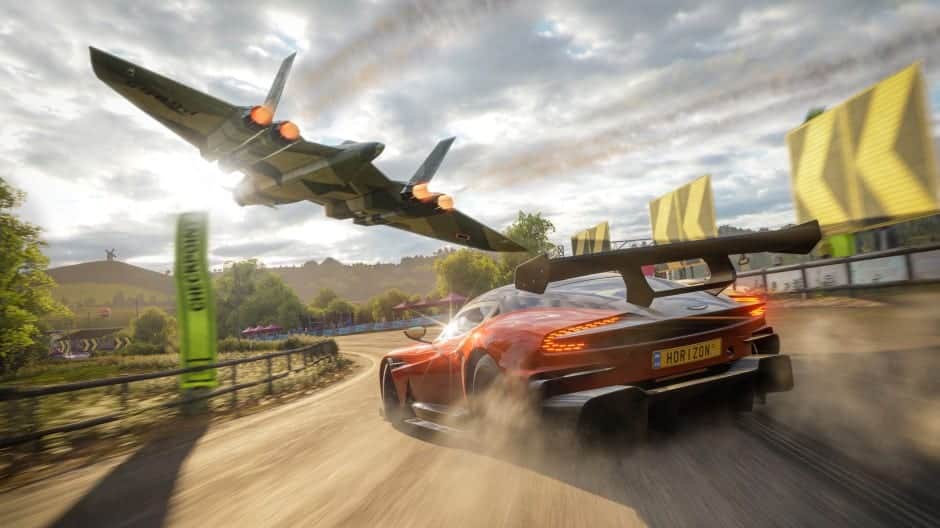 Once you've completed the majority of the races and gotten through all of the seasons, the game opens up for a more multi-player focused experience. From the moment you start you can race against other players, team up and free roam with others. Later though, this sees specific events added for you to take part in. Again, all optional. If you're more of a lone-wolf, the game has no problem with that but you'd be missing out on a fun aspect of the game.
Especially as the more races you finish and events you take part in, there is less and less to do. You've explored every inch of Scotland, launched your car off castle walls, smashed through centuries old walls and barrelled past one to many tractors. All that's left to do is to see how you fare against other players.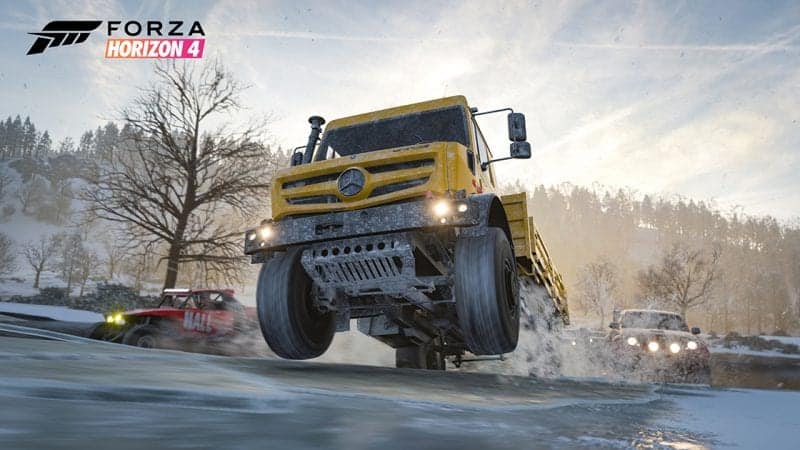 Forza Horizon 4 is an incredible racing game, an incredible effort from Turn 10 Studios and possibly their best work to date. Its flaws are few and probably minor complaints at best. You can buy houses to fast travel but they are few and far and some are very expensive. Driving to every event does begin to wear thin when there are just a handful left for you to take part in.
Then there is the music. Now this is purely subjective and dependant on your taste as there are a number of radio stations to switch between.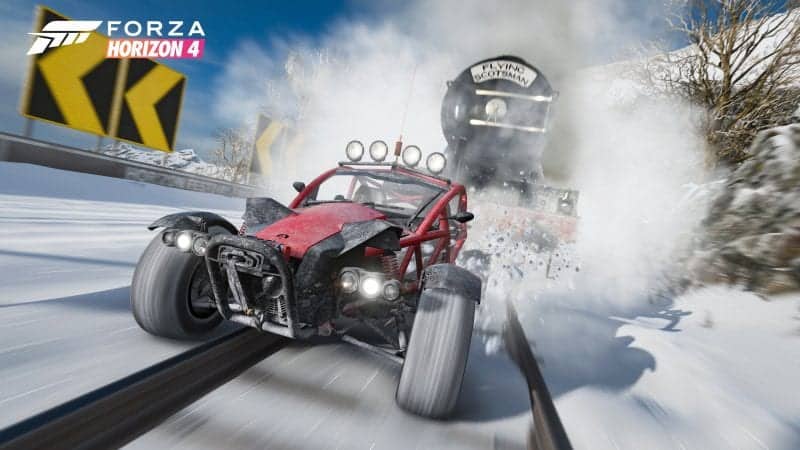 However, it's disappointing to once again not get a dedicated 'metal/rock' station. There is one that fires off the odd Pennywise track but it's interspersed with flat indie songs. If you like drum and bass, techno and classical, you'll be fine though.
As I said minor complaints in an otherwise flawless driving experience. Forza Horizon 4 doesn't just look stunning, it plays brilliantly and rewards your time and patience well.
[amazon_link asins='B07DN5JRRT,B07DGKNDJ1,B07DNBKQNF,B07GLGB1BV' template='UseThisOne' store='g0e5b-21′ marketplace='UK' link_id='14b7b5f7-ccde-11e8-98c1-4be6cb11d4ef']
Forza Horizon 4
The Final Score -

9.5/10