Game Review: 101 Ways To Die (Xbox One)
101 Ways To Die is a game about killing but not just plain old gunshot to the head type of killing, which would be too quick and easy. It gives the player the tools and challenges you to be as creative as your twisted mind possibly can be.
In this physics based puzzle-platformer you'll play assistant to mad scientist Professor Splattunfuder; a scientist, inventor and weapons manufacturer of questionable sanity. Nearing the end of his career, he devoted himself to a terrible "recipe book" focused on the death and destruction of his enemies, preferably using the most stylish methods possible.  An unfortunate laboratory accident resulted in the destruction of the first draft and now it's down to you to assist him piece the fragments back together.
As each level begins, you are given the opportunity to place traps and contraptions in whatever way you see fit. There always seems to be the possibility to create a chain reaction of blood and destruction but these can be quite tough to pull off as you get further into the game. You'll need to plan smart and visualize exactly how things will go down once the unsuspecting Splatts arrive.
The game starts you off slow and I found the tutorial very helpful because it can be quite confusing at first. However, once you fully understand it can be extremely satisfying at times and yet a little frustrating at others. Maybe I'm just not very good at this game but I found myself replaying levels several times, trial and error was the method that worked best for me. It can be quite tedious to repeatedly fail the same level over and over just because a certain trap was placed slightly in the wrong place or a bomb explosion was timed half a second too early. Now, don't get me wrong I understand that this is exactly what the game is all about and that it requires players to be patient.
After a couple of levels it does get kind of samey so I would recommend playing a couple of levels here and there so it stays fresh and enjoyable.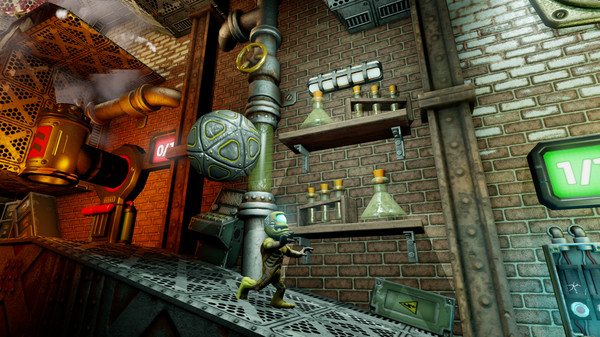 Still, I must admit that it is extremely satisfying to witness the carnage unfold once everything is placed perfectly. It's just the later levels are so well designed and elaborate, you're given so many items to place it can be kind of overwhelming. By the end of some levels, you'll certainly get a huge kick out of seeing Splatts get maimed, sliced, burned, exploded, ripped and impaled. 101 Ways To Die requires you to think but it's rewarding and has a dark sense of humour, it's a lot of fun to play around with. While the visuals are nothing to write home about, I found the cartoon style fitted the game nicely.
101 Ways To Die looks pretty simplistic on the surface but hiding beneath is a really smart, well designed puzzle platformer that is a bunch of fun in short bursts.
101 Ways To Die
Comments Rating
( reviews)