Game – Movie Review: BloodRayne 2: Deliverance (2007)
If there was one Uwe Boll video game movie adaption that we really didn't need or really shouldn't have had a sequel too, it was BloodRayne. Based off the video game of the same name, it starred Kristanna Loken, Michael Madsen, Matthew Davis, Will Sanderson, Billy Zane, Udo Kier, Michael Paré, Meat Loaf, Michelle Rodriguez, Ben Kingsley, and Geraldine Chaplin.
BloodRayne was a flop and for good reason as it was a terrible movie. You can read our full review here.
Still, making bad movies has never stopped Uwe Boll before and once again he takes the directing chair for this sequel. Called BloodRayne 2: Deliverance (also known as BloodRayne 2 or BloodRayne: Deliverance) this time round, Natassia Malthe plays the titular character.
Whereas the first film was set in 18th century Romania, BloodRayne 2: Deliverance is set in 1880's America and is stylised as a Wild West film. This might seem like an awful idea but actually, the setting is pretty good. In fact even the story isn't terrible as it sees a vampiric Billy the Kid (Zack Ward) arrive in the town of Deliverance, Montana. Once there he sets up shop, takes all the children hostage to keep the humans in line and awaits the arrival of the first Transcontinental Railroad. Something that is due in one week, and will allow him to spread his army of vampires across the New World.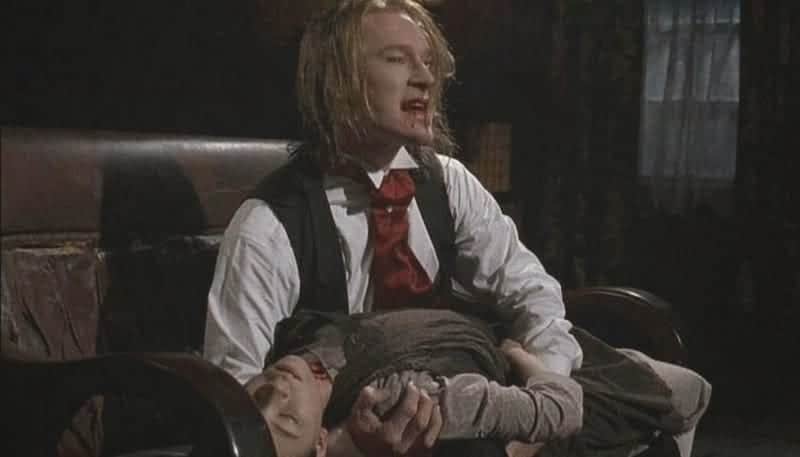 Who can stop him? Only the dhampir Rayne!
It's a fun premise, one that would be a lot more fun if it didn't take itself so seriously all of the time. While nowhere as dour and straight-faced as the first film, rather then focus on silly over the top action, BloodRayne 2: Deliverance still tries hard to make you care about Rayne and the other hero characters.
It's absurd, especially when you consider the subject matter and makes the film all the more difficult to watch. It's not a good film, not at all but when compared to the original it feels like the best thing ever.
BloodRayne 2: Deliverance (2005)
The Final Score -

5/10