EP Review: VRSA – Cvlt of Machina (Self Released)
Out on the 29th June on CD (available digitally already), Cvlt of Machina is a three track EP from Connecticut, USA based progressive doom metal band VRSA.
The band describe the EP as:
"Perpetual energy draws the devout like a beacon from light years away. Elemental forces of nature give way to symmetric constructs of the mind that grows like geometric crystals. There the gathering of the universal cult raises the artifact. The ancient machine. Cvlt of Machina."
It doesn't take long for VRSA to change the metal formula on the opening self-titled track. Cvlt of Machina traditional heavy metal start is interrupted by an enticing diversion into melody. The track flips back and forth between layered, rougher heaviness and hypnotic, melancholic softness.
A killer start, VRSA confirm their stylish take on metal with Superluminal and Circling the Square. The former with catchy groove and a nu-metal twang to the vocals, the latter with some snarling heaviness built around huge sounding techniques.
It's a really varied record, no easy task with just three tracks.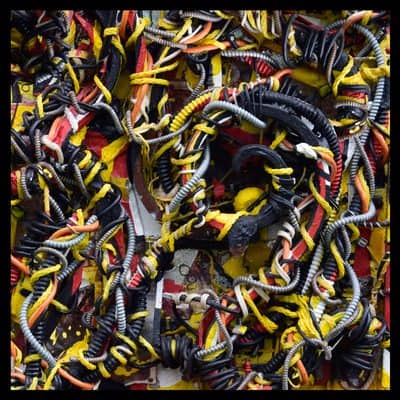 VRSA – Cvlt Of Machina Full Track Listing:
1. Cvlt Of Machina
2. Superluminal
3. Circling the Square
[amazon_link asins='B07BZ22W9B,B07BYXCZ5S,B07BZ3MP11,B07CF77SDF' template='UseThisOne' store='g0e5b-21′ marketplace='UK' link_id='72b0e05f-5f65-11e8-998d-09083e2f8b80′]
You can pick up the EP now digitally via Bandcamp, stream via Spotify and Apple Music below. Find out more by liking VRSA's Facebook Page.
VRSA - Cvlt of Machina (Self Released)
The Final Score -

7/10