EP Review: Mephistofeles – A Path of Black (Helter Skelter/Regain Records)
One of the cultest names in the underground, Mephistofeles hail from Argentina and have prolifically perfected a literally addicting blend of garage rock, stoner doom, and ritual atmosphere that truly puts the SATANIC in Satanic panic! From 2013 onward, this power-trio have been pumping out one sonic drug after another, from singles and demos to EPs and even live albums, all culminating in three full-lengths to date. And now, Helter Skelter Productions will be reissuing parts of Mephistofeles' back catalog as well as some new recordings.
The first of these new recordings, A Path of Black will be released on February 26th 2021.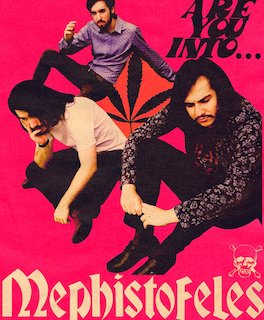 One word jumps to mind as Mephistofeles come chugging out of the gates and that word is 'fuzz'. The opener, Lucifers Hellride is absolutely dripping in it. The next set of words will no doubt be some sort of combo that includes the likes of 'rocking', 'groovy', 'energetic' and 'wicked'.
A strong start, Electric Ripper then arrives with with the intensity of a sharp buzzsaw. Nicely energetic, it rips through the matter, encouraging those subjected to it, to move their bodies. Before the title track closes things out in super-fuzzy style. Brain-achingly fuzzy, it's got a touch of doom mixed with Mephistofeles penchant for garage rock groove and sinister psychedelic-touched atmosphere. The vocals, eerie throughout, are on particular devilish form here.
It's an infectiously toxic release.
Mephistofeles – A Path of Black Full Track Listing:
1. Lucifers Hellride
2. Electric Ripper
3. A Path of Black
Links
Facebook | Regain Records | Shadow Records
Mephistofeles - A Path of Black (Helter Skelter/Regain Records)
The Final Score -

8.5/10