EP Review: Death by Fungi – Die in Bombay (Self Released)
Death By Fungi was formed in 2013 by Vrishank Menon and Kamran Raza, quickly releasing their first demo later that year. The addition of Aryaman Chatterjee to the line-up, saw the band shift towards a more aggressive hardcore sound, resulting in another EP in 2015. This was followed by several live shows, and another EP in 2016's "In Dearth Of." This release as well as 2017's split with Indian sludge band Shepherd, cemented the sound & style DBF are known for in their country.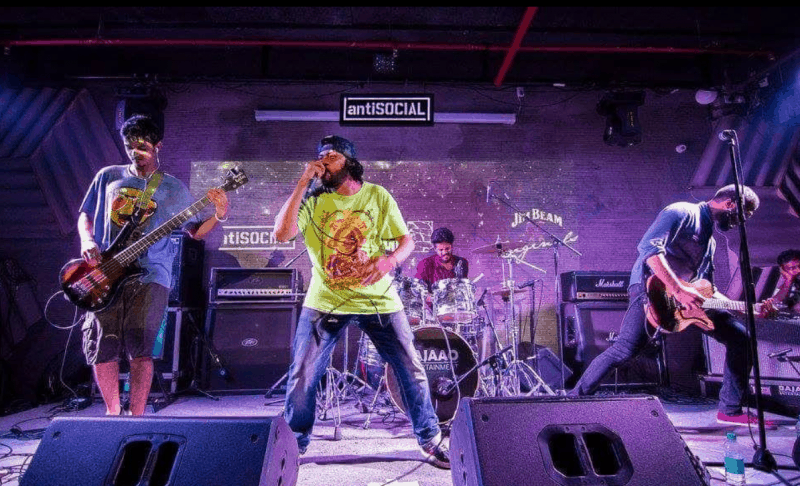 Now considered one of the pioneers of Bombay Hardcore, Death By Fungi return to the fray with their first release in 2 years. While the band's previous records saw them evolve from a melodic hardcore origin to incorporate influences from skatepunk, powerviolence and mathcore, "Die In Bombay" sets out to combine all influences into one melodic, abrasive and disorienting frenzy of relentless d-beat driven anarchy. Die in Bombay is the first record to feature Tabish Khidir of Mumbai-based doom metal band Dirge on vocals.
The EP launches digitally on the 5th of August 2019, and the band is set to tour across India in support of their latest release, alongside the rest of the Indian hardcore punk family.
Death By Fungi arrive on Die In Bombay with an absolutely ear-splitting, screeching and wild style of hardcore. Four tracks of noise with them all lasting barely two minutes. It's angry, in-your face noise with all the power and poise of a band who is dragging themselves out of the sweaty underground clubs with eyes on bigger and better things.
That's not to suggest this isn't a raging pit of filth though. It's just that Death By Fungi clearly know how to make their brand of circle pitting fury that little bit more listenable. Surprisingly too, each track offers something a little different. The title track being a riff crazy party, Guilt and Admission lighting up the fires of rage, Ingrates being the most straightforward of the four when it comes to a more traditional hardcore sound and Attrition showing off some of the more catchy elements of the band.
Four tracks, four hardcore bangers.
Death By Fungi – Die In Bombay Full Track Listing:
1. Die in Bombay
2. Guilt and Admission
3. Ingrates
4. Attrition
Links
Bandcamp | Facebook | Twitter | Instagram | Soundcloud
Death by Fungi - Die in Bombay (Self Released)
The Final Score -

8/10