EP Review: BÖNDBREAKR – BÖNDBREAKR (Self Released)
BÖNDBREAKR is a hardcore punk / metal quartet from Austin,Texas featuring members from local punk/metal luminaries dating back several decades (Suburban Terror Project, The Blood Royale, Vex, In Oblivion, Transfixr). Formed in September 2018, the band intersects grimy, noisy, strange music with street grit sensibilities.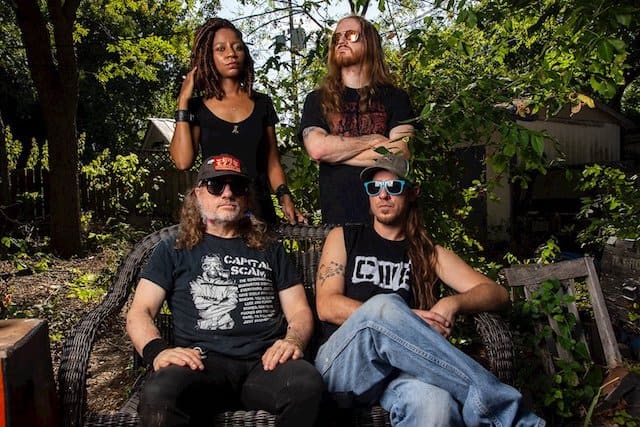 After a year of gigging extensively in Austin and the surrounding cities with their intense performances, BÖNDBREAKR entered AMP Studios in Austin,TX to record their debut self-titled EP under the helm of engineer Michael Day. Recorded live over the course of a single weekend, the EP uses several sonic motifs to curate a soundtrack to the disorder, strife and general chaos of life in 2020 America.
A short and in your face EP, BÖNDBREAKR have plenty they want to say in the most concise way possible. From the opening punk barrage of Into the Night to the rocking groove excitement of Cop Rock and Angry Tooth to the super-short and hot Shaman which leads comfortably into Kill Your Gods, the most structured effort that shows BÖNDBREAKR have more to their song-writing ability then just intense punkish metal.
Although the bonus track might be taking the piss a bit as it is over 9 minutes long and is confidently called The Whole Fekkin Thing. Why? Because it's the rest of the EP put into one long listen. The complete and unbroken experience.
BÖNDBREAKR – BÖNDBREAKR Full Track Listing:
1. Into the Night
2. Cop Rock (featuring Jake Roussel)
3. Angry Tooth
4. Shaman
5. Kill Your Gods
6. The Whole Fekkin Thing (Bonus Track)
Links
Bandcamp | Website | Facebook | Twitter | Instagram
BÖNDBREAKR - BÖNDBREAKR (Self Released)
The Final Score -

7.5/10