Christmas Horror Short Review: The Yule Lord (2020)
From award-winning film-makers, TheThreeLancers comes The Yule Lord. A Christmas horror short based around the horned one known as Krampus.
Billy does a Kevin McAllister and wishes that his whole family would disappear on Christmas. However, he's not sending his letter to Santa but rather Krampus. That's pretty damn naughty.
In between, we get shots of Billy being forced to drag a sack through a field on a cold winter's day. The person forcing him just so happens to be wearing the jolly fat man's red suit. It's all very confusing but having a little over 4 minutes to tell its story, The Yule Lord doesn't hang around explaining itself.
Billy' letter was delivered and Billy got a present in return. What is inside? Whatever it is, it horrifies Billy. The rest of the short plays out in the field as Kevin is confronted by Krampus himself. What happens next? Check it out below to find out.
It's fantastical but doesn't exactly wow. The concept is odd, as Billy is far older than you might expect to be writing letters to Santa or Krampus. Its conclusion sort of rips off the finale of the 2015 Krampus movie and it doesn't exactly satisfy.
That being said, it has some stuff that can be enjoyed. Such as Billy's reaction to the present, which tells you everything you need to know. The sinister shot of Billy being forced to enjoy a candy-cane is particularly dark and the eerie version of Carol of the Bells that plays over most of the short is cool.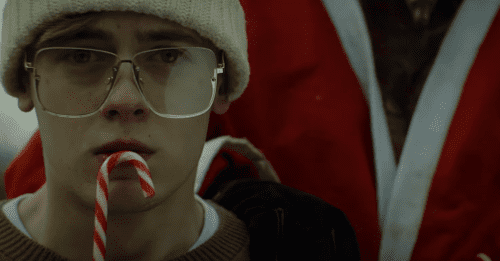 You may find though that you come away feeling underwhelmed.
Although you can have a snigger over Billy putting his letter in a red Royal Mail post box with no stamp or address and it somehow ending up in the hands of Krampus.
The Yule Lord (2020)
The Final Score -

6/10