Christmas Horror Movie Review: Wake in Fright (1971)
Wake in Fright is a psychological, horror-thriller film that was directed by Ted Kotcheff, releasing in 1971. It's based on Kenneth Cook's 1961 novel of the same name. The film follows a schoolteacher who descends into madness after finding himself stranded in a brutal, menacing town in outback Australia.
John Grant is a schoolteacher who feels disgruntled because of the terms of a financial bond that he signed with the government. The bond has forced him to accept a two-year post at a tiny school at Tiboonda, a remote township in the outback. It is the start of the Christmas holidays, and John plans on going to Sydney to see his girlfriend Robyn. First, he must travel by train to the nearby mining town of Bundanyabba or "The Yabba" as it's affectionately known by the locals.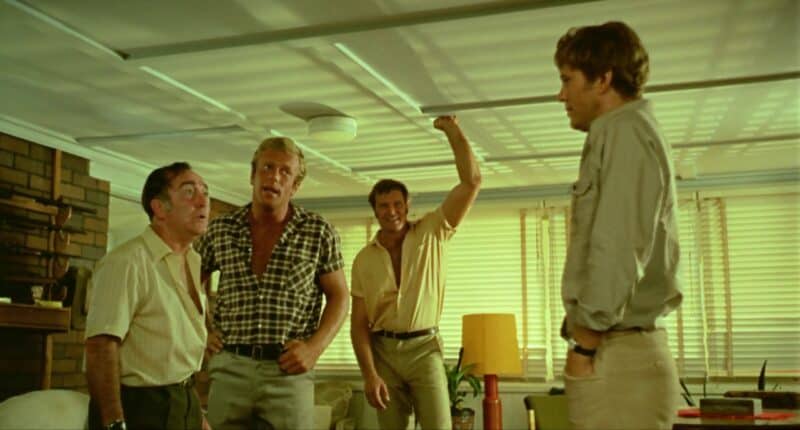 Upon arriving at The Yabba, John goes to a pub. He meets the local policeman, Jock Crawford, who befriends him after both drink repeated glasses of beer. Crawford then introduces him to the illegal game of two-up. While there, John meets Clarence "Doc" Tydon, a vagrant, alcoholic medical practitioner who questions John's contemptuous view of The Yabba.
Deciding to try his luck at two-up, John has a winning streak but becomes reckless. In a desperate bid to win enough money to pay off his bond and escape his servitude as an outback teacher, he loses all of his cash in two rounds. This results in John becoming stranded in The Yabba with no money, leaving him at the mercy of its searing heat and eccentric townsfolk.
Things only spiral from bad to worse for John, Will he escape? Check out Wake in Fright this Christmas to find out.
Wake in Fright or Outback as it was initially known as upon release is a fever dream of a movie. It does an impeccable job of making you feel like you're right alongside John, tumbling down the rabbit hole. The way in which it all plays out has a feeling of realism that is quite hard to capture. This is helped by some quality acting. Donald Pleasence in particular is at his eccentric best with the type of performance you can't look away from. Then, there's Gary Bond as John who's slowly losing his mind and is equally as impressive in this outing,
I love how unashamedly honest John is about how much he hates his situation, the town and the people living there. It's amusing because throughout the film, the residents are only really helpful and generous to him which only infuriates John further. There's a sense of paranoia that they're attempting to keep John docile as a way of keeping him in the town that translates to the viewer really nicely.
The setting is the perfect backdrop for this kind of tale. I could feel the searing heat and the constant dehydration that would come with it through the screen. Truly a horrific scenario that could actually happen in real life.
Also, it's interesting that a film from 1971 has so many politically motivated messages. There's a focus on gambling, heavy drinking and a couple of horrible scenes involving Kangaroo hunting with some graphic animal mutilation. Apparently, the hunting scene is real footage and was used to send a message regarding the dwindling number of wild kangaroos due to hunting at the time.
Overall, Wake in Fright is a wild ride. It's a bit slow paced with little to no action to speak of but there's a hell of a lot of psychology at play that's very enjoyable. A unique experience that I'm glad to have seen, even though I most likely wouldn't wish to sit through it all again. In many ways that's actually a compliment to how it made me feel, uncomfortable.
Wake in Fright
The Final Score -

7/10