Carl's Top 50 Albums of 2018: Part 3 (30 to 21)
It has been an incredible year for rock and metal. So many great albums spread across 12 months. So much so that this list was one of the hardest I've ever had to do for the site. Breaking down the 500 plus albums that we have reviewed into just 50 felt like an impossible task but here we are.
To give each album the focus it deserves we decided to break the list into 5 articles with ten albums in each counting down from 50. This is the best albums of 2018 from numbers 30 to 21. You can read about numbers 50 to 41 here and 40 to 31 here. Enjoy.
30: Jet Plane – Falls Feather (Ricco Label)
Jet Plane is a band from Russia, who excel at exposing strings-based drama behind post rock crescendos and emotions. Falls Feather is the 4th album by the band and instantly delivers on the promise of melodic atmospheric post-rock tunes that get under the skin with their infectious catchiness.
Read our full review of the album here.
29: Hemelbestormer – A Ring Of Blue Light (Ván Records)
The lack of vocals certainly doesn't have a negative effect on A Ring of Blue Light even if comparisons to the likes of Deafheaven are easy to make. Hemelbestormer do make their own mark though & the variety in tracks will put a smile on faces.
Read our full review of the album here.
28: OHHMS – Exist (Holy Roar Records)
After rising a sonic tempest with their widely praised debut full-length 'The Fool' last year, the breakthrough progressive metal act keep conquering uncharted territories with their new album 'Exist'. Wielding the flag of Animal Rights and Conservation as a casus belli against global injustice and ignorance, the Canterbury five piece deliver their most immersive music piece to date.
There are few bands who encapsulate the modern face of post-metal and sludge with unrestrained heaviness, sorrowful beauty and the feeling of being on a journey with the band.
Read our full review of the album here.
27: Barbarian Hermit – Solitude and Savagery (APF Records)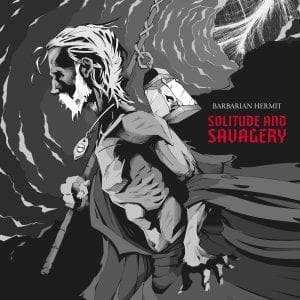 The latter part of the album name is apt as this is a record filled with fuzzy downtuned guitars, raging groove and a heavy-as-hell rhythm. Savage sludge for a savage band, Barbarian Hermit throw their everything into this release.
Read our full review of the album here.
26: Boss Keloid – Melted On The Inch (Holy Roar Records)
One of the most exciting young bands in the UK metal scene right now, there is a little bit of expectation on Boss Keloid now. Can they follow up and improve upon their excellent previous releases?
The answer is yes and yes. Melted on the Inch is a fantastic 6-track album that fascinates as much as it excites. Progressive doesn't do them justice, there is far more to Boss Keloid and for 40+ minutes they prove why they are considered one of the best in British metal.
Read our full review of the album here.
25: Slow – V-Oceans (code666)
To say that Slow deliver a memorably dark & atmospheric funeral doom album is a bit of an understatement here. V-Oceans is five tracks absolutely dripping in dark tone. Slow, moody & extremely effective! It's amazing just how effective V-Oceans is & how tracks that are 10+ minutes in length absolutely fly by.
Read our full review of the album here.
24: Kosmogyr – Eviternity (Self Released)
Kosmogyr are all about delivering an insane level of sonic abuse, blackened metal of the highest & rawest order. The band should be so proud of themselves making such an impressive combination of the old & the new. In the process creating one of the best black metal releases of the year.
Read our full review of the album here.
23: Khemmis – Desolation (Nuclear Blast)
Desolation is a stunning album with 6 tracks and 42 minutes of inspiring and hauntingly melodic tones. Fantastic solos all different in tone and shape, harmonised sections strong bass lines and drums that switch pace and timing in a flash make everything so damn listenable and so damn cool.
Read our full review of the album here.
22: Jollymon – Void Walker (Self Released)
Groovy and spacey guitar riffs, an up-tempo stoner sound and grunge-like vocals welcome us back into the world of Jollymon. It fills the mind with imagery of vast expanses of colourful and vibrant worlds.
The attempt to create a modern rock album that combines the best of stoner and space-rock really pays off. This isn't a band pretending to understand the intricacies needed to really make the listener be part of the journey. No, it's a band brimming with confidence and appetite.
Read our full review of the album.
21: At the Gates – To Drink From the Night Itself (Century Media Records)
To Drink From the Night Itself gives us 12 tracks and 45 minutes of music. There are even a couple with relatively short names. Basically, the album is bloody good. Really, really impressive.
At The Gates really seem fired up and hitting new peaks of variety and creativity. The raw production may not be to everyone's taste but it suits their sound so much better than a cleanly polished tone would.
Read our full review of the album.