Another Bloodstock is in the bag and what an incredible event it was. It always is and even though the classic British weather tried to ruin the fun, the festival and everyone in attendance ensured it couldn't defeat us.
Mud, rain, tornado like winds, burning sun and metal…it's Bloodstock. The calibre of bands was off the chart this year. Simply put, it might be our favourite year to date just based on how good everyone was.
We had a busy year, nearly doubling the amount of interviews we did which unfortunately mean we didn't get to see as many bands as we could. As always, you'll get Carl and Brendan's opinions below but thanks to having a bigger group with us, we sent our scouts to check out bands we couldn't see. Their opinions will also be listed below. We wanted to cover as much ground as we could and walked a lot of miles to see the best of the metal scene as we could!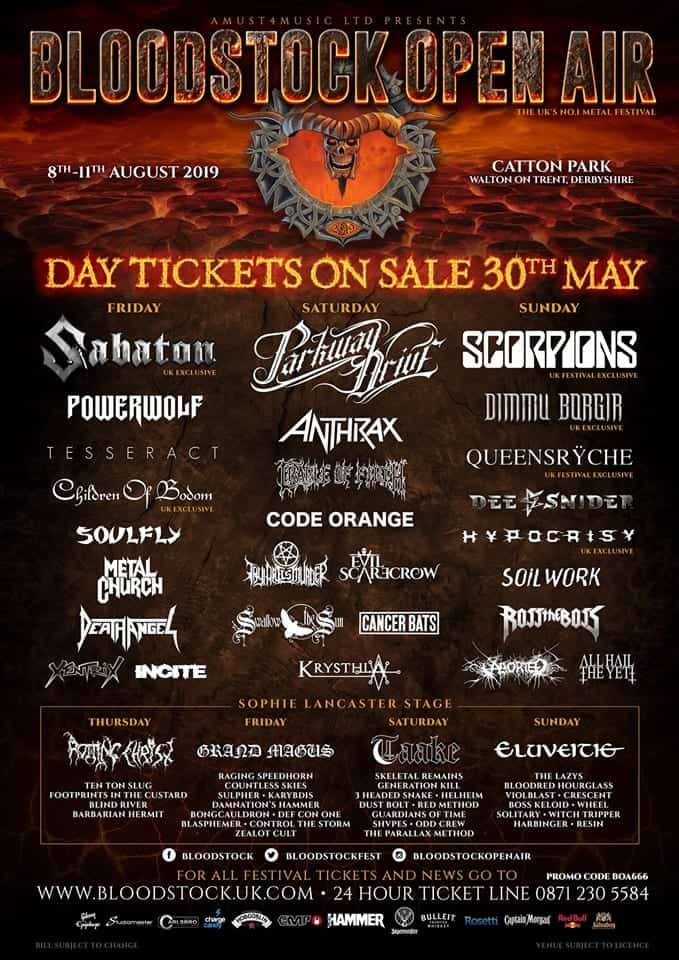 Thursday
Barbarian Hermit (Sophie Lancaster Stage)
Brendan – About as solid an opener for a festival as you can have. They performed with style and class, hitting hard with chunky riffs and doomy, bone shuddering metal. They really do sound fantastic too, note for note like their studio releases but with extra earth shaking. Solid as a rock.
Carl – I was so pleased to see these guys get the opening festival slot and they didn't disappoint. One of the best brain-shaking metal band's of the weekend, when I wasn't banging my head I was mesmerised by their stage presence.
Footprints in the Custard (Sophie Lancaster Stage)
Brendan – Fun, good music, but the joke wears off after a little while. I definitely enjoyed myself but more so with the songs I had already heard. The music is good, the jokes are funny enough but it all gets a little dull after 20 minutes or so.
Carl – I suspected they would get a massive crowd and I wasn't wrong, the tent was rammed with fans looking to have a good time and bang their heads…me included. They certainly delivered on that even if I felt it tapered off near the end.
Ten Ton Slug (Sophie Lancaster Stage)
Brendan – Good solid metal with loads of heavy riffs. Plenty to head bang along to but hardly the most memorable show seen over the weekend and the start of the "too much sludge/doom" feeling that plagued me for a lot of the weekend.
Carl – I love me some Ten Ton Slug and with the difficult task of following a more 'party' style band I thought they did wonderfully. I was getting a little drunk by this stage but I'm 99% the ache in my neck came from the Irish sludgers set.
Rotting Christ (Sophie Lancaster Stage)
Brendan – The band I was most looking forward to seeing across the whole weekend and they didn't disappoint. Old masters at this now, I guess, but they still impress with how perfect their sound is as they rattle through songs from their extensive catalogue. The highlight for me was when they hit out some of their newer, Heretics era stuff, personally. Fire, God and Fear sounded amazing and forced my feet towards the pit.
Carl – One of my most anticipated bands of the weekend, it was as good as I expected…maybe even better. So damn heavy, so damn wild and so damn good. One of the best of the weekend as far as I'm concerned.
Friday
Incite (Ronnie James Dio Stage)
Brendan – A high energy and hard-hitting set from the talented Americans that certainly woke up the early morning Bloodstock crowd. They have so much enthusiasm, it is hard not to enjoy them. They also happen to have the most amazing lead guitarist. They play like they are headlining at every show and this was no exception. Excellent start to a Friday morning.
Carl – I was sold on Incite live after Incineration Fest earlier in the year but an early morning Bloodstock slot can often be difficult. No-one told Incite it seems as they threw their all into making sure everyone watching was well and truly awake. Love their energy and love their attitude.
Control the Storm (Sophie Lancaster Stage)
Gemma – With a show to put some of the main stagers to shame, Control the Storm obviously came intent on leaving a lasting impression and succeeded massively. As eye catching as the show was, it is the band's catchy songs, blazing guitars and powerful vocals that live on in the memory.
Lou – I enjoyed these a lot more than I thought , soaring symphonic metal with a mesmerising frontwoman .This band had a fantastic stage show -fire , sparks and confetti was a real treat!
Death Angel (Ronnie James Dio Stage)
Brendan – I was expecting run of the mill death/thrash and got so much more. These guys were amazing and were a real highlight of the festival. Brilliant songs and imposing stage presence combined to make one of the sets of the whole weekend. I could easily have listened to these guys go for another half hour. They were brilliant.
Carl – A bucket list band for me, I expected to like it. I did not expect to absolutely love it which is what I did. Genuinely brilliant to watch.
Tomorrow is Lost (New Blood Stage)
Brendan – These are an impressive bunch. They ooze energy as the frontwoman throws herself around and the big smiles on the band infect the crowd with positivity. Catchy songs with plenty of riffs and power, they come across as a band destined for big things.
Carl – Banging. Very watchable and got me very interested in what their future holds.
The Hope Burden (New Blood Stage)
Dan – I only caught the end of their set but was glad I did. It sounded amazing and made me wish I'd seen more of it.
Soulfly (Ronnie James Dio Stage)
Brendan – Max sounded pretty good, considering his voice isn't what it used to be. Being a legend of metal pretty much guaranteed him a crowd and he didn't disappoint. Big smiles, some tribal instruments and a little medley which had everyone down on the floor for "Jump Da Fuck Up" before it launched into Eye for an Eye was a highlight. Good stuff.
Carl – I wasn't to bothered about seeing Soulfly this time around as I've seen them and other iterations of Max's band over the years many times. That being said, I did check out a bit of them and it seemed ok. Not the best performance but certainly not the worst either.
Eyes of the Raven (Jager Stage)
Carl – The Jager tent was absolutely heaving so I only caught a glimpse of the 'beer metal' band plying their stoner/groove tunes but they seemed to be absolutely killing it. A band that has a very bright future at Bloodstock, I'm sure.
Children of Bodom (Ronnie James Dio Stage)
Brendan – Bodom were solid as a rock. As they usually are to be fair. They didn't quite smash it though, but perhaps that was down to the quality around them on a day were Death Angel, Powerwolf and Sabaton raised the bar. Still, a good set with Under Grass and Clover really sounding great for the first time I have heard it live.
Carl – Watching Bodom I had this niggly feeling at the back of my head that I couldn't quite put my finger on. It was only after I realised that I had gotten bored watching them. Festivals never seem to quite work out for them and with windy weather it didn't do them any favours. I enjoyed a lot of it but found my mind drifting on a regular basis.
MARW (New Blood Stage)
Carl – A quick dash into the New Blood gave me a chance to check out a couple of minutes of these noisy buggers. Liked what I saw.
Widows (New Blood Stage)
Lou – Really heavy sludgy riffs- neck hurting stuff with plenty of energy. Well worth checking
out.
TesseracT (Ronnie James Dio Stage)
Carl – Certainly the odd band out today, that didn't stop the tech-metallers delivering a phenomenal main stage performance. For me personally it felt like justification as I was very happy they were on the bill.
Powerwolf (Ronnie James Dio Stage)
Brendan – One of the surprises of the weekend for me. I liked the band on record, at best, and wasn't expecting much from the live show but I was wrong as they put on one of the shows of the whole weekend. Brilliant songs, amazing crowd interaction and just a damn good time was being had by everyone. Well done!
Carl – Well that was grand, now wasn't it? I didn't really know what to expect with Powerwolf and watched out of curiosity more then anything else but bloody hell, that was awesome! That is how you have the crowd eating out of the palm of your hand.
Raging Speedhorn (Sophie Lancaster Stage)
Brendan – Very solid, typical stuff from Raging Speedhorn. Pretty much went as expected with little to no surprises. There is little to dislike but also not much to write home about either.
Carl – I echo Brendan's words as I know what I'm getting with Speedhorn and almost always enjoy it. It was exactly that.
Sabaton (Ronnie James Dio Stage)
Brendan – My first time seeing Sabaton and they didn't disappoint. The show was great, the band sounded great and their high energy performance was infectious. Getting to hear Bismarck was a treat and seeing the band having fun and messing about on stage added to the positive atmosphere they generated.
Carl – Sabaton certainly showed they earned their headline slot with a blistering set of old and new stuff with plenty of impressive visuals to go along with it. Not only that, they looked like they were having an absolute blast up there too which is so infectious. I loved it.
Grand Magus (Sophie Lancaster Stage)
Brendan – At the risk of being lynched, I don't quite get the fuss over these guys. I like them, but that is about it. I hoped seeing them live with move me on from like to love but it didn't. Solid, heavy metal that failed to capture my imagination as I found my attention drifting.
Carl – I love me some Grand Magus and they certainly got my head-banging even if it was a little difficult to get into them completely following Sabaton. Not exactly their fault though.
Saturday
Krysthla (Ronnie James Dio Stage)
Lou – A great band to start the day, immense sounding and enjoying every minute of it. If you didn't know Krysthla before their set I bet you're a fan now!
Cancer Bats (Ronnie James Dio Stage)
Dan – Great energy and only knew them because they toured with While She Sleeps that one time, assumed if they were touring together they must be quite good. Had great energy and enjoyed the show, left a little early to watch Goat Monsoon but overall a good show with a good reaction from crowd.
Goat Monsoon (New Blood Stage)
Brendan – Interview commitments cut into how much of the Essex Metal to the Masses winners I could see but the little I heard, and the crowd reaction to them was enough for me to know they put on a fantastic show. Hard hitting, energetic riff monsters who did themselves and Essex proud. Well done!
Lou – A fantastic set from the Essex MT2M. Great support and really energetic performance.
Swallow the Sun (Ronnie James Dio Stage)
Lou – A bit of a change in tone with some doomy ,dark goodness. They don't say much but the music does that for them.
Lotus Eater (Sophie Lancaster Stage)
Dan – Some seriously heavy breakdowns and riffs, once again didn't know much about them before I went to see them but they did VERY well and were my 2nd band of the weekend after Parkway. Got really into them and thought they definitely fit in at Bloodstock, could see them playing again higher up the bill in the future.
Carl – That pit looked intense (less of the fist swinging shit though please) and it's all down to Lotus Eater who kicked some serious ass on stage. The breakdowns were loud enough to level the tent.
Scars of Remembrance (New Blood Stage)
Brendan – These were an impressive band with loads of energy and hard-hitting music. Strong vocals too. The crowd loved them and I can see why. It has been hard for them to hold down a line up but, if they manage to with this current one, well the sky is the limit.
Evil Scarecrow (Ronnie James Dio Stage)
Brendan – I missed most of these guys due to interview commitments but we had our friends and family watching and saw enough to know that these guys owned it again. Despite the wind and rain, they had perhaps the biggest crowd of the weekend and delivered. Like they do, time and time again bringing fun and solid metal in equal quantity.
Lou – A Bloodstock band through and through .Pure fun all the way through – everyone scuttling and enjoying it .The wind limiting their stage show is hardly noticed!
Thy Art is Murder (Ronnie James Dio Stage)
Brendan – A few issues with the wind carrying their sound away but there is little they can do about that. CJ engaged the crowd comically with his Michael Jackson impression being particularly funny. The new songs were great, as were the old ones in a solid and heavy set. Death Squad Anthem really stands out in the memory. That one crushes live!
Carl – I wasn't expecting too much from Thy Art as their brand of deathcore works best in sweaty intimate venues but they did really well up there. The high winds giving frontman CJ a chance to create an iconic Bloodstock moment.
Empire Warning (New Blood Stage)
Carl – I was only in the New Blood tent briefly to catch a bit of Empire Warning but I really enjoyed the London MT2M winners. They were playing out of their skins and it showed, my energy was lifted almost immediately.
Black Falcon (Jager Stage)
Carl – As was the theme of the Jager Stage all weekend, it was rammed and I only had time to check out a track of the hard rocking Black Falcon. I couldn't see much but what was clear was just how much everyone was enjoying themselves!
Lock Horns (New Blood Stage)
Brendan – One of the best band's I heard on the New Blood Stage all weekend. These guys were really strong with crushing heaviness mixed with progressive rhythms. I remember remarking at some point about the vocalist's power. He has a brilliant voice. I would expect to hear a lot more from these guys in the future.
Carl – Yes! Come on Lock Horns! They smashed it and I can see really big things in their future. I hope they took in the size of the crowd who came to see them because they deserved it.
Daybreaker (Jager Stage)
Carl – Holy heck, how good where these guys? Groove infused hardcore, they absolutely smashed apart the Jager Stage benefiting from the lack of main stage action because of the winds! This is how you grab the 'brass ring'.
Anthrax (Ronnie James Dio Stage)
Brendan – Anthrax were as solid as you would expect from a band with such experience. I am not the biggest fan so naturally found their set to be safe but unspectacular. Still, hearing a couple classics was fun though the longer time went on, the more I found my attention drifting.
Carl – Professional as fuck considering the wind issue that stopped them going on and forced them to have a shorter set. Anthrax are Anthrax and this was no different. The hits were played it, it was solid but they're a band I've seen way too many times to get too excited about.
Masters Call (New Blood Stage)
Brendan – These guys were great. Despite drowning me in incense smoke and smells, they were a blast to watch and were really tight musically. Certainly, showed why they were headliners of this stage and, if they can tie down a vocalist, I would expect to see them in the future on a bigger stage very soon.
Carl – The second best band I saw of the weekend and only one of a few that saw me try to pit. Anticipation was high and they did not disappoint, the 30 minutes they were on stage blew my mind and days later I'm still buzzing over it.
Parkway Drive (Ronnie James Dio Stage)
Brendan – The band of the weekend for me really. A visual and aural treat. Fears for their show amid the weather were put to bed as the main stage became a burning inferno of fire and explosions. The band sounded strong and gave a good mix of old and new tracks with the new ones being the most popular, I think. Winston spoke well, engaged the crowd positively leaving only a handful of doubters remaining by the end of their set.
Carl – I thought really hard to think of negatives about Parkway's headline showcase and in the end everything I came up with related to the weather and not the show. They proved most of the doubters wrong and I genuinely believe that if you said it was rubbish you're just being an idiot. Visually stunning, sonically impressive…Parkway Drive are headliners. Stop fighting against the current.
Taake (Sophie Lancaster Stage)
Carl – I only watched a bit of Taake as I was absolutely exhausted from the days events. His legendary status in black metal was befitting of the crowd inside the tent and the black metal evil flowing from the stage certainly got my attention.
Sunday
Witch Tripper (Sophie Lancaster Stage)
Lou – Stoner rock n roll on a Sunday goes down really well and these guys put on a hell of a show.
Bastard (New Blood Stage)
Lou – Norwich M2tm winners – coming out to a roar of approval – they were bouncing all over the place. Aggressive hardcore but with groove and a great crowd.
Soilwork (Ronnie James Dio Stage)
Brendan – A really good set with a nice mix of old and new tracks. I particularly enjoyed the Verkligheten songs and they had their sound, especially guitars, on point. I didn't get my favourite track which is always a shame but you can't have everything, especially in a short set.
Carl – Something just seemed off with Soilwork. It expected great but got good and that was disappointing. For the first time in many years since I've seen them it hardly had me chomping at the bit for more.
Boss Keloid (Sophie Lancaster Stage)
Carl – The third best band of the weekend for me, almost on par with Master's Call and Parkway Drive. I already have a lot of love for the insanity of their music but they absolutely owned the stage and I would be very surprised if we don't see them on the main stage in the near future.
Lou – One of my favourite sets of the weekend, they are amazing live -really powerful and brilliantly different.
Lost in Lavender Town (New Blood Stage)
Dan – Instrumental band, I didn't know much about them before going to see them. Not sure if they totally fit the Bloodstock mould being a kind of gaming/metal instrumental band but they did well and were received well.
Cradle of Filth (Ronnie James Dio Stage)
Brendan – Cradle were on top form bringing a ton of fire and sounding as tight as I have ever heard them. Moved to Sunday due to weather issues on Saturday, they were worth the wait. Dani was on form, barking like a mad man and referencing past events at Bloodstock around a gobstopper in his sarcastic style. Ending with the excellent Her Ghost in the Fog was a great move too.
Carl – Yeah, we get it. Not everyone likes Cradle of Filth but how about you let the people who do just enjoy it? I love Cradle and while a festival isn't my favourite place to see them, they still work hard with a pyro-heavy show and a whole host of hits spanning their immense careers.
Womenowar (Jager Stage)
Brendan – I only caught a track or two in passing but enjoyed what I heard. A big crowd surrounded the Jager stage that could barely fit the whole band on it and everyone seemed to be having a great time.
Carl – I don't like Manowar but I bloody like Womenowar!
…and that's a wrap! Hope you enjoyed Bloodstock 19 as much as we did! See you at Bloodstock 2020!