Bloodstock 2019 – Band Feature/Interview: Setheist
Bloodstock Open Air 2019 is nearly upon us and to say we're excited is an understatement. We adore the festival and this year's line-up is simply phenomenal. From the Ronnie James Dio Main Stage to the Sophie Lancaster Stage to the New Blood and Jägermeister Stages, there is something for everyone! Not got your tickets yet!? What are you waiting for!? Head over to the Bloodstock Festival website here and join thousands of like-minded head-bangers for a weekend of quality rock and metal.




"Excitement, gasping for breath. A trickle of sweat dribbling slowly down your temple. Shifty eyes disclosing madness hidden deep inside. You don't know what's about to happen, how many beats of the heart you have left.  The one and only thing you focus on is a glittering blade of a razor. Elegant, black, leather gloves desperately wish to touch your body. You want to scream but you realise it's already impossible. Suddenly you feel warmth on your throat and the touch of your fingers reveals sticky, thick liquid on it. Its colour is deep red. We are Setheist and our music will take you to the cruelly beautiful world of Italian Giallo movies".
Setheist are the victors of Poland's leg of Metal to the Masses, seeing off some top quality bands and having Pro-Pain judge them as worthy winners. They are a 5 piece, hailing from Lublin which is in East Poland just under 100 miles from the Ukrainian border. Setheist are Maksymina 'Maxi' Kuzianik on vocals with both Tomek 'Longo' Ciecieląg and Tomek 'Kieł' Lato on guitars. Our third Tomek is Tomek 'Długi' Krawczyk on the drums while Błażej 'Tomek' Grygiel is on the bass.
Setheist originally formed back in 2007 under the name Seth and with a different line up. The changed to Setheist, along with line up in 2013. The first years were tough as Seth (at the time) struggled to gather musicians who had either the skill or dedication to the project that was required. In Autumn 2014, having finally found their stable line up, Setheist released an EP called The Flash of Creation. It was warmly welcomed by the Polish metal scene and gave the band the opportunity to start gigging alongside such bands as KAT & Roman Kostrzewski, Saratan, Exlibris, Thermit, Wild Pig and Spirit. On the 8th of May, 2017 Setheist released their debut full length called "They". It was a popular release receiving enthusiastic and positive reviews from all corners.
It propelled the band further along and saw them pick up plenty of touring experience at small and large venues around their home country. Places like Semafor in Skarżysko Kamienna, U Bazyla in Poznan, Rock Club Iron in Krosno up to Progresja in Warsaw, Proxima in Warsaw and  Graffiti in Lublin all opened their doors to the band. They also started getting invited to some huge outdoor festivals like Rockovani Fest in Michnowice, Przystanek Woodstock Festival, The Lech Zone Stage and Rock'n'Rose Fest in Kutno. 2018 saw them head further afield with show sin Switzerland, Germany and The Netherlands.
Setheist are described as female fronted metal. They offer a well balanced combination of unpredictable, progressive riffs and ear-caching melodies accompanied by aggressive drums and stand-alone clean vocal lines.
This is a band on the rise. You don't want to miss out.
They took part in the Polish leg of the Bloodstock Metal 2 The Masses events seeing off fierce competition to emerge as winners and earn their place at Bloodstock 2019.
They will be playing the New Blood Stage on Sunday the 11th August 2019.
Interview
1. Congratulations on winning the Poland leg of the M2TM and earning your slot on the Bloodstock New Blood Stage. What made you decide to take part?
We thought gigging at Bloodstock would be a great chance to gain new fans and present our music in the part of Europe we haven't played in yet.
2. What were some of the highlights of your competition run?
The whole thing was kinda unusual because we actually took part in 2018 M2TM and we got to the finals then but unluckily for us the organisers unexpectedly had to change the date of the finals to fit in the headliner's concert schedule. Unfortunately, we had already had a gig booked in Holland on that date so we had to withdraw from M2TM but we gave our slot to one of the bands we met at semifinals. The organisers seem to have liked what we did and as a result offered us a slot in the finals next year (2019) which we were lucky to win despite hard competition.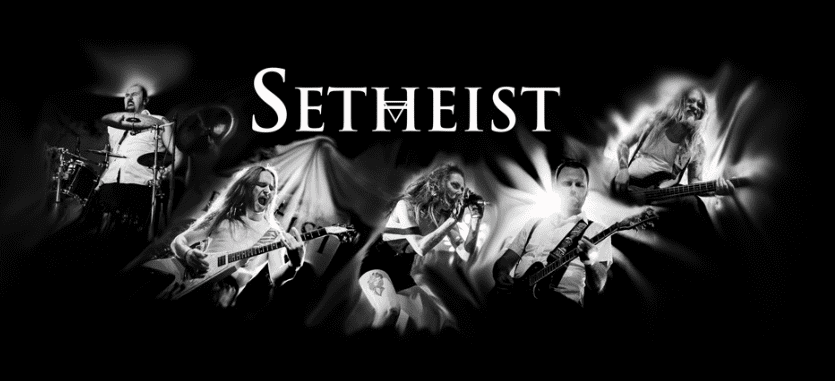 3. Describe the feeling, if you can, upon hearing your name read out as the winners?
It was a big surprise because we had thought there were bands among the competitors who are better recognised in Poland. Even more surprise came our way when we heard the verdict was undisputed and that the headliner of the night (Pro Pain) liked our show most of all too. We were very happy to hear that.
4. How big of an opportunity is playing the New Blood Stage for Setheist? We've seen some bands really grow from it over the years!
Playing at the biggest metal event in Britain surely is a great chance to become a bit more known , to gain new contacts and maybe opportunities to play more gigs in UK in the future. But most of all we treat this whole thing as a great adventure and wish to have as much fun as we can.
5. What can Bloodstockers expect from you come festival time? Why should they come see you?
Well, we always do our best to make our shows energetic and as audience focused as we can. One may expect lots of movement on stage, even from the drummer :-). We also use some decorations connected with the main theme of our last release. But the most attractive lure is, we believe, our music which is an unusual mixture of the band members' musical tastes ranging from death/black metal to melodic heavy metal ballads.
6. Are you regular attendees to the festival or will this be your first time?
This will be our first visit to Bloodstock.
7. Are you hanging about all weekend? If so who are you most looking forward to seeing?
We're planning to arrive on Friday evening depending on how smoothly the journey will go (we're coming by van) so we'll probably miss most of Friday bands. The ones we're most anxious to see on the following days are Dimmu Borgir (their drummer is our friend so we expect a huge afterparty:-), Cradle of Filth, Anthrax, Parkway Drive and of course Scorpions.
8. What does the rest of 2019 look like for Setheist? Shows? Releases?
The turn of 2018 and 2019 was a studio time for Setheist. We recorded a 3 track concept EP "Tre Colori" with the main theme of vintage Italian Giallo horrors. We decided to release each of the songs in the form of a music video. The first one called "Argento (Saber Tooth Tiger)" is already out here and we are just about to release the next one "Giallo". Once all of them are online, the EP will be released on CD. When it comes to shows, we're going on tour in Germany in the Autumn with our friends from the bands Mir zur Freier, Toxic Army and Killing Suzie.
Links
Setheist Website – Setheist YouTube – Setheist Facebook – Setheist Instagram – Setheist Spotify – Setheist Googleplay – Setheist Amazon – Setheist Apple Music – Bloodstock Open Air