Bloodstock 2019 – Band Feature/Interview: Goat Monsoon
Bloodstock Open Air 2019 is nearly upon us and to say we're excited is an understatement. We adore the festival and this year's line-up is simply phenomenal. From the Ronnie James Dio Main Stage to the Sophie Lancaster Stage to the New Blood and Jägermeister Stages, there is something for everyone! Not got your tickets yet!? What are you waiting for!? Head over to the Bloodstock Festival website here and join thousands of like-minded head-bangers for a weekend of quality rock and metal.
Goat Monsoon are a 5 piece from Colchester in Essex. Combining doom, stoner, and groove metal influences, Goat Monsoon are making waves on the heavy music scene. With successful support slots with the likes of Slabdragger, Orange Goblin, Paradise Lost, and Crowbar, the stature of Goat Monsoon continues to grow. Playing what they classify as Garage Fuzz Rock, Goat Monsoon have been working hard since 2012. Operating under the mantra of – "No Trends, No Bullshit, just Sweet Heavy music", expect the New Blood stage to shake when Goat Monsoon start playing.
Goat Monsoon are Mike on vocals with Ben and Charlie on guitars. Evil Stu is on the bass while Lewis is on the drums.
They released their debut EP, Blue back in 2014. Since then we have had a few single releases as the band focused on touring and successfully creating a bit of a name for themselves. Their most recent release was the excellent, Shake Me Down. Shake Me Down was released on the 6th of June and you can read our review of it here.
They took part in the Essex leg of the Bloodstock Metal 2 The Masses events seeing off fierce competition to emerge as winners and earn their place at Bloodstock 2019. You can read a pre Metal to the Masses interview with Goat monsoon here.
They will be playing the New Blood Stage on Saturday the 10th August 2019.
Interview
1 – Congratulations on winning the Essex leg of the M2TM and earning your slot on the Bloodstock New Blood Stage. What made you decide to take part?
Thank you.  If we're honest we don't know what made us enter.  All of us have been through 'battle of the bands' events before and have never really enjoyed the experience, but something told us to give it a go. And we're glad we did! M2TM was different as it didn't just rely on audience votes it was 50% judges and 100% judges at the final. I think the whole 'rent-a-crowd' era of battle of the bands events is finally and thankfully dead.
2 – What were some of the highlights of your competition run?
EVERY. SINGLE. NIGHT. The crowds were AMAZING.  As music venues close their doors you really start to worry about the future of live music, but every night it was a full house and people were loving it. Keep turning up people and they won't be able to shut us down! ✊🏽
3 – Describe the feeling, if you can, upon hearing your name read out as the winners?
Disbelief really.  We got to the final, but we were up against some of the best bands this county has to offer and they ALL brought their A-game and any one of them would be worthy winners. As the news sunk in all i could think was "f*ck i need a beer!"  I don't think any of us really believed it until the next day.  It's been crazy ever since.
4 – How big of an opportunity is playing the New Blood Stage for Goat Monsoon? We've seen some bands really grow from it over the years!
Playing the New Blood stage at Bloodstock is just an insane opportunity. We can't wait for people to hear what we are and what we do. The future of Goat Monsoon looks strong and we can't wait to get up there and smash it!
5 – What can Bloodstockers expect from you come festival time? Why should they come see you?
Goat Monsoon don't have gimmicks and we don't apologise.  We go up there and give 100% and the audience knows it. If you like a groove, doom, stoner metal vibe and want to blow off some steam come check us out.
6 – Are you regular attendees to the festival or will this be your first time?
Ben, our guitarist has been before. The rest of us are spilling blood for the time….
7 – Are you hanging about all weekend? If so who are you most looking forward to seeing?
The band will be there all weekend. Myself Soulfly are at the top of my list. We're all after watching Raging Speedhorn and Ben likes Cancer Bats so i think he'll be front and centre for them!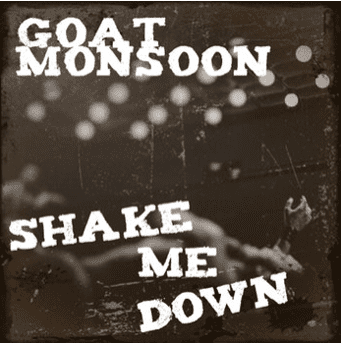 8 – What does the rest of 2019 look like for Goat Monsoon? Shows? Releases?
F*ck knows! We have a steady stream of local gigs lined up and are now  being offered more since M2TM.  We are also talking about more recording and releasing an EP.  Charlie (our other guitarist) is getting married in October so we are definitely having a party then!!  What the opportunity of Bloodstock might bring us is yet to be written…..come back in 6 months and we'll let you know!!
Links
Goat Monsoon Facebook | Goat Monsoon Instagram | Goat Monsoon Merch | Goat Monsoon Bandcamp | Goat Monsoon YouTube | Goat Monsoon Soundcloud | Goat Monsoon Spotify | Bloodstock Open Air