Bloodstock 2019 – Band Feature/Interview: Evil Scarecrow
Bloodstock Open Air 2019 is nearly upon us and to say we're excited is an understatement. We adore the festival and this year's line-up is simply phenomenal. From the Ronnie James Dio Main Stage to the Sophie Lancaster Stage to the New Blood and Jägermeister Stages, there is something for everyone! Not got your tickets yet!? What are you waiting for!? Head over to the Bloodstock Festival website here and join thousands of like-minded head-bangers for a weekend of quality rock and metal.
A band that should need no introduction, especially for Bloodstock attendees. Evil Scarecrow are the finest heavy metal band ever to write a song about a robot… probably.
Many years ago in a desolate Lincolnshire town, a band of dubiously termed musicians of Nordic heraldry with a fondness for sticky back plastic decided to go their separate ways, but as a phoenix rises from the ashes a new and perhaps even more glorious band emerged from the dying embers of Thor's Children (widely regarded as the greatest Blue Peter Metal band of all time) and thus Evil Scarecrow triumphantly exploded into existence.
In the following years the band relocated to Nottingham and evolved through several line-up changes to become the monstrous and stunning apparition that you see today. The band have earned accolades across the Rock and Metal Press, steadily becoming one of the UK's stand out Heavy Metal acts in the last few years.
Evil Scarecrow's live show has been captivating and sometimes rather surprising audiences for many years, it has grown with that band from venues as small as the local pub to holding its own on the main stage at Bloodstock Festival, but not without venturing everywhere in between, even as far as a boat sailing down the Thames on the way to the Metal Hammer Golden Gods Awards. The band are now spreading their collective wings, being well received at Wacken, Summer Breeze and the HRH Road Trip on mainland Europe. Everywhere they play they win new fans. Their passion and enthusiasm ensures they always connect with their audience, who in turn spread the word far and wide.
The release of the much anticipated 4th full length album "Chapter IV: Antartarctica" has seen them reach even higher heights. You can read our review of that album here and a review of their last London show here.
They will be playing the Ronnie James Dio Main Stage on Saturday the 10th August 2019.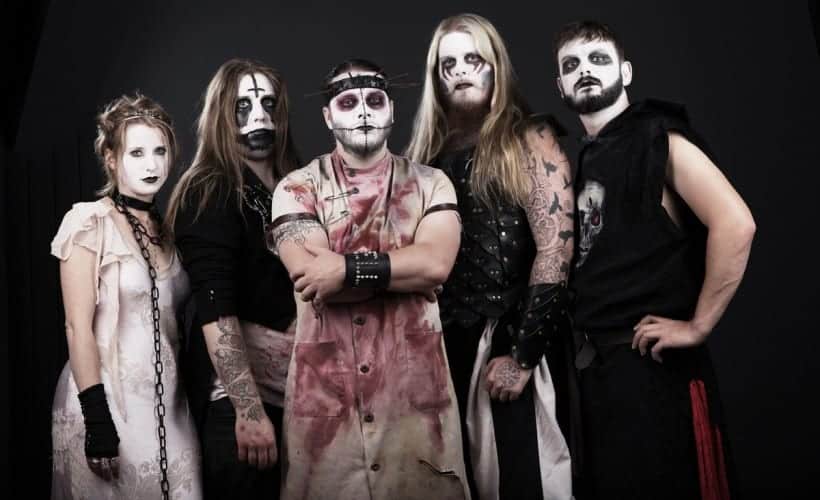 Interview
1. Hello Evil Scarecrow. It's a pleasure to talk to you again. Welcome back to Bloodstock or as you must see it now, home away from home.
Hello again! How are you? My, haven't you grown? It is like a home from home. I don't know if we hold some kind of record for playing Bloodstock. I am going to say we do. Most times played, most popular band and sexiest guitarist (me, Brother Pain not Dr Hell).
2. You're considered a Bloodstock band. This is your third time playing but it has been a few years. How excited are you especially as you're rising up the bill?
It's not the third time. I am not even sure it's the third time on the main stage! (editor note – yep, we can't count) I think it might be the fourth time we have played the main stage and the sixth time in total? It was nice to have a few years off, hopefully the fans will be happy to see us. It is exciting! I would say I am 10/10 excited.
3. Your 2016 Bloodstock set is pretty infamous and still talked about by those who watched (we did – it was our first Evil Scarecrow experience). How do you top it or is that not something you think about?
It is difficult because we are primarily a live entertaining band. So we have to try and keep the shows fresh and different. I think we are on our way to all out world domination. However, our outgoings for stage props and stuff like that is growing exponentially. So hopefully we'll take over the world before we run out of money.
4. You're on the Ronnie James Dio Stage on Saturday. What can Bloodstockers expect from Evil Scarecrow in 2019?
You can expect more world records to be broken, I don't know which ones but probably not the 110m hurdles. I am sure you'll all have a lovely time apart from a bunch of people who hate us and think we're a bunch of jerks.
5. Are you there all weekend? If so who are you most looking forward to checking out yourself?
I think I shall be there all weekend. I am bringing my four year old son along this year, it will be his first time seeing us. So I am looking forward to seeing his face when he sees us! Personally I am looking for to seeing Cradle of Filth as I have been standing in for Richard Shaw in a Ghost Tribute Act whilst he has been on tour! I have never met him, but I have been in contact with him discussing guitar parts. Queensryche too! Never trust an eagle! That's their song isn't it? About trust an eagle?
6. You've not really stopped since the release of Antartarctica? Are you planning to take it easy for the rest of 2019 or does the machine never stop?
Well, to be honest we have been taking it easier than have in the past. When we first started out we were gigging all the time to make a name for ourselves, nowadays we limit ourselves to a tour once a year or so and then some other gigs here and there. Like Halloween. I have played a gig every Halloween for almost the past two decades. I'd like a Halloween off maybe. Play Christmas day instead?
Thanks for interviewing me, I have been Brother Pain, thank you and good night. x
Links
Website | Spotify | Google Play | Deezer | iTunes | Facebook | Twitter | YouTube