Games, Brrraaains & A Head-Banging Life are very pleased to bring you an interview with hard rock/metal band, Swirl!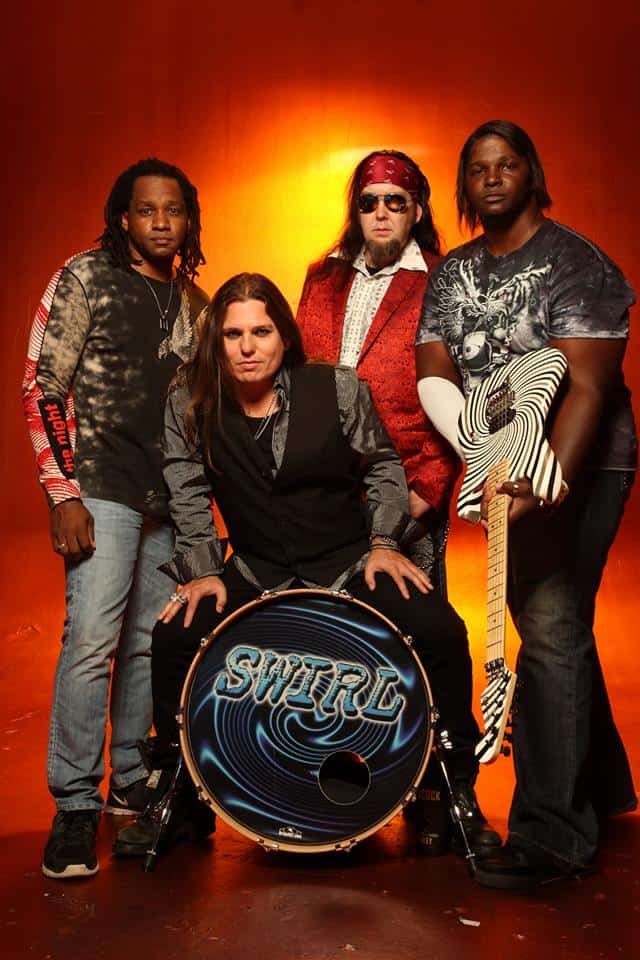 1.How did you get started as a band?
Finding the drummer was the easy part. I have known him his whole life. The drummer is my brother Brian "Bam Bam" Jones! Alfred Ramirez (Lead vocals) and Shane Carlson (Bass) were part of a band that I was referred to by Claude Schnell (keyboardist for Dio). Claude was looking to produce them, told me they just lost their guitar player and thought it would be a great way for him and I to get an opportunity to work together.
It was after a California gig that a friend of mine pointed out that Alfred would sound really good singing Swirl songs. I approached him about it, he was interested so we went into the studio with Cinderella drummer Fred Coury and recorded the songs "Time To Fly" and "Mad Disease". Fred co-wrote, mixed, performed on and produced those two songs.
"Time To Fly" was particularly well received and led to a full year of touring for Swirl in the United States. We were invited on 5 tours covering 50,000 miles as the support act on both club and theater tours with various established hard rock acts.
2. How would you describe your sound?
With as many diverse musical backgrounds coming together into Swirl I don't know how else to describe us other than "it's in the name". However, in 2017 The Huffington Post posted a review saying "they sound like an amalgamation of Slipknot and AC/DC" and of course I have always been partial to"…an interesting and diverse band to check out, as they combine the best of the past 20 years of American Rock/ Hardrock". I think that pretty accurately sums up our sound.
By all means check out the music on the homepage of our official Swirl website here.
Be sure to click the 'Rise Up" video at the top and the "Global Press" tab on the website to read reviews.
3. What bands/artists would you say have influenced your style of music?
We all have very different musical tastes. Brian and I were bit by the rock n roll bug after being introduced to the music of KISS, but then splintered off in different directions as he became a huge Rush fan where as I went more 80s hard rock acts.. Shane is into Korn and Metallica style bands while Alfred was influenced by the likes of David Bowie or Billy Idol.
4. Has the rise of YouTube & music streaming helped or hindered you as a band?
As an independent band YouTube and streaming has been a Godsend for Swirl!
In 2017 there was a full length independent horror film released in 6 countries, after winning the "Best Feature Film" Award in Burbank. That film is called 'Ditch Day' and stars horror icon Bill Oberst Jr.
Swirl was fortunate enough to be selected as the featured artist for the movie and had 3 songs from our 'SWIRL' EP licensed into the film. We shot a video for our song "Rise Up" (Featuring scenes from the 'Ditch Day' movie) which is available on YouTube. The interest in the film led many people to the music video that otherwise may not have heard of Swirl. That`s just one example of how helpful YouTube has been for Swirl.
We are very aware of the importance of Social Media for independent artists and so we are on all the major music streaming sites. Swirl saw a big spike in our streams all across the board last year and with the release of our new song, "The Lift" in January 2018 we are hoping to continue the trend.
5. What do you enjoy doing when you're not making music?
Swirl is pretty much a 24/7, 365 labor of love for me, so when I am not making music I am usually working on the other responsibilities that come with Swirl being our own management company, booking agent and record label. It is a lot of work marketing/ promoting this band. When I do need to get away from all things Swirl related I usually am either watching or coaching football in Southern California.
6. What are your future plans musically? Tours?
With the release of the new Swirl song, "The Lift" and how well it is being received on both internet and FM radio we are hoping to piggy back that success to the incredible 2017 Swirl achieved with more music being licensed into full length films and television.
While we work on finalising the latest licensing offer Swirl will record more new music and shortly after that deal is done we intend to tour in all the countries where we have gained exposure through either the release of the 'Ditch Day' movie or radio support.
We'd like to thank Swirl for taking the time to speak with us. You can check them out on their official website where you can also buy their music & merch. Support them on Facebook, Twitter, Instagram and YouTube.