Band Interview – Lynchwood (Metal 2 the Masses Essex 2019)
Hardcore/Indie band, Lynchwood, will play in Heat Four of Metal 2 the Masses Essex 2019. They face off against Bribe for the Ferryman, Lynchwood, Walk in Coma and Unit 33 on the 1st of March. The event takes place at The Soundhouse which is at The Bull, Colchester, CO3 3ES.
Each band will be giving their all to try to progress in the competition where the winner receives an amazing opportunity. A much coveted slot playing on the New Blood Stage at Bloodstock Festival, 2019. GBHBL are pleased to bring you a short interview with Lynchwood to help introduce them further to the metal masses.
Have a read, enjoy and make sure you get down to The Soundhouse on the 1st of March to give them, and local live music, some support.
1 – Why Lynchwood? Where did the name come from?
A few years ago we used to be known as Tiffany Psycho, but as our style and lineup continued to evolve, we felt that a fresh start would be good. The name doesn't have any particular meaning, and we came up with a whole bunch of ideas, but "Lynchwood" was the name we liked best.
2 – Tell us a little about Lynchwood. How long have you been playing together? Who is in the band? Where are you from? How did you meet?
We all met in college about five or six years ago and are spread across Essex. Leejay (vocal & guitar) is from Colchester, Matt (Bass) is from Braintree and Jack (drums) is from Ongar; which is a tiny little place in the arse-end of nowhere. We rehearse in Colchester as Leejay doesn't drive. We used to be a four piece but ultimately got sick of flaky guitarists and decided to go nuts as a trio.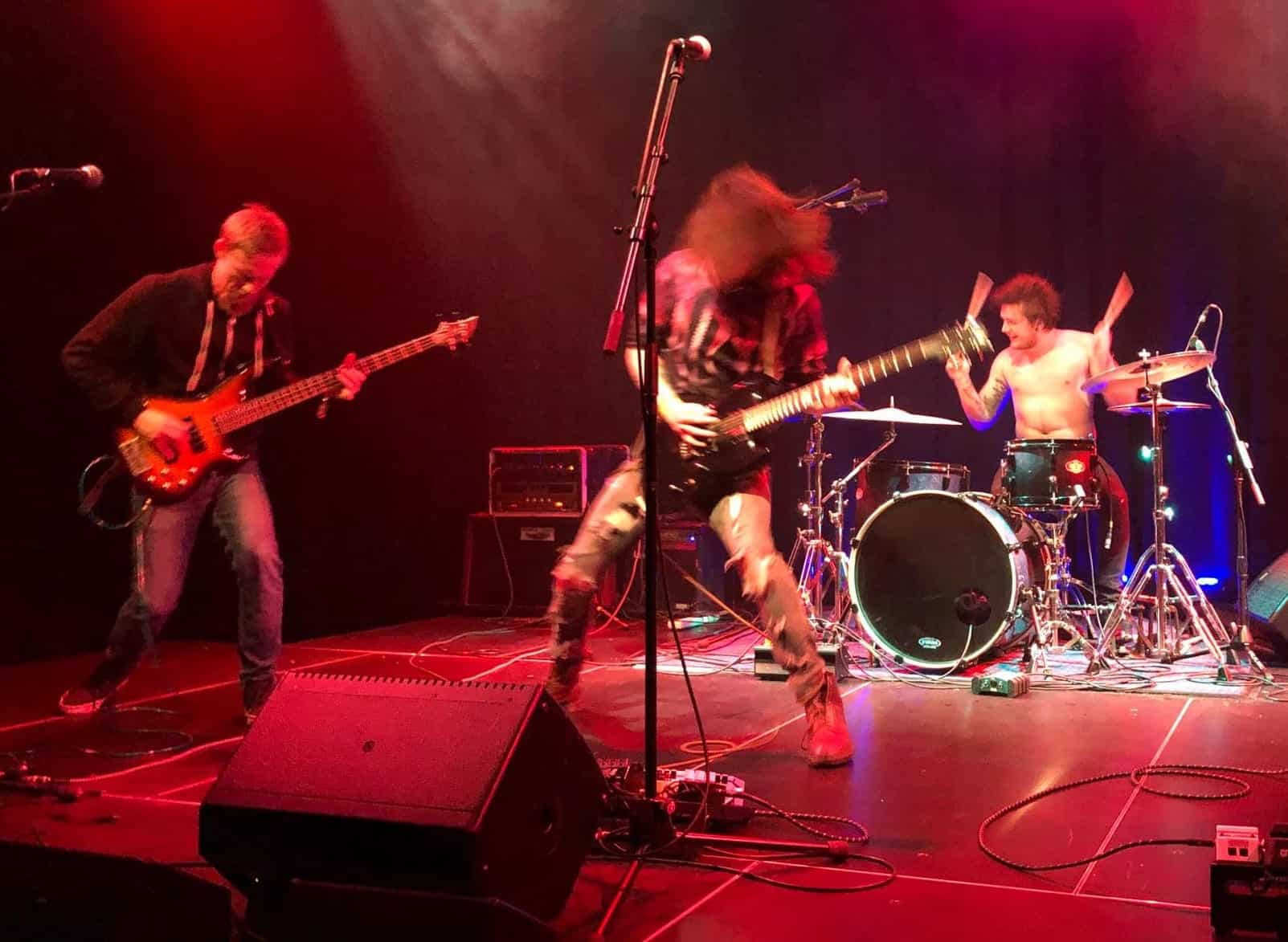 3 – What artists, metal or otherwise, have influenced you and your sound?
There are so many we could list but, as a brief guide: Matt tends to listen to hard rock bands such as Black Stone Cherry and early Nickleback, Leejay is geared towards alt metal, punk and indie (Arcane Roots, Marmozets, Press to MECO) and Jack is into modern classics like Slipknot and Limp Biscuit, whilst still being a pop-punk kid through and through.
4 – With so many genres and sub genres around these days, what genre would you put yourself in?
We're definitely on the HUGE list of core genres somewhere, but we've never been able to fit solidly into a genre with all of our songs. So we generally stick with Indie/Hardcore.
5 – What will you bring to the Metal to the Masses heats? What can music lovers expect and how are you going to win their support on the night?
The energy we bring to the stage is something we want to share with everybody possible. The crowd will move and we don't take no for an answer. So long as people have a good time and see us having a good time then that's enough. We leave the pretentious bollocks at home.
6 – Any horror fans in the band? What are some of your favourite horror movies or books?
There are definitely some horror fans in the band, although Leejay is a bit of a wuss over jump scares. Jack says the scariest that he's ever seen is Robert The Doll, and Matt is into the classics like The Hills Have Eyes.
7 – How about games? What's your console or game of choice?
As far as Video games go Leejay is an avid PC gamer; although Matt and Jack don't quite get it. That said, there have been many "Band Meetings" spent taking it turns playing Need For Speed: Payback.
8 – Have you been to Bloodstock Festival before?
Bloodstock is a festival we've always wanted to do, but life and money is always there to hold us back. Maybe this year!
9 – Where can fans check out your music, merch and find out more about you?
All the usual places; Spotify, Apple music among others, and our Facebook page is the best place to pick up on news. At the moment, we have our single "Anyway" but keep your eyes peeled as we've just entered the mixing phase for our next release.
10 – Aside from hopefully playing Bloodstock Festival, what else do you have lined up for 2019? Any releases due or tours/gigs/festivals lined up?
We've got a couple dates lined up so far and are looking forward to playing the breaking out stage at cosmic puffin on the 4th of May. The best place to find out more would be our Facebook page.
GBHBL would like to thank Lynchwood for taking the time to answer these questions and we wish them all the best in their heat at Metal 2 the Masses Essex. Find out more about Lynchwood at their Facebook page and on Instagram . Check out their first single, Anyway, on Apple Music above or on Spotify, here.
Importantly, get yourself down to the venue on the 1st of March and throw them some support.