Band Interview: Count Me In
Games, Brrraaains & A Head-Banging are pleased to bring you an interview with Canadian pop-punk band Count Me In from Kelowna BC.
1. How did you get started as a band?
Count Me In started as a band many many years ago between our two vocalists Jason and Alex. The rest of the band was a revolving door of members unfortunately and never really had a solid line up. I had been friends with Jason since we were 5 years old and we actually started playing guitar together when we were around 13, and we'd known Alex since high school.
Myself and our drummer Ryan had played together in 2 other popular bands for about 10 years, Shreddy Krueger and Secret and Whisper. Pop punk was always our favorite genre of music, and there was one old Count Me In song that I always loved and wanted to help the guys rewrite… we just never did it and only talked about it for like 3 years!
When Shreddy was taking a bit of a break, I finally asked Jason and Alex if we could rewrite that song and that Ryan would be down to drum. The rest is history! That song became "She's Your Problem" now on the record and we wrote 11 more for a full length!
2. How would you describe your sound?
The easiest way to describe our sound is a modern version of the glory days of pop punk. The fun, carefree, catchy, hooky, upbeat pop punk of the early 2000s era but updated a little bit with our experience over the years in the 2018 landscape. Lots of pop punk in recent years has gone more towards the hardcore side of it, where we stayed true to the pop side.
3. What bands/artists would you say have influenced your style of music?
Our biggest influences would be bands like blink-182, Fenix TX, New Found Glory, Yellowcard, Eternal Boy, All Time Low, Story So Far, Jimmy Eat World and Fall Out Boy to name a few. Nothing too crazy and pretty standard for the genre, but why mess with the best?!
4. Has the rise of YouTube & music streaming helped or hindered you as a band?
It's very tough to say, the landscape of this changes so frequently, but I'm leaning towards helped. Ryan and I were both in bands pre-streaming and YouTube era, at the beginning of the streaming and YouTube era, and after it was widely adopted. And these were only with releases a year or 2 apart, it changes quick.
The way you need to approach it is totally different depending on the circumstances and it a constant learning battle, and different markets have vast differences too. Realistically, the streaming and YouTube market allows anyone to get their stuff out there and heard by people that would've never even knew it existed in a million years previously… with that ease of access it allows ANYONE to do that and the competition and saturation is at an all time high. But it's gotten our music heard around the world and helped us make lots of connections we would never have been able to make before!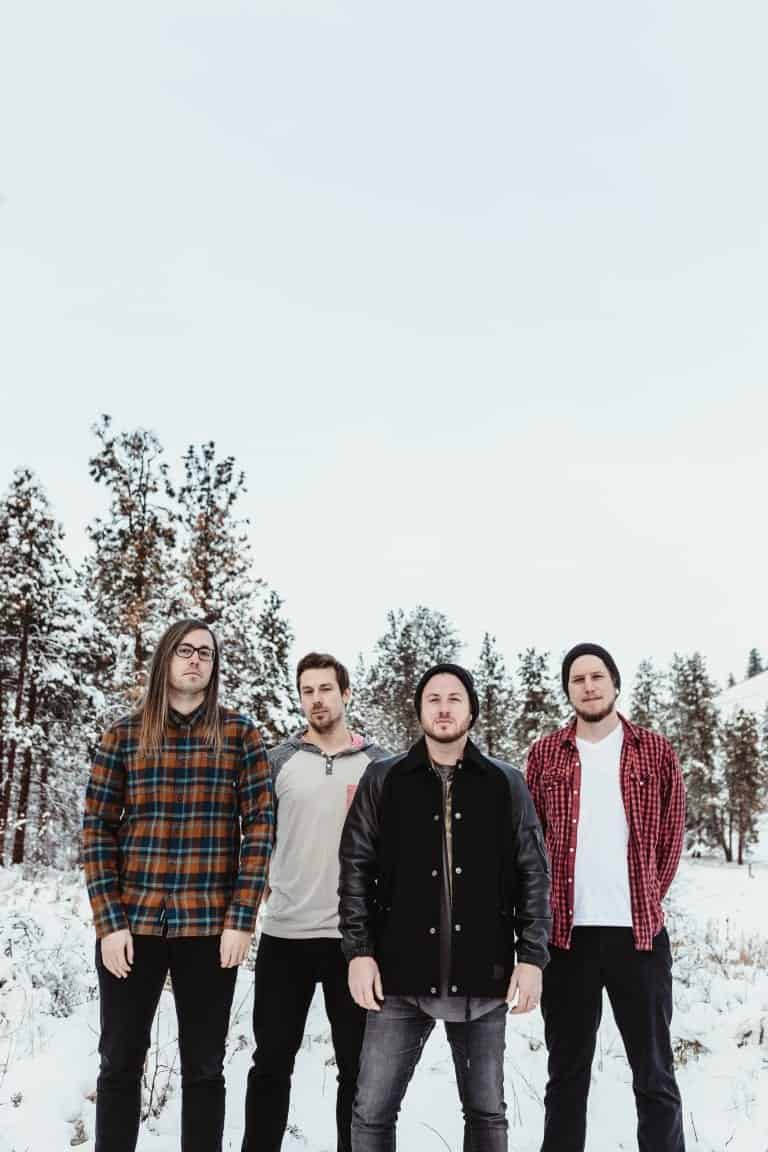 5. What do you enjoy doing when you're not making music?
Lots of stuff! But a lot of the time we are making music. Ryan's super into cars and spends a lot of time making his car extra gnarly. I live in Iceland while the other dudes are in Canada, so I just look at waterfalls and stand in the wind a lot of the time. Jason has a new little baby that he hangs with a lot of the time. And Alex… no one really knows what he does when he isn't hanging with us.
6. What are your future plans musically? Tours?
I keep trying to convince the guys to come over to play in Reykjavik with me, but realistically I'm going to be travelling back to Canada for some shows to get these songs screaming. Otherwise we're just always writing and sending things back and forth to work on. Writing and recording is actually my favourite thing about being in a band, so it's something that is always happening. LP2 will be here before you know it!
You can find out more by liking their Facebook Page, following them on Twitter and on Instagram. You can stream their music via Spotify, iTunes, via Apple Music below and YouTube.