Album Review: Where the End Meets the Beginning by Syncolima (Self Released)
Syncolima bring the riffs with their debut album, Where the End Meets the Beginning, released on the 25th of September 2021.
Syncolima formed in February 2021 when drummer Gazz and bassist Stoff reunited having previously spent a year together in a different band. They wanted to start something new, something fresh and something that followed their own rules. They quickly found Josh (guitars and vocals) and a jamming session cemented the line up and gave us Syncolima.
The band clicked so well that within just 4 months they already had 10 tracks down  and Where the End Meets the Beginning was given life. A debut album that is a product of it's time with the last couple years of frustration all given release in the best way possible. Music.
Recorded at Arch Studios, Nottinghamshire, with their long time friend, collaborator and engineering genius Phil Wilbraham of Wilbraham Audio, Syncolima take inspiration from anything that inspires them across the last 5 decades with no desire to chase a single specific genre. Instead hear the combination of melody, groove with riffs for days as beauty and the beast collide in an explosion of music.
Syncolima are Gazz Evans on drums, Stoff on bass and Josh Morgan on guitars and vocals.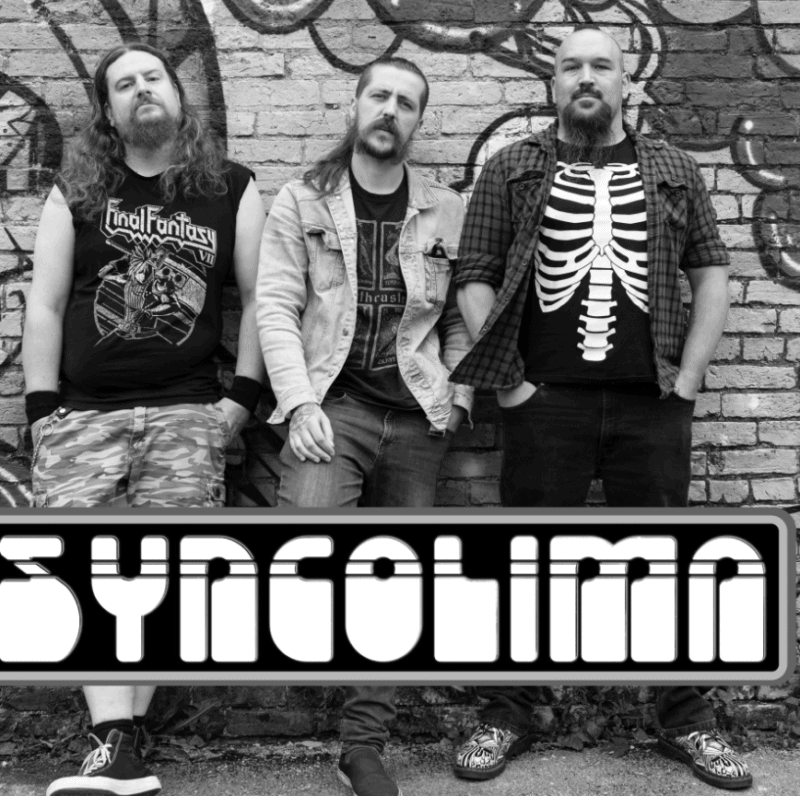 Where the End Meets the Beginning comes with 10 tracks on it and while it is difficult to identify a specific genre, there is an identity to the album and band. It isn't 10 unique tracks that don't belong together. Each song feels like it belongs here and it feels like a complete album. I love how each of the 3 musicians are so important to each track. There are no songs where the vocals lead, or the bass, or guitars or drums. Every song feels well crafted making use of the considerable talent of all three members combined to ensure the impact is felt and lasts.
From the opener, Into the Sun, I found myself quickly swallowed up in the hard rocking beat. Feeling every bass line, tapping along with every drum beat and getting caught up in the guitars and vocals. Instant impact is hard to come by but I felt it here and throughout most of the album. Into the Sun's vocal delivery and song structure is immensely catchy with a hook that sticks with you long after it finishes. Punchy enough to headbang along too, melodic enough to sing along to and that same feeling comes through across the whole album.
Where I've Been hits hard with a slamming riff before dropping down into a melodic verse and then coming back to slap you round the chops with hard hitting rhythm. The vocals are solid, the drums are on fire and the bass line that leads us into a grooving instrumental section is sublime. Laguna goes for the softly approach, leading in gently before turning into a proggy track with a stop start riff and a more cavernous sound to the vocals. I like the guitar melody a lot but the overall chill vibe of the track doesn't do an awful lot for me. Interesting, not a favourite though.
I do like Strong Beer though (both the song and the drink). The energy of the song, the attitude in the vocals is on point. All of that is backed by a speedy riff and quick drumming to create a cracking track that sees you picture yourself with that strong beer in hand, letting loose. These Tongues keeps the energy up and has a nice chaotic instrumental section with echoing guitars and fuzzy groove. The title track, Where the End Meets the Beginning is another banger. It transitions through a few different phases hitting hard with the groove in the intro before dropping to a melodic verse that builds in power and energy until the riffs come back to make sure you haven't chilled out too much.
The bass line throughout reverbs nicely through your bones and while the drums, the guitars and bass all sound perfectly tight and united, the vocals really stand out on this track for me. This song is up there with Strong Beer as my favourites on a very strong album so far. The quality keeps coming with So Into You's catchy drum beat and structure. It's a simpler track but is really effective with a memorable chorus. No Fright in Dying's prominent bass line, mix of chilled out sections that build up into hard hitting riffs works a treat and again showcases the tight, unified nature of the band with every note sounding like it belongs and every instrument brining out the best from the others.
The penultimate track, Nothing Hits, Like this Hits is another favourite. I must admit to hearing the intro, enjoying it but thinking it sounded very similar to everything heard so far but thankfully that feeling quickly departs as the verses hit. The change up in vocal delivery is exciting and I went from questioning the track to loving it in seconds. The energy in this song is great and it fully encompasses you, delivering images of live gigs, sweaty pits and too many beers.
So we reach the end with You Hold the Cards and it shouldn't surprise you by now to know its another top notch slab of music. It's not quite up there with the best of the album, but it's very good and more of what we have heard so far. Expect excellent drum blasts, a chunky bass line, hard riffage and quality gruff vocals all combining to make a song that is super easy to listen to and impossible not to enjoy, no matter your genre tastes.
Where the End Meets the Beginning is a phenomenal debut release. It's insane to think this band didn't even exist a year ago and in that short time, to have a full album ready is one thing, but for it to be of such a high standard, that is insane. Syncolima have all the talent needed to succeed, and plenty of experience in the members too. The album is full of quality, whether in the instruments, the structure of the songs or the unified feeling the band give off. On top of that, I found it also manages to have a bit of a live feel to the recording, bringing forth images of live shows, beers being drunk and heads banging and any music that conjures up images and feelings like that should be considered a must listen.
Where the End Meets the Beginning is available now from Syncolima on Bandcamp, here.
Syncolima Links
Bandcamp – Facebook – Instagram – YouTube
Where the End Meets the Beginning by Syncolima (Self Released)
The Final Score -

8.5/10