Album Review: Weezer – OK Human (Crush Music/Atlantic Records)
Released on January 29th 2021 via Crush Music and Atlantic Records, OK Human is alternate rock band, Weezer's 14th studio album. Inspired by Harry Nilsson's Nilsson Sings Newman (1970) and the Beach Boys' Pet Sounds (1966), the album was recorded entirely with analogue equipment and features a 38-piece orchestra.
Few bands are capable of putting a smile on my face regardless of my mood. I could be having the worst day possible and as soon as Weezer start playing in my ears, a smile will break out. Such is the power of positivity the band has with their chilled out and catchy rock rhythms. Especially when the lyrics are being delivered by a vocalist with the incredible range of Rivers Cuomo.
I love Weezer, even if I haven't always loved everything they've done. They put a smile on my face. OK Human has put a smile on my face. Who could stop it breaking out across their face upon hearing the wonderful opener of All My Favourite Songs. A disgustingly catchy tune which mixes subtle rockiness with some clever orchestral elements.
There's enough energy in that opener to roll the peppiness into the following Aloo Gobi and Grapes of Wrath. Both as 'Weezer' as you could possibly get in the best possible way. Playful, cute, pretty and of course, insanely catchy.
It can't be stressed enough at this stage too, just how much the orchestration is adding to the album overall. It's the impressive use of violins alongside Cuomos' vocals that makes Numbers such a hit. Whereas Playing My Piano is not as on the nose as it sounds. Instead it's some serious crooning with violins again before kicking the beat up an extra notch. Classic misdirection by Weezer that results in a great track.
Talking of great tracks though. Mirror Image is a slice of emotion that is far grander than it should be for such a short offering. Screens is all about its foot-tapping drum/bass beat with subtle jabs of violin and infectious tones. Then along comes Bird With A Broken Wing, a very special effort that is so beautiful and truly shows how unique and interesting Weezer can still be.
Though the overly melodramatic Dead Roses that follows is a little bit of a miss unfortunately and the 24 seconds flute effort that is Everything Happens for a Reason is a bit pointless. Hold on though, there's something really special coming up with the exceptionally brilliant Here Comes the Rain. Before La Brea Tar Pits wraps up another Weezer classic in style.
Face = grin.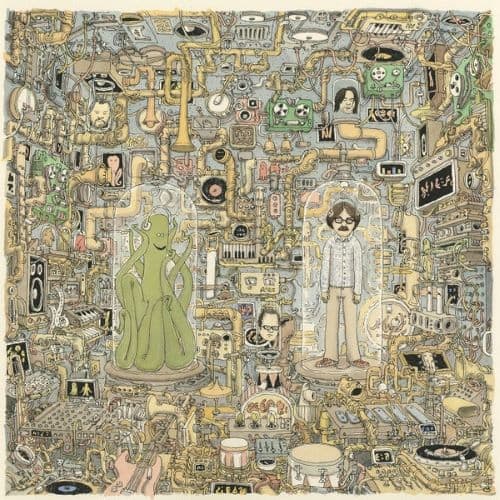 Weezer – OK Human Full Track Listing:
1. All My Favourite Songs
2. Aloo Gobi
3. Grapes of Wrath
4. Numbers
5. Playing My Piano
6. Mirror Image
7. Screens
8. Bird With A Broken Wing
9. Dead Roses
10. Everything Happens For A Reason
11. Here Comes the Rain
12. La Brea Tar Pits
Weezer - OK Human (Crush Music/Atlantic Records)
The Final Score -

8.5/10