Album Review: Wayfarer – A Romance With Violence (Profound Lore Records)
Wayfarer is black metal of the American West. A cavalcade of fury, melancholia, and dust-laden storytelling; the band is informed by the fierce and adventurous spectrums of heavy music, along with the stark Americana of the "Denver Sound" artists that carved the identity of their home.
In "A Romance With Violence", their most fully realized effort to date, Wayfarer presents a searing silver-screen requiem for the myth of the West. The album paints a poignant exploration of heroes and killers, the setting sun on a romantic era, and the shadow it has cast on the world we live in today.
What an fantastic setting and story Wayfarer bring forth with A Romance With Violence. The dust, dirt and blood of the American West mixed with the raw sound of black metal, one should cancel out the other but credit to this band, they make it work.
A lot of that comes from the depth Wayfarer has to their black metal sound and how they're willing to twist and reshape it to fit their requirements. It's savage when it needs to be but mellow and melodic elsewhere, perfectly mimicking the ebb and flow of that lost time.
Celebrate, mourn, lament or bask in the glory of the days when law was just a word and payments were made in bullets. It's a period that has been heavily romanticised but this is an album that serves as a stark reminder of the brutality of that time.
Wayfarer certainly nail what they're going for here, while also delivering a thoughtful and meaningful slice of modern black metal. Willing to tear holes in the world with unabated fury at times but also more than capable of causing surprising moments of reflection.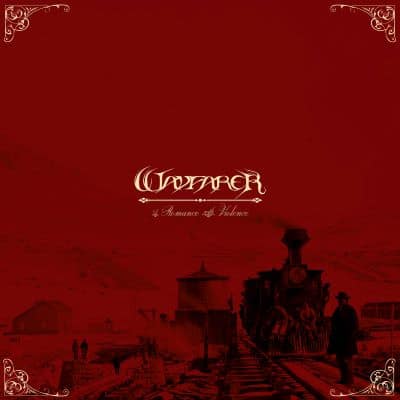 Wayfarer – A Romance With Violence Full Track Listing:
1. The Curtain Pulls Back
2. The Crimson Rider (Gallows Frontier, Act I)
3. The Iron Horse (Gallows Frontier, Act II)
4. Fire & Gold
5. Masquerade Of The Gunslingers
6. Intermission
7. Vaudeville
Links
Bandcamp | Facebook | Profound Lore Records
Wayfarer - A Romance With Violence (Profound Lore Records)
The Final Score -

9/10