Album Review: Vitam Aeternam – The Self-Aware Frequency (Crime Records)
Vitam Aeternam is an experimental musical project formed by entities known as Jake Rosenberg (Desperate Machines, In Progress), Râhoola (A Flying Fish, ex-Inferzenal), and André Aaslie (Funeral, Profane Burial, Images At Twilight, Abyssic, Gromth, Woodwindz, and Omnia Moritur).
Their debut album, "The Self-Aware Frequency" explores the mind of a cognizant being trapped within the cosmically interwoven pattern that embeds reality. The character's universe is the music itself, through which it navigates, as a sum of temporal frequencies who slowly gain consciousness, evolving across the songs, until the ultimate realization of its own undeniable truth.
The album features international guest appearances by Bor Zuljan (Devil Doll), Øyvind "Mustis" Mustaparta (ex-Dimmu Borgir), Juan Manuel Flores (Cuarteto Cromano), Goran Setitus (Omnia Moritur, ex-Setherial), Alasdair Dunn (Ashenspire), Przemyslaw Kajnat (Eternal Deformity, Allone), and Lotti Wood (Woodwindz).
The Self-Aware Frequency is out on October 23rd 2020 via Crime Records.
What a unique listen this is. A record were descriptions of the eclectic and unnatural sounds Vitam Aeternam create will likely fail to do it justice.
On the one hand, it's genius work where a band are so far down the rabbit hole it's almost impossible to fathom. On the other, it's the sound of a band losing their grip on reality. The resulting horror that emerges from their babbling is The Self-Aware Frequency.
We begin with a horror laden slice of grandiose music, something ripped straight from a Resident Evil game, albeit with more epic proportions. Before things get really eerie and uncomfortable with Coward. The electronica beat, the blend of shaky whispering vocals and powerful declarations, the constant shifts in tone… it's a creepy and effective listen. Although, if you find yourself hating this, you're in for a rough ride.
Becoming is 51 seconds of gothic piano and rising melodies before the star of the album arrives in Human. A track that encapsulates the impossible imagination that Vitam Aeternam possess. From the chilling opening through to the incredible bursts of horror and moments of subtle levity. On repeat listens it just gets better and better.
It's another short intermission of gothic-laden electronica with Arising. Followed by the sharp violins of Death and the enigmatic lunacy that is God Machine. A track that embodies a certain kind of spiritualism while dripping in fascinating atmosphere. It's beautifully lavish and terrifyingly twisted in equal measures.
One final soul-searching and uplifting intermission (Transcending) leads to the sheer brilliant wackiness of Viral Idea. Where Vitam Aeternam draw the shades on The Self-Aware Frequency with a leap into unknown. One of, if not the most mentally challenging efforts on the album.
Be the judge yourself. You're either going to love it or hate it.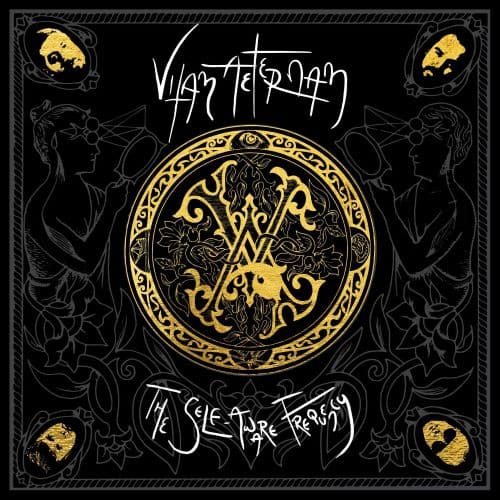 Vitam Aeternam – The Self-Aware Frequency Full Track Listing:
1. Born
2. Coward
3. Becoming
4. Human
5. Arising
6. Death
7. God Machine
8. Transcending
9. Viral Idea
Links
Bandcamp | Facebook | Instagram | YouTube | Crime Records
Vitam Aeternam – The Self-Aware Frequency (Crime Records)
The Final Score -

9/10