Album Review: Throat – Smile Less (Svart Records)
Smiles are contagious, so in these troubled times Throat urge you to smile less.
Throat's third album, Smile Less carries a significantly darker tone compared to the band's previous output albeit the light at the end of the tunnel has always been dim. While the foundation of Throat's sound remains in 90s noise rock, Smile Less pushes its way through all boundaries. Smile Less comes out on vinyl, CD and digitally 14th of May 2021 via Svart Records.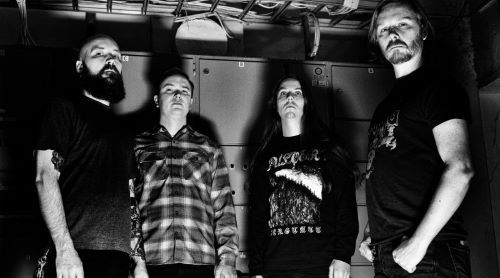 There's a chill in the air, one that steals your high spirits and slowly removes the smile from your face. Like mindless drones, we await our fate in the churning cold as part of the Conveyer Line. Moody, mind-altering and noisily chaotic when it needs to be. It's a very effective entry into Throat's new album and what kind of uncivilized and bewildering commotion will emanate throughout.
Super-bassy but with a beat that gets the foot-tapping, Grounding is a track that gets momentously darker and heavier as it goes on. Where a touch of catchiness makes it stand out. Whereas Shots has a ton of noise rock energy that begs to be grooved too, short and succinct stuff.
The variety continues into the buzzing clamour and repetitive beat of Deadpan. Where intense bursts of heavy noise rock keep things on tenterhooks. Never really sure where Throat might go next but always excited to find out.
Like some dark being pounding on your door, desperate to be let in, the thumping drums at the start of Home Is Where Your Hurt Is terrifies. The expanding and deepening darkness of the effects makes for a truly horror-infused start to the track. The arrival of disconsolate spoken words does not exactly comfort either. It's around the halfway point that the door bursts open and what wanted to come in stands menacingly tall. There is no hiding, Throat have unleashed something truly warped upon us all. It reaches out a hand, you have little choice but to take it.
One of the most unique tracks you'll hear this year… maybe even longer.
Something with a bit more upbeat pep (as much as Throat can manage) is needed and Vanilla Cuts has the vitality that is desired. It's short-lived though as the rumble and groaning of guitars, backed up by those ever-present heavy drums, comes bubbling back to the surface on the finale of Hospice. Methodical and focused, one flash of grandness fleetingly puts a smile back on the face before the track descends into squeals and screeches to close things out.
It's an excellent finish and as strange but astoundingly exciting as everything else on the album. It's an attention seeking but for good reason, it deserves it.
Throat – Smile Full Track Listing:
1. Conveyer Line
2. Grounding
3. Shots
4. Deadpan
5. Home Is Where Your Hurt Is
6. Vanilla Cuts
7. Hospice
Links
Bandcamp | Website | Facebook | Instagram
Throat - Smile Less (Svart Records)
The Final Score -

9/10