Album Review – The Sin and the Sentence by Trivium (Roadrunner Records)
American metal giants, Trivium, have released their brand new album, The Sin and the Sentence. Coming out on the 20th of October via Roadrunner Records, The Sin and the Sentence is Trivium's 8th album overall.
Since releasing their first album, Ember to Inferno, back in 2003, Trivium haven't had it easy as a band. A lot of the reason for that can be put on themselves and mainstream media. By the release of their excellent second album, Ascendancy, magazines were hailing Trivium as the next Metallica. That is a lot of pressure to put on a young band's shoulders. It is a tag that forces people to judge your success against Metallica's and nobody can live up to that. In truth, nobody in metal is the next Metallica. Ever. Those times have gone.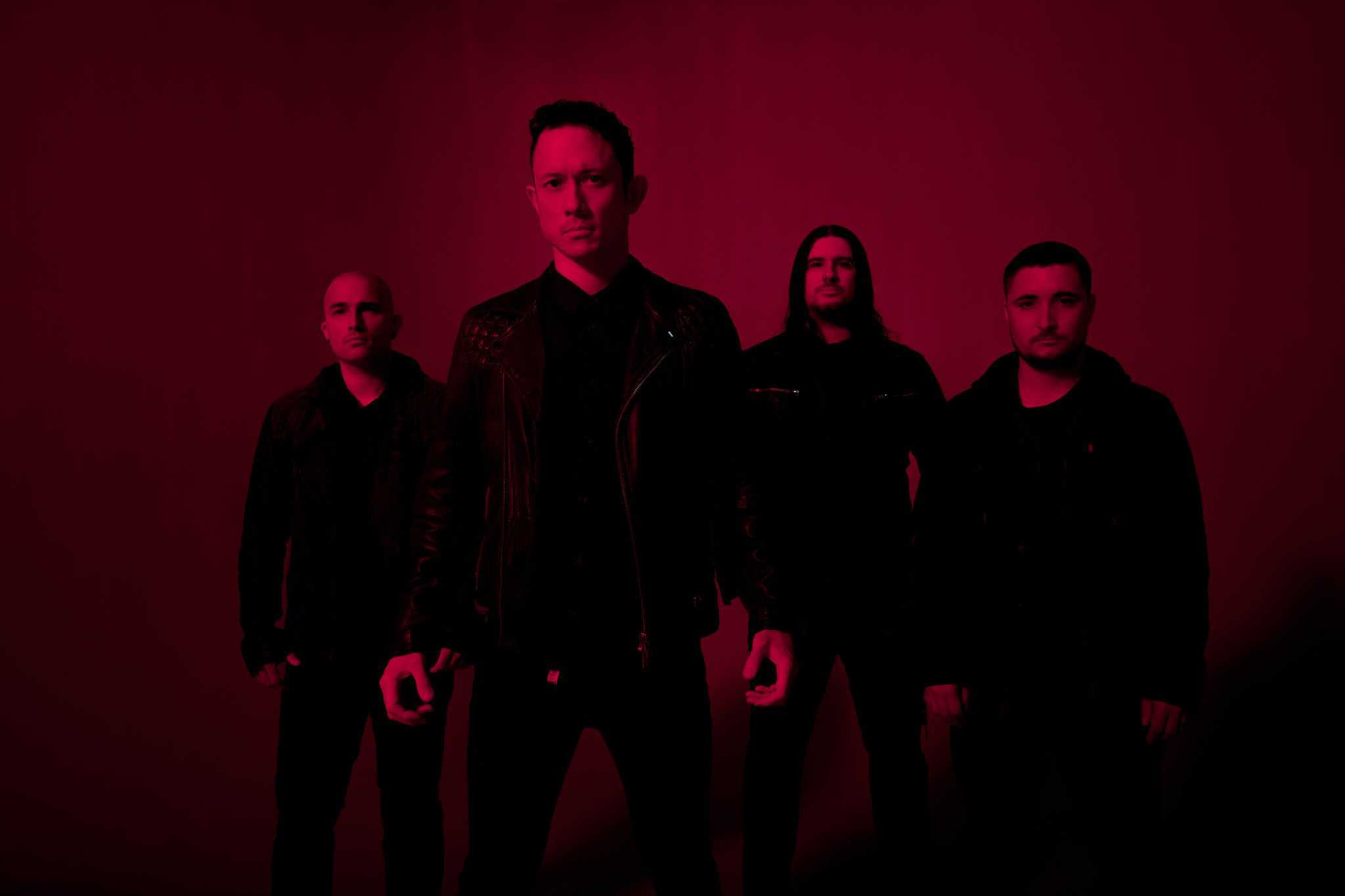 Trivium didn't help themselves either though by seeming undecided on which genre they wanted to belong to. Their first two albums were very heavy, drawing in fans of the harsher side of metal. Then they switched to a commercial hard rock sound on The Crusade alienating their original fans a bit. We went heavy on Shogun, a more rounded sound on the very good In Waves, back to heavy on Vengeance Falls and then to weak, commercial rubbish on Silence in the Snow. The statement, "You never know what you are gonna get" is more true with Trivium than any band I can think of. Funnily enough, Metallica are the other one you could say that about.
Trivium have also had a fair few member changes over the years. Many of those were on drums. Trivium today is founding member Matt Heafy on vocals and rhythm guitar. Corey Beaulieu is the lead guitarist and provides unclean backing vocals while Paolo Gregoletto is on the bass and clean backing vocals. The most recent drummer, joining in 2016, is Alex Bent.
So, with a little trepidation, let's find out what we are going to get on The Sin and the Sentence. That trepidation is enhanced after the release of two singles so far. The first, title track The Sin and the Sentence, was a really good and really heavy thrash song. The second, The Heart From Your Hate, was a weak and effortless track with some decent riffing and weak vocals. Check out that review here.
There are 11 tracks on The Sin and the Sentence and it comes in at around 57 minutes in length. Everything starts well enough with the title track which is a fast and furious thrash song. The drumming on it is out of this world and shows that Trivium have their best drummer in years on board.  The brilliant drumming blends perfectly with solid riffs and loads of melody. The mix of vocals, harsh and cleans, sounds brilliant and by using plenty of uncleans, it makes Matt's cleans sound refreshing amongst the heaviness.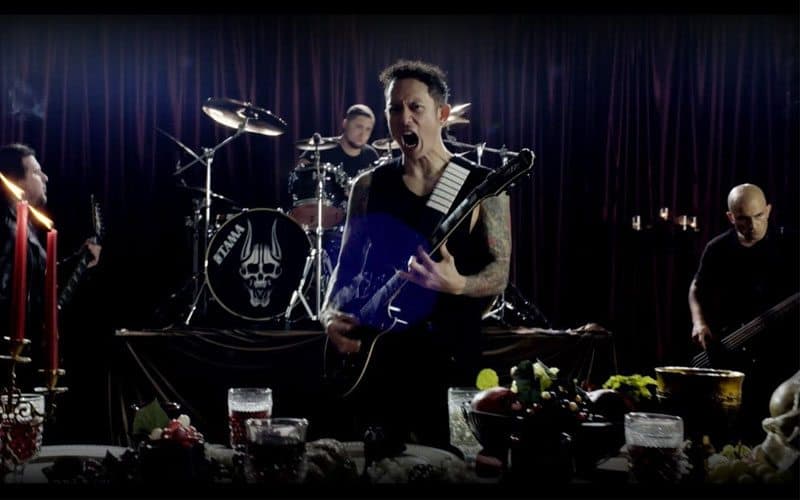 The good start continues into Beyond Oblivion and Other Worlds with the former having a nice punchy pace to it. The use of gang vocals for the uncleans works well and despite a weak sounding instrumental breakdown, it leads into a great solo. Other Worlds also has nice rhythm and strong riff running throughout though loses it's way a bit with a boring clean chorus. Matt's clean verses sound great and have a bit of menace but the chorus just lacks in comparison. Not enough to make it a bad song, just enough to make it not as good as the first two.
The good start seems to be going a bit downhill after the slightly weaker Other Worlds leads into the amazingly dull The Heart from Your Hate. Similar I guess to the ballad style of Dying in Your Arms but with none of the catchiness or passion, it is a song I won't be returning to again any time soon. There is another ballad esque track on the album called Endless Night which is much better. It has a more interesting riff, a slightly off timed drum beat and a catchy chorus.
A couple more heavy tracks come in the way of Betrayer and Sever the Hand. Betrayer is full on aggression with huge drums and angry roars at the beginning. It is fast and thrashy with a good mix of vocal styles and some of my favourite little guitar lines and melodies on the album so far. Sever the Hand is heavy but in more of a groove style. A sweet head banging rhythm forms the spine of the track. Harshly sung verses pick up the pace to blinding thrash levels before ringing guitar notes slow the track down for a catchy, clean sung chorus.
Beauty in the Sorrow is another decent song with strong musicianship and a nice mix of vocal styles. It doesn't have the impact of songs like Betrayer, perhaps because it is quite similar but for a song that could be described as filler, it is good filler. The album then ends with two more songs that are completely polarising. First up we have the 7 minute "epic" called The Revanchist. It is a long song so we get a bit of everything so far. Some heavy sections with crunching bass tones and harsh vocals. There are some melodic instrumental pieces with choruses of clean vocals. We also get a huge guitar solo that moves through different speeds and tones and some very heavy breakdowns. It is a really good song.
The last song though, Thrown into the Fire is a bit of an oddity. It is one of the heaviest songs on the album, has a great riff and an even better solo so I should love it. It just doesn't feel quite right though. There are some odd time signatures and the heaviness feels a bit forced. A bit like Trivium wanted to end the album with a bang but didn't really feel it. In truth, the album would have been paced better if this sat in the middle and they ended on their 7 minute The Revanchist.
The Sin and the Sentence is a huge step up on Silence in the Snow. It is a very good album with loads of heaviness. The musicianship is excellent with amazing riffs and solos, sublime drumming and the right balance of vocal styles.
There are a couple songs that are a little lacking like the unfortunately placed Thrown into the Fire and Beauty in the Sorrow and I really don't like The Heart from Your Hate. Aside from that though it is a really good album and has a lot of passion and fire. I am loathe to say something here like the band are evolving or growing. They have been around for 15 years. If they haven't grown by now, they probably never will. What we will get from Trivium in the future will be a mix of albums, some will be great, some will be weaker. This one is great.
You can pick up The Sin and The Sentence from here. You can also pick up it and some other Trivium work from the links below. Check out Trivium at their website, on Facebook, Twitter and Instagram for more information. Make sure you give them a like and follow while you are there.
[amazon_link asins='B0752ZWPJC,B0055EDCGU,B011V48SPM,B01LTHLWWW,B000HXDEUI,B001CIPU3G,B00EO4SBSG,B0007QN8U6′ template='UseThisOne' store='g0e5b-21′ marketplace='UK' link_id='5eb4c4fb-b591-11e7-8e14-f39b7d9c8f4f']
The Sin and the Sentence by Trivium (Roadrunner Records)
The Final Score -

8/10